Arts observations: The still-lifes that simply won't stay still
And a taste of Honey from a debut director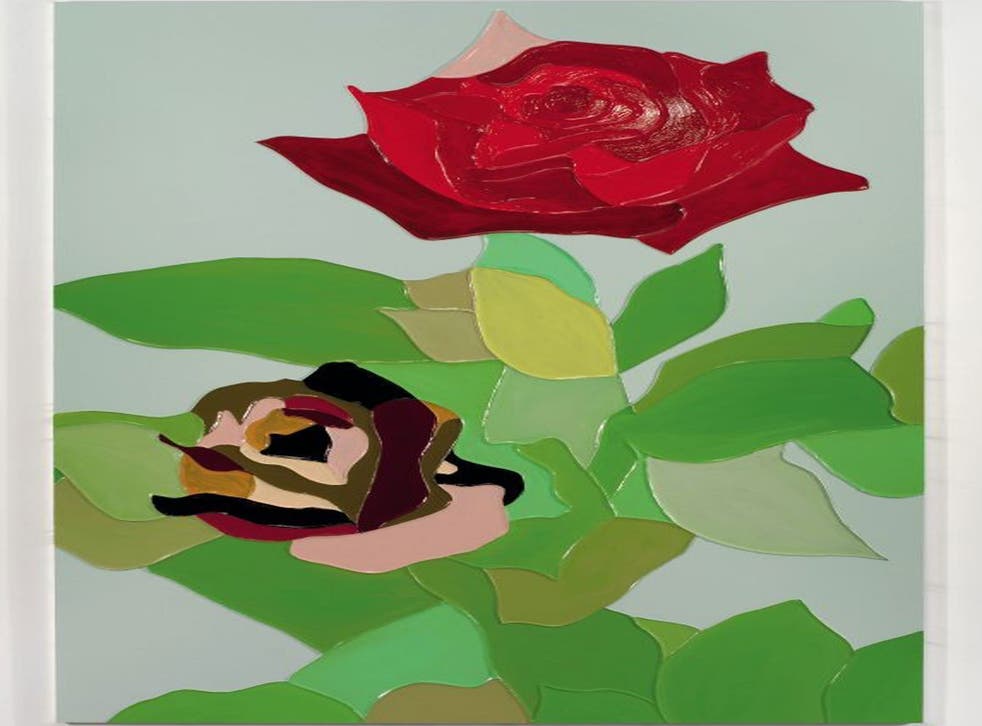 A still life of a bowl of fruit? You must be joking. A new book, Nature Morte by Michael Petry, collects more than 180 contemporary artists who have given the traditional still life a makeover. Sam Taylor-Wood's video A Little Death, 2002, is a remake of the classical still life with dead hare, who now gets eaten by maggots, while Cindy Wright's large painting of a fishbowl, Nature Morte 2, (2010), contains a dead fish set on a doily.
Emerging artist Ged Quinn has rearranged the cubes of a Battenberg spongecake to look like a bunker built by German troops in his painting Myth of the Metals (2012). Mat Collishaw's photograph Martin Vegas (2013) looks like a 17th-century painting of a plate of food, but it is the last meal of an inmate on death row, who ordered steak and shrimps.
Gary Hume builds up the colour on a red rose in Pink Rent (2011), to give it a contemporary twist, while Marc Quinn freezes a sunflower in silicone in Eternal Spring (Sunflower) 11, (1998). "Historically flowers were there to remind viewers of their own mortality," says Petry. "Now artists are dealing with it in more sophisticated ways. These works offer a new understanding of the current global upheaval and disruption."
'Nature Morte: Contemporary Artists Reinvigorate the Still Life Tradition' by Michael Petry is published on Monday by Thames and Hudson
A taste of Honey from a debut director
By Charlotte Cripps
The Italian actress Valeria Golino is better known for playing Tom Cruise's girlfriend in Rain Man (1988) than for shooting her own movies. But her feature film Honey (Miele), which had its world premiere at Cannes this year, has been nominated for the Discovery award for best debut feature film at the 2013 European Film Awards. It stars Jasmine Trinca as Irene, aka Honey, who helps terminally ill people end their lives, and it takes "a light-hearted" look at euthanasia. Golino moved from Italy to LA in the late 1980s, and landed roles in movies including Hot Shots! (1991) and Leaving Las Vegas (1995). She says: "When Sean Penn directed me in his first film The Indian Runner (1991), it gave me much insight into directing as an actor. He pushed us to be interesting, not just believable."
Matt Berry puts ham on Toast
By James Rampton
The actor Matt Berry admits that he didn't have to look too far to find role models for the central character in his new C4 sitcom. In Toast of London, an appealingly off-the-wall and original show co-written by Berry and Arthur Mathews, he plays Stephen Toast, a vainglorious thespian whose passport job description would read "Failed Actor."
Sporting a badger-like streaked quiff and a luxuriant moustache not seen since the heyday of ITV sports presenter Dickie Davies, the deluded and entirely talentless Toast spends his days consumed by bitterness because virtually every other actor in the country is doing better than him. As he rails against the iniquity of his fate, he could bombast for Britain.
Berry and Mathews are chatting to me over lunch on the set of Toast of London. Thirty-nine-year-old Berry, whose distinctive deep voice has enabled him to pursue a successful sideline as a voiceover artist, explains that, "because of my job, I meet people like Toast all the time. I'm constantly taking mental notes. A while ago, I did a film with a serious actor who was very surprised to be performing in a scene with me, a mere TV comedian. 'Must I?' he asked, barely concealing his disdain. I didn't mind – I thought it was hilarious and was just so pleased that those people still exist!"
The world of the fading-yet-still grandiose thespian is an ideal setting for a sitcom. After all, Toast possesses two of the prerequisites for a successful comedy character: pomposity and self-delusion.
Mathews, 54, who made his name as the co-writer (with Graham Linehan) on the peerless Father Ted, believes that, "It's full of comic potential because Toast is fuelled by jealousy and bitterness. He thinks he should have been in films like The King's Speech. As the lead? Of course!
"He is particularly angry about other people's success and pretends never to have heard of any really popular actors. When somebody says to him, 'You must know Benedict Cumberbatch', Toast just replies, 'Who?'"
For all that, Berry, who has also appeared in The IT Crowd, Garth Marenghi's Darkplace, and The Mighty Boosh, protests that his portrayal of Toast is fundamentally affectionate. "It's done with love. I warm to these actors. Performers like Toast, who have spent years and years in rep acting VERY LOUDLY INDEED, are a dying breed. You can't dislike him because he's always the victim."
'Toast of London' begins on Channel 4 on Sunday
The men who tinkered with Bell
By Miranda Kiek
In the 109 years since Tinker Bell fluttered into the literary landscape, she has undergone a near magical make over – from silent circle of reflected lamplight in JM Barrie's original play, to an all-singing, all-dancing lead character in her own Disney Fairy franchise. Now Tink's long history is told in a newly released book written by Mindy Johnson.
JM Barrie's Tink was temperamental, more than a little murderous, and prone to calling people "You Silly Ass". When Walt Disney took her on in 1953, he gave her the curves of Jessica Rabbit and a knicker-flashing outfit which makes even the Little Mermaid look demure. She went on to be crowned a "Disney Princess", and in 2008 was given her first on-screen speaking role as the anodyne star of a series of straight-to-DVD releases.
Ariel may have given up her voice in return for feet; Tinker Bell, on the other hand, seems to have gained a voice at the expense of a personality. Silly Ass!
'Tinker Bell: An Evolution' by Mindy Johnson is published by Disney Editions
One to watch: Carly Paradis, pianist/composer, 33
If you don't ask, you don't get. This is what the Canadian musician Carly Paradis discovered when she MySpaced the composer Clint Mansell (Requiem For a Dream, Black Swan), who hired her after listening to her music. She played piano on his world tour and his soundtrack to Duncan Jones's Moon. Now living in London, she has funded her debut album, Hearts to Symphony, out next month, after composing the music for the BBC's Line of Duty.
Register for free to continue reading
Registration is a free and easy way to support our truly independent journalism
By registering, you will also enjoy limited access to Premium articles, exclusive newsletters, commenting, and virtual events with our leading journalists
Already have an account? sign in
Register for free to continue reading
Registration is a free and easy way to support our truly independent journalism
By registering, you will also enjoy limited access to Premium articles, exclusive newsletters, commenting, and virtual events with our leading journalists
Already have an account? sign in
Join our new commenting forum
Join thought-provoking conversations, follow other Independent readers and see their replies