Are Bert and Ernie really a gay couple?
After a Christian bakery refused to make a gay wedding cake with their faces on, Simon Usbourne asks if the muppet friends are gay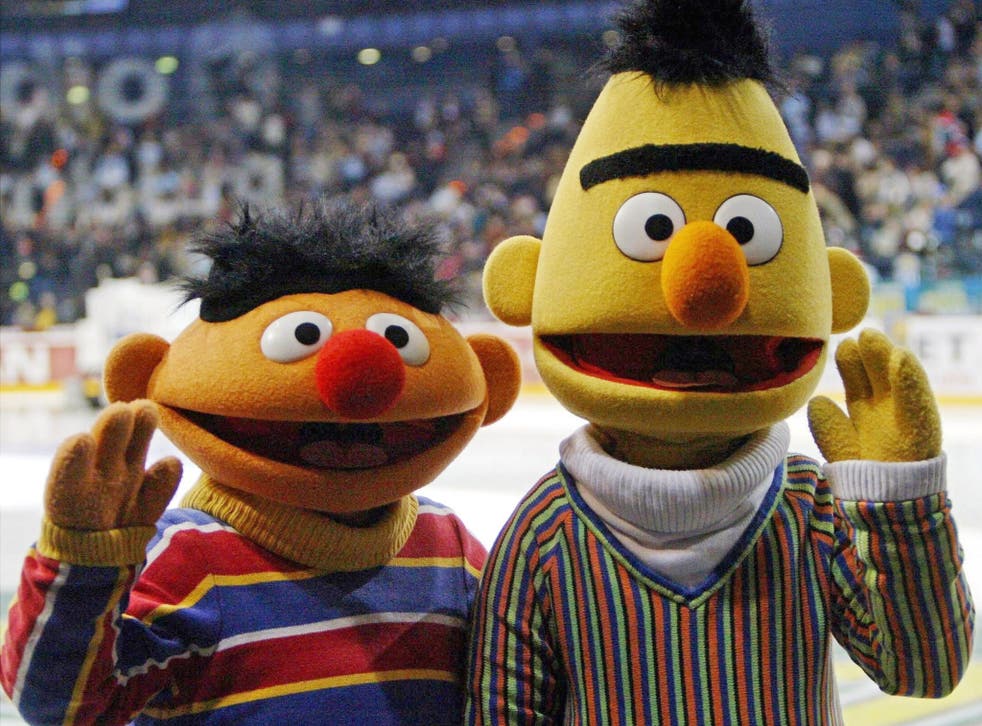 It's tempers and not cakes that are rising in Northern Ireland, where a Christian-run bakery in Newtonabbey has refused to create a cake carrying an image of the Sesame Street characters Bert and Ernie because of a row over gay marriage rights.
The Ashers Baking Company said that the cake, which had been ordered to include the slogan "support gay marriage", would have been an affront to their faith. As a possible discrimination case looms, the big question here is surely: why Bert and Ernie?
It turns out that the cloth-faced Muppets, stalwarts of Sesame Street since the pilot episode 45 years ago, are gay icons as well as being the subject of conspiracy theories. They are also part of a family of characters created for children who have developed an unexpected following.
Rumours have swirled around the pair for decades, at various stages inviting statements from the Sesame Street Workshop, the educational television vehicle for Jim Henson's puppets. In 2011, Bert (the yellow, mono-browed one) supposedly outed himself in a tweet about the film remake of the A-Team, which Sesame Street was preparing to parody.
"Ever notice how similar my hair is to Mr T's?" Bert asked, naming the original A-Team star. "The only difference is mine is a little more 'mo', a little less 'hawk'." Gay bloggers interpreted "mo" as slang for homosexual, rejoicing that a children's show was reflecting changing attitudes at a time when grown-up television shows were featuring gay couples with kids.
Wait a minute, Sesame Street said, if not in so many words. It denied that there was any hidden message in the tweet. In the same year, in response to a petition hosted by the change.org website for Bert and Ernie to wed on screen after equal marriage was legalised in New York state, things got official.
"Bert and Ernie are best friends," the show posted on its Facebook page. "They were created to teach pre-schoolers that people can be good friends with those who are very different from themselves. Even though they are identified as male characters and possess many human traits and characteristics (as most Sesame Street Muppets do), they remain puppets, and do not have a sexual orientation." Or, as Sesame Street Workshop boss Gary Knell put it in 1994, "They are not gay, they are not straight, they are puppets.They don't exist below the waist."
Yet, as "Cakegate" shows, the association persists. Last year, when the US Supreme Court scrapped a law that had stopped the government from recognising same-sex marriages, the influential New Yorker magazine controversially celebrated by printing a cover illustration depicting Bert and Ernie snuggled up on a sofa watching the news.
Similar, if not quite so rich, theories have circled the stuffed or drawn heads of other characters such as Winnie the Pooh and Piglet, Velma of Scooby-Doo fame, and SpongeBob SquarePants, whose relationship with Patrick the starfish suggests an "erotic intensity", according to Jeffrey P Dennis, an American author and academic.
In 1999, the religious right pounced on poor Tinky Winky, one of the Teletubbies, accusing him of being a gay role model because he wore purple and had a triangle on his head, both symbols of gay pride.
Why is there such strong feeling that Bert, Ernie and co should be gay? "Largely because it's kind of funny," says Philip Hensher, the author. "There's also something warm and sympathetic about these claims. It's a positive thing."
Hensher points to gay subtexts in other children's literature, including Harry Potter. J K Rowling confirmed Dumbledore's orientation during a book tour in 2007. "I'm surprised that other authors make such a do about denying it," he adds.
"Why would anyone mind if gay people were represented in Sesame Street? Children's television should be about alternative families. There's no point in switching on the TV and watching characters just like your mummy and daddy and boring older sister. You want a bloke with a zip for a mouth."
Join our new commenting forum
Join thought-provoking conversations, follow other Independent readers and see their replies