12 bookstores every reader should visit in their lifetime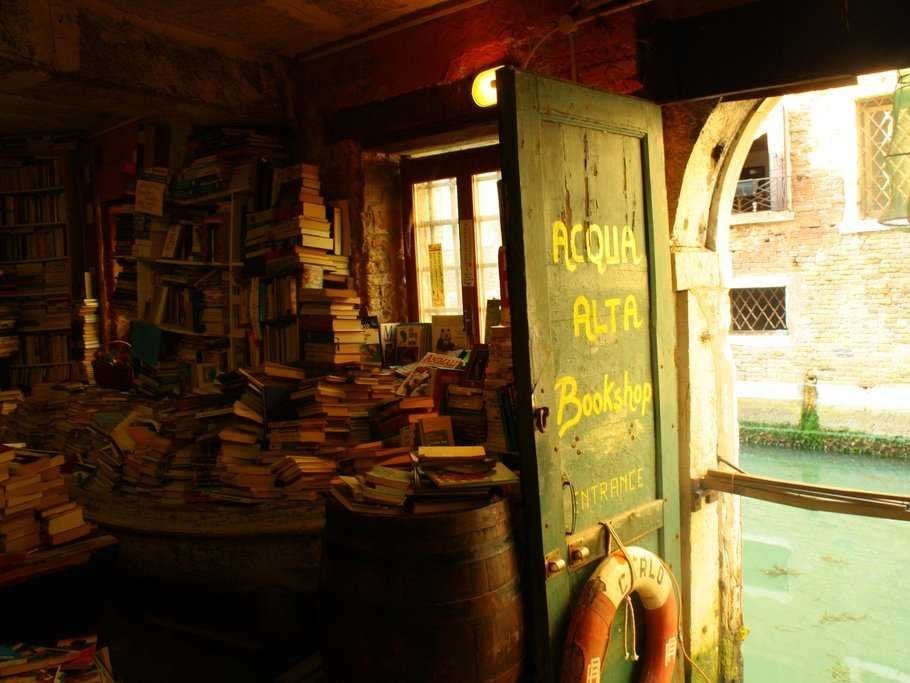 Are you someone who refuses to believe the theory that "print is dead"? Who always makes room in a suitcase for a paperback? Who finds it easy to spend more time at a charmingly ramshackle bookstore than a crowded tourist attraction? You're not alone.
The organizers of Independent Bookstore Day celebrate book havens and book lovers everywhere each spring, and what better way to mark the occasion than to seek out an indie book shop on your next trip?
"The idea of Bookstore Day, first and foremost, is to celebrate indie bookstores and the symbiotic community of authors, readers, booksellers, and book lovers of all stripes," Bookstore Day Program Director Samantha Schoech told me via email.
Participating bookstores in the United States celebrate Bookstore Day by offering up special collectables, limited edition novels, and hosting author signings and other events for one day only — but there are plenty of picturesque print-hoarding spots around the world that are also worthy of a visit in spirit of the day year-round, even if this holiday doesn't formally broaden its reach beyond the U.S.
"We've already had a lot of contact with our counterparts in the U.K. and Canada and know that both Australia and New Zealand also have their own takes on bookstore day," Schoech says. Here are some of the most storied book shops to celebrate the bookworm in all of us.
Shakespare and Company, Paris
One of the most famous and photographed independent book shops in the world, Shakespeare and Company sits along the Seine River in Paris and was an expat-author watering hole of sorts for some of literature's biggest names — James Baldwin, Allen Ginsberg, Anais Nin, Wiliam Burroughs — in the 1960s.
Prior to its reopening at its current location, Shakespeare and Company was a Sylvia Beach-owned shop just a few blocks away that hosted some even more storied names like F. Scott Fitzgerald, James Joyce, Earnest Hemingway, and T.S. Eliot.
There's no denying the historical importance of this place, but it's also simply a comforting spot to escape busy Paris and read a heavily used novel free of charge, hear a stranger expertly play piano, or stumble upon a famous writer. New and used titles fill this two-story shop to the brim, and it's the perfect place to pick up a worthy souvenir to read on your flight home. For a peek at its charming art- covered walls, packed shelves, and matted armchairs, watch the second film of Richard Linklater's Oscar-nominated Sunrise trilogy, Before Sunset.
Livraria Lello & Irmao, Porto
Harry Potter fanatics of all ages should make the pilgrimage to J.K. Rowling's former home away from home, Porto, if only in pursuit of the story's Muggle- world origin. Rowling taught English in Portugal's second city, and wrote some of the now-famous series around the time that she frequented Livraria Lello & Irmao's stained-glass upstairs cafe. The shop boasts breathtaking Gothic Revival and Art Nouveau architecture, and is suspected to be part of the inspiration for the Harry Potter series' settings.
Ler Devagar, Lisbon
South of Porto in Portugal's bustling capital, Lisbon's most versatile livraria is aptly named Read Slowly, and is equal parts cafe, local art gallery, concert/event venue, and brimming bookstore. Pop in for an espresso, to buy a new title, to take a peek at the long-standing art on both floors, or for an exhibition or poetry reading.
The Strand, New York City
For a taste of rare used books and new titles alike, the 86-year- old Strand in New York's East Village is frequented by both tourists and locals for its rare book room, deal bins, and "Strand"-branded memorabilia like tote bags and T-shirts. The Strand has no shortage of events, from readings and conversational classes to art shows and book signings. It prides itself on housing 18 miles of books — about 2.5 million, not counting a warehouse in Brooklyn that holds another quarter million. The far-reaching price range hits upwards of $45,000 for rare titles like a Matisse-illustrated copy of James Joyce's Ulysses signed by the author himself.
Those looking for a (slightly) more affordable souvenir can grab first-editions like Virginia Woolf's The Waves for $200, or, for die-hard readers with padded wallets, a first-issue copy of Hemingway's A Farewell to Arms for $2,000.
Scorpio Books, Christchurch
If New Zealand's seafront city of Christchurch does one thing well, it's sustainability. Buildings made out of alternative materials ranging from cardboard to shipping containers popped up here after the region experienced a massive earthquake in 2011.
One example of these shipping-container buildings is Scorpio Books, home to the largest selection of fantasy and science-fiction books in New Zealand — more than a million titles — making it a perfect stop for Lord of the Rings-inspired tourists.
Libreria Acqua Alta, Venice
Every existing photo of this canal-side shop in Venice is Pinterest-worthy. Liberia Acqua Alta is piled high with enough books to create the store itself — its steps were created from stacks of hardbacks tied together by string, their colorful spines deteriorating in the humidity. The shop is only about a decade old and houses four cats, who will likely judge you from their comfortable perches as you skim the shelves.
Brattle Book Shop, Boston
Boston's esteemed literary scene boasts plenty of must-see book sites, from the historic public library's John Singer Sargent murals to the bronze Make Way for Ducklings statues of the Public Gardens. But local bookworms will tell you that the bookstore in the city with the most character is "The Brattle," an antiquarian bookseller with an outdoor sale lot that sits under the watchful eyes of authors like Toni Morrison and Franz Kafka — in mural form.
A local institution since its founding in 1825, Brattle Book Shop's mural-lined lot came after its former space burned to the ground in 1980. What took its place is a treasured space for outdoor title browsing, next door to where the three-story shop now stands. Brattle proprietor Ken Gloss inherited the business from his father, and the family business's outdoor carts come out every day year-round, except on days it rains or snows.
Atlantis Books, Santorini
Another hand-painted outdoor gem of a bookstore that draws tourists is Santorini's Atlantis Books, a tiny, white-washed bookseller that belongs on a postcard.
The cramped shop sits upon Santorini's picture-perfect seaside cliffs and hosts a book festival every November — offseason — full of writers and artists, with ticket prices ranging from 25 to 250 euro to attend. Visitors come in hoards for the views from this tiny island, but this tiny bookstore is without a doubt a special part of Santorini's many authentic surprises.
Libreria El Ateneo Grand Splendid, Buenos Aires
If you're looking for the grandest of bookstores, look no further. Quaint, cozy, crowded shops shine in their own way, but not quite as bright as El Ateneo Grand Splendid. This publishing company-owned institution may not exactly be independent, and boasts a palace-meets-library vibe thanks to the ritzy, Italian-style theater that it originally was. Where balcony and orchestra chairs once sat are now thousands of rows of book spines throughout two floors.
The space attracts upwards of 3,000 people per day. Just look up at the hand-painted ceilings and gold classical decor to find out why.
Lutyens & Rubinstein Book Shop, London
What better way to celebrate Shakespeare 400 years after his death than at a bookstore in London after a show at the Globe? Better yet, Lutyens & Rubinstein is the closest you'll get to a real-life version of the Notting Hill book shop Hugh Grant's character owns in the 1999 rom-com. The white store and apartment fronts of the neighborhood are as charming on the outside as this chic bookstore is on the inside, with paperback birds and mobiles hanging from the ceiling and two floors of glossy covers to keep you shopping for hours.
City Lights Booksellers, San Francisco
Bookstore Day-worthy recommendations wouldn't be complete without a store from the city where this holiday originated — San Francisco. As San Fran bookstores go, City Lights (a Bay Area institution since 1953) is a can't-miss for its timeless storefront and historic past. The combination bookstore and non-profit publisher focuses on progressive works and has printed locally authored collections like Allen Ginsberg's famous Howl and Other Poems.
Stop in to purchase one of their many recommended titles or to hear a reading. Supporting City Lights means supporting stores committed to keeping print publishing alive.
Read the original story: Most Incredible Bookstores in the World by Shannon McMahon, who is a regular contributor to SmarterTravel.
Read more:
• This is why Tesla and Google are the future of cars
• How Jeff Bezos reinvented The Washington Post
• Crowdcube's cofounder says it will 'raise the bar' this year
Read the original article on Business Insider UK. © 2016. Follow Business Insider UK on Twitter.
Join our commenting forum
Join thought-provoking conversations, follow other Independent readers and see their replies