Books round-up: the best foreign crime fiction, including Umberto Eco and Yrsa Sigurdardottir
Scandanavia may have dominated the field, but Poland, Italy and France are all emerging as contenders
Barry Forshaw
Saturday 27 August 2016 14:41 Comments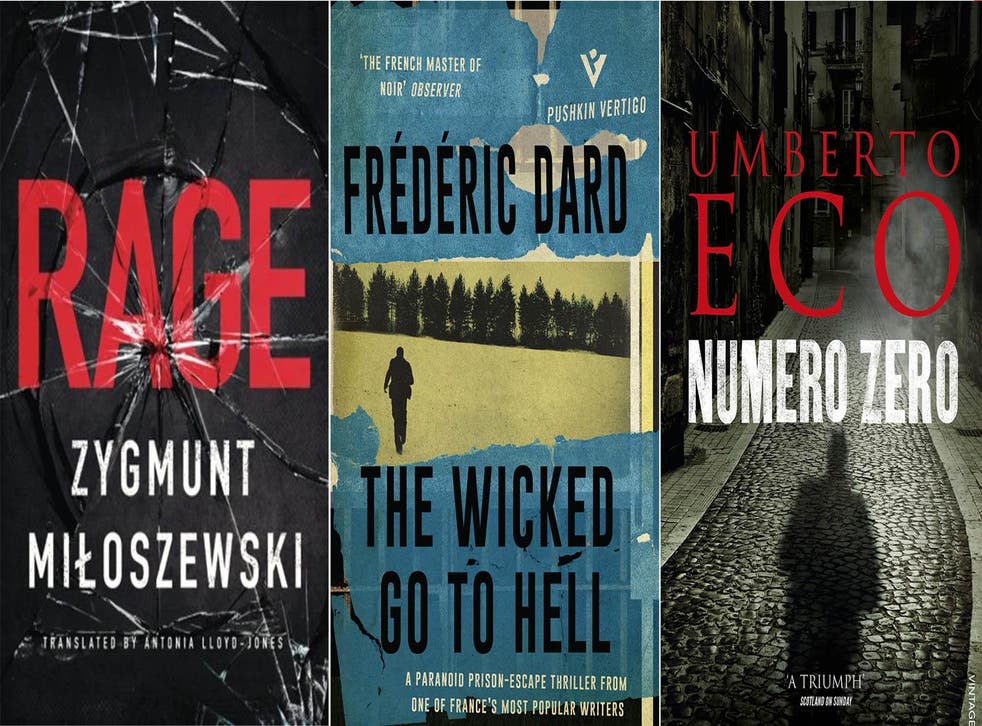 It's no longer the Scandinavians alone who rule the roost in foreign crime fiction (although at least one example of Nordic noir may find its way into this roundup). Adventurous readers, caught up in the wave of provocative crime fiction from other countries, are moving further afield.
To Poland, for example, and Zygmunt Miloszewski, whose novel Rage (Amazon Crossing, £8.99) is already gleaning plaudits. The author's award-winning first novel Entanglement was made into a successful film; that book offered a complex and edgy vision of contemporary life in modern Poland. Rage (very ably translated by Antonio Lloyd-Jones) has the same incendiary mix of crime/thriller pungency and social commentary. Celebrated prosecutor Teodor Szacki is investigating the discovery of a skeleton on a construction site in the city of Olsztyn, and find that the bones are fresh, with the flesh chemically removed. Another victim appears – a violent husband, still alive but mutilated – suggesting to Szacki that a ruthless individual is taking extreme measures with domestic abusers. The "rage" of the title is about to be unleashed in no uncertain fashion. In sales terms in the UK, Poland has been something of a poor relation in the crime fiction stakes – Zygmunt Miloszewski may just be the writer to remedy that situation.
Unlike Poland, France is riding high in the genre, and it is perhaps time for Gallic crime writer Frédéric Dard to enjoy posthumous success abroad as well as in France. The first English translation of The Wicked Go to Hell (Pushkin Vertigo, £7.99) is a good demonstration of his appeal. The book is slim – at 156 pages, no longer than one of Simenon's Maigret novels – and in David Coward's excellent translation it's a one-sitting read (though some of Dard's profusion of exclamation marks, over-emphatic in English, might have been trimmed). In one of France's most brutal prisons, an undercover policeman is trying to trap a spy by posing as another prisoner. The protagonists, Frank and Hal, make plans to escape from their filthy cell – and the reader is set up for a clash between this mismatched duo. Not much character nuance here, but, boy, is it fast-moving.
Let's stay in southern Europe. The Italians have an individual line in cynical but perversely likeable detectives. Rocco Schiavone in Antonio Manzini's A Cold Death (4th Estate, £7.99, trans. Antony Shugaar) is a very different kettle of fish to the Italian market leader in cops, Camilleri's Montalbano, but Schiavone is one of the most distinctive coppers in the genre. In an upscale apartment in an Alpine village, a cleaning lady discovers her employer hanging from the chandelier. Suicide? Deputy Police Chief Schiavone is under a cloud, banished from the Rome he loves to the small town of Aosta, and doesn't accept the suicide solution (what literary copper in a crime novel ever does?), but he finds that small towns can hang on very tightly to their secrets. Schiavone is a nicely dyspeptic creation: cynical, combative and forever settling old scores. He is something of a find, as is his creator Manzini.
Still with la Bella Italia, the second posthumous entry in this round-up is the final novel by Umberto Eco. Numero Zero (Vintage, £8.99, trans. Richard Dixon) is a satisfying last hurrah from the man who kickstarted the historical crime genre with his classic The Name of The Rose. This entry is much slimmer and more approachable, but still not for the casual reader, with a journo investigating a conspiracy involving the death of Mussolini.
Northern Europe now, and German crime writing is in a healthy state in the 21st century, with such writers as Nele Neuhaus and Jan Costin Wagner. Another current star is Sebastian Fitzek, whose The Night Walker (Sphere, £8.99, trans. Jamie Lee Searle) is more darkly fatalistic than anything else in this list, with an insomniac turning to violence during his nocturnal sojourns.
But, finally – let's face it – we can't forget the Scandinavians. Alexander Söderberg has another taut entry in The Other Son (Vintage, £8.99, trans. Neil Smith), with a nurse falling for a crime lord. The final place in this roundup, however, must go to the Queen of Icelandic crime Yrsa Sigurdardóttir, winner of the Petrona Award for translated fiction. Why Did You Lie? (Hodder, £14.99, trans. Victoria Cribb) is a reminder that Sigurdardóttir is really a horror writer manqué, despite her reputation in the crime fiction stakes, and this spine-chilling new novel has her customary authority. Four strangers are sheltering from the elements on an isolated, ocean-swept rock. The one thing they have in common is that they are all liars – and nemesis is biting at their heels. The situation may owe something to Christie's And Then There Were None, but Sigurdardóttir is always her own woman, and keeps us on the edge of our seats.
Register for free to continue reading
Registration is a free and easy way to support our truly independent journalism
By registering, you will also enjoy limited access to Premium articles, exclusive newsletters, commenting, and virtual events with our leading journalists
Already have an account? sign in
Join our new commenting forum
Join thought-provoking conversations, follow other Independent readers and see their replies