2014 Independent Bath Literature Festival: A rapturous return to the happy valley
This year's Independent Bath Literature Festival boasts a stellar line-up – and is on a mission to celebrate the timeless bliss of getting lost in a book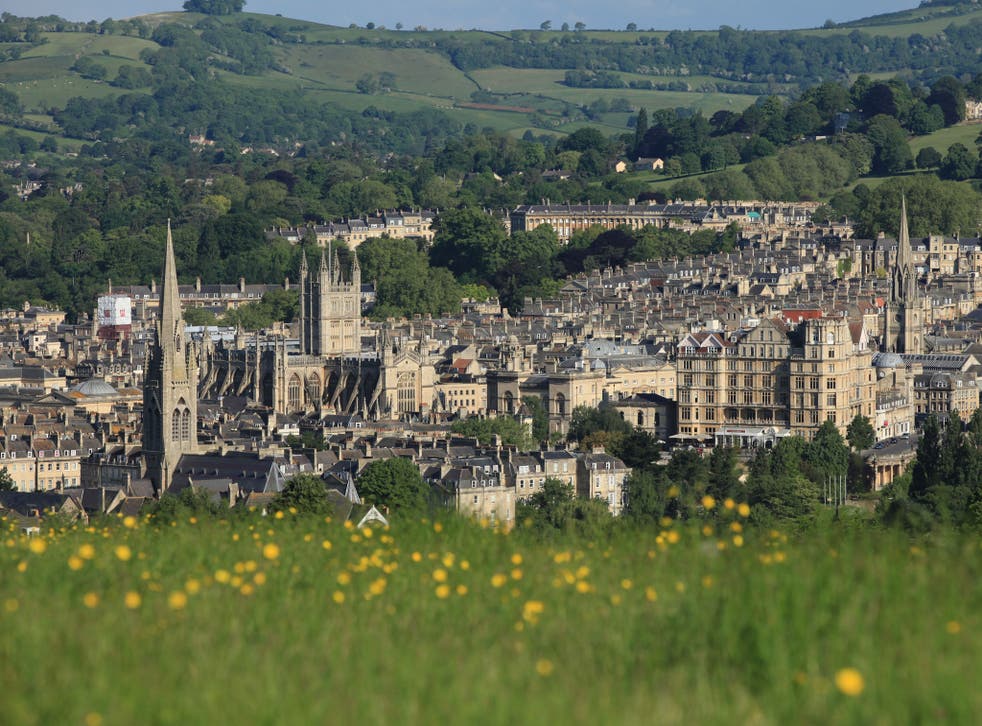 This is my first year as artistic director of the Independent Bath Literature Festival (28 February to 9 March). It's one of the UK's biggest book festivals, a year away from its 20th anniversary in 2015.
With social media, TED talks on YouTube, ebooks, iPads and viral videos competing for everyone's attention, what I most wanted to create for 2014 was an eclectic, challenging and inspiring programme. It also needed to be effortlessly fun. So the theme for this year's Festival is "bliss", designed to celebrate the joy of losing yourself in a book – and to cheer everyone up in what had better be the last throes of a recession.
Reading as a source of bliss is a constant in even the most difficult times. Knowing that someone else has put something into words that you had only half-formed as a thought is the most reassuring feeling. As the Booker-shortlisted novelist Philip Hensher (who'll be in Bath to talk about Wagner) recently wrote: "More should be done to keep literature at the heart of our national life." With many libraries closing and arts funding in constant peril, literary festivals with a feel-good factor as well as intellectual rigour are the first line of defence.
I've always loved books and I've always loved live events. Put the two together and you get something unpredictable. There's the drama, the connection, the possibility of someone saying something they didn't quite mean to which was the one thing you most wanted to hear. Since I started performing stand-up comedy a few years ago, I've become obsessed with the magic that happens between an audience and a performer. (Or doesn't happen. Which can sometimes be even more interesting for the audience. If painful for the performer.) Lots of authors increasingly understand the value of this: novelists who know how to talk to people quickly get a reputation for creating "you had to be there" moments. That is the sweet spot a good literature festival should be aiming to hit. It also, not irrelevantly, sells books.
If you can work a crowd, people will want to spend more time with you – by reading your books. Lionel Shriver calls it "being a ham", but she means that in the nicest way. Unsurprisingly, Shriver – a hugely entertaining and unpredictable motormouth on the festival circuit – is one of the fastest-sellers in Bath this year, alongside Alastair Campbell, Germaine Greer, Jennifer Saunders and former Archbishop of Canterbury Rowan Williams (talking about Tolstoy). But this phenomenon is not just about megawatt celebrity (audiences are not stupid). It's about picking what's likely to entertain and educate: neurosurgeon Henry Marsh, psychotherapist Stephen Grosz and award-winning comedy improv troupe Austentatious are all on waiting-list only.
It's a big operation, a festival like this, set over ten days with 200 authors and performers talking to an audience of over 20,000. The line-up is as starry as you'd expect: Hanif Kureishi, Douglas Alexander, Rachel Joyce, Michael Rosen, Mark Lawson, Everything But the Girl's Ben Watt, Mark Hix, Claudia Roden, Kirsty Wark, Alain de Botton, Count Arthur Strong, Mark Watson, AL Kennedy, Joanna Trollope, Val McDermid, Lucy Porter, Jo Caulfield... You need to cover fiction, politics, comedy, history, psychology, science, food, fashion, sport. You need to give a flavour of your own tastes and ideas without pushing them down people's throats. I make no apology for the fact that there's a lot of comedy. But at least everyone else on the Bath Festivals team voted "nyet" to my brilliant idea of hosting a Russian-language event (in the Russian language). Maybe next year?
I've also tried to mix up the names with event strands that are new to Bath. Books for Breakfast features business types revealing the secret of their success (Newsnight's Gavin Esler and career guru Mrs Moneypenny). Firestation Book Swap transfers from its home in Windsor to bring refreshing literary chaos: there's an on-stage chat with two novelists (Natalie Haynes and Stephanie Merritt for adults; Andy Stanton and Marianne Levy for children) while the audience compete to swap books. Short Stories Aloud visits from Oxford, pairing up writers (Jonathan Grimwood and Sam Baker) and actors (Jason Hewitt and Jenny Johns of BBC Radio 4's The Archers). What's important about these events is that they have an interactive format. It's a very different feel to the Great One speaking loftily from the podium about Art. I don't think there is much room for that model anymore. Unless the Great One is completely electrifying. (I'm looking at you, Germaine Greer.)
But how else to keep it fresh and exciting? To kick things off, Jonathan Dimbleby presents BBC Radio 4's Any Questions? live from the festival for the first time on Friday 28 February. That kind of thing matters: this event is part of the national conversation. International exclusives are also vital. We have Russia's answer to JK Rowling, Boris Akunin (25 million copies sold worldwide of his Erast Fandorin mysteries), flying in from Moscow to talk about his life as a dissident detective novelist and what he makes of events in Sochi; he'll be in conversation with world literature supremo Maureen Freely, Orhan Pamuk's translator.
I'm particularly thrilled that "Tiger Mother" Amy Chua and her Yale law professor husband (and best-selling thriller writer) Jed Rubenfeld will be joining us in their only UK Festival appearance this year, to talk about The Triple Package: What Really Determines Success. Without pulling any punches, Chua expands the Tiger Mother theory of self-control to a host of cultural groups. "Despicable new theory of racial superiority" (Salon)? Or countercultural common sense? BBC Radio 4's Kirsty Lang will be grilling the pair.
The trick for me with the 2014 programme has been to try to create memorable moments of theatre for the audience. As one arts festival director once said: "There is a literature festival every five minutes. And every five miles up the road." There's a paradox here. There are new literary events springing up all the time (only this week came the announcement of London's Social Book Week in May, which aims to host authors in venues where people like to hang out and socialise like hotels and bars). There's a huge hunger for the intimate connection of "live and unplugged". But at the same time there's also a fatigue setting in. If you're going to do these things, you have to do them originally, engagingly, with a twist.
That's where the idea for The Bliss Lectures came in, over a year in the planning. It's a series of writers and thinkers talking about the one thing in life they're most passionate about – in under 18 minutes. The philosopher Julian Baggini kicks off the series with Bliss is... Food, a meditation on how the way we eat determines the way we live. The companion lecture, Bliss is... Drink, comes from Olivia Laing, author of the Costa shortlisted The Trip to Echo Spring, a book about creativity and alcohol which has received phenomenal (and richly deserved) attention on both sides of the Atlantic. Nature is, of course, many people's deepest bliss, and is especially resonant at the moment when so many areas of Somerset (where I come from) are suffering from the floods. For the leading environmental writer Patrick Barkham, his Bliss is... Badgers: there are more per square kilometre in this country than anywhere else in the world – so why do we rarely see a live specimen?
The most blissful thing about Bath itself is the setting, of course – and the historical literary connections. This year's programme makes the most of the sense of place. Pin Drop, a spoken-word night featuring short stories, is taking place in the servants' hall at Number One Royal Crescent. There's a literary cocktail party hosted by Red magazine at the Pump Room, where Jane Austen's Northanger Abbey ladies "walked together, noticing every new face and almost every new bonnet in the room."
Our main venue, the Guildhall, is hosting a new drama production in the courtroom setting of the atmospheric Council Chamber. Following on from the success of last year's To Kill a Mockingbird is this year's Hanged for Love, directed by BBC Radio 4's award-winning Marilyn Imrie and featuring students from Bristol Old Vic Theatre School – and, returning by popular demand, Dame Harriet Walter as narrator. Based on the 1923 story of Edith Thompson and her lover Frederick Bywaters, this production tells their story through their love letters as read out in court during their trial. Rehearsals have been spine-tingling.
My hidden gem on the programme? An unusual and charming take on Virginia Woolf on the 85th anniversary of A Room of One's Own: a spoken-word tour of the garden Woolf most loved. Caroline Zoob, one-time custodian of Woolf's garden at Monk's House in Sussex, gives a fascinating insight into the writer's life. I will be listening carefully. Because by the end of 158 events, I will definitely be needing some space of one's own. A padded cell would be bliss.
For the full programme of events from Friday 28 February to Sunday 9 March, go to www.bathfestivals.org.uk/literature, call 01225 463362 or follow @Bathfestivals or @vivgroskop for updates on #bathlitfest #bliss2014
Best of the Fest
1. Encouraging Wealth Creation: The Debate
Can the wealthy save us? Or is that undemocratic? Independent columnist Steve Richards and political commentator Nick Cohen go head to head with leading philanthropy advocates Theresa Lloyd and Tom Hughes-Hallett. 5 March, 8pm, £8.
2. Books for Breakfast
Books for Breakfast with TV's Gavin Esler (talking about Leadership on 4 March, 8.30am, £20) and career guru Mrs Moneypenny (on How to Get Ahead at Work on 5 March, 8.30am, £20). Hall and Woodhouse breakfast and a signed book included in the ticket price.
3. Hanif Kureishi
Hanif Kureishi in conversation with BBC Radio 4's Kirsty Lang. The literary force behind My Beautiful Laundrette and The Buddha of Suburbia on his controversial new novel, The Last Word. 2 March, 8pm £9.
4. Henry Blofeld
Legendary cricket commentator Henry Blofeld on his eventful life, ahead of his 75th birthday later this year. 1 March, 6pm, £15.
5. A Woman's Place Is...?
A debate about the limits of feminism, chaired by Newsnight's Kirsty Wark, with a panel of alpha women: author of How to Be Awesome, Hadley Freeman, Whistles CEO and fashion retail legend Jane Shepherdson (pictured) and editor-in-chief of Red magazine, Sarah Bailey. 8 March, 1pm, £8.
6. Josh Cohen
What's happening to our privacy? Psychoanalyst Josh Cohen examines the 21st century desire for exposure. 7 March, 4.30pm, £8
7. Miranda Seymour
Miranda Seymour, the author of In My Father's House, on the surprising history of the relationship between England and Germany. 6 March, 11.15am, £8.
8. Nicky Haslam
Party planner to HRH Prince Charles and Britain's most celebrated interior designer, Nicky Haslam, tells the story of his beloved "Folly de Grandeur" country house. 4 March, 4.30pm, £8.
9. Jonathan Aitken
Jonathan Aitken on Margaret Thatcher: Power and Personality, an "alarmingly candid" exposé of the leader by an insider with a ringside seat. 3 March, 8pm, £9.
10. Kirsty Wark
An exclusive preview of the new novel by Newsnight's Kirsty Wark, The Legacy of Elizabeth Pringle. 8 March, 4.30pm, £9
Register for free to continue reading
Registration is a free and easy way to support our truly independent journalism
By registering, you will also enjoy limited access to Premium articles, exclusive newsletters, commenting, and virtual events with our leading journalists
Already have an account? sign in
Register for free to continue reading
Registration is a free and easy way to support our truly independent journalism
By registering, you will also enjoy limited access to Premium articles, exclusive newsletters, commenting, and virtual events with our leading journalists
Already have an account? sign in
Join our new commenting forum
Join thought-provoking conversations, follow other Independent readers and see their replies