A guide to the latest crop of Cook books: Farewell egg salad, hello toasted marzipan custard
Let's get chopping
Lisa Markwell
Saturday 23 May 2015 12:00 Comments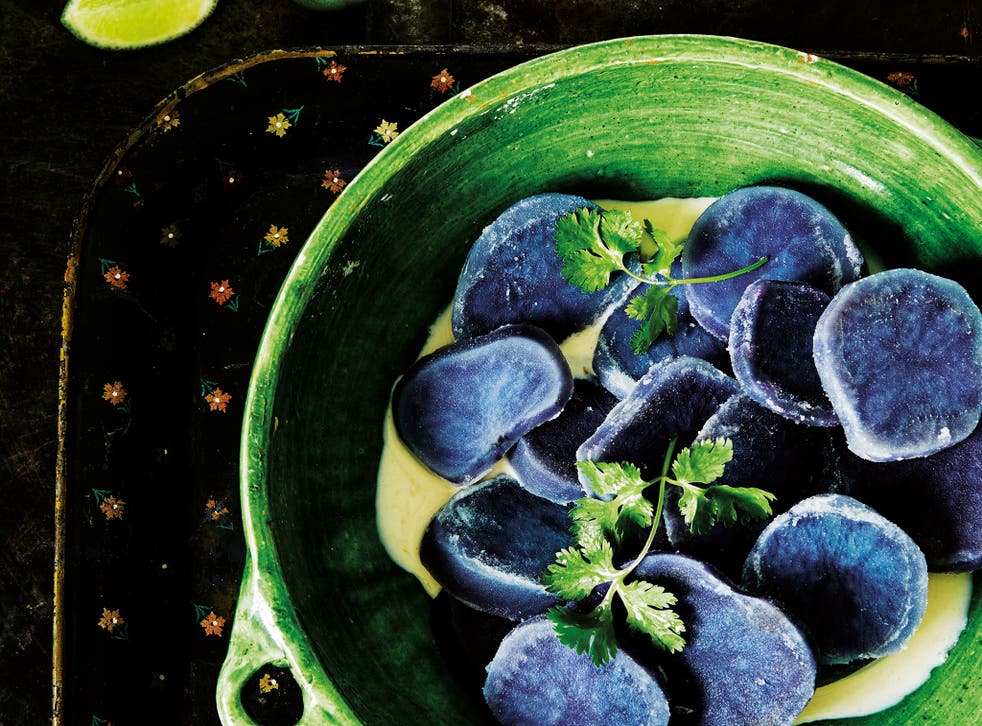 There's a place for high-falutin' conceptual titles, but it's not in my kitchen. I want cookbooks that either show me something new or give me the definitive, can't-fail version of something I want all the time. This season there are stacks of both (the plan is to eat more meat-free dishes, and to master Asian cuisine).
Rosie Birkett is a young food writer I admire. She has bags of energy and good ideas, but I hadn't properly appreciated her recipe skills until I picked up her book, A Lot On Her Plate (Hardie Grant, £25). It's packed full of accessible ideas from quick suppers for one to feasts for friends (she's a fixture on the London scene and knows everybody), and more than that, both the design and tone of the book are friendly. As you'd expect from someone who interviews chefs and restaurateurs all the time, she references them openly and shares their tips. Lovely.
The big trend in cookbooks this season is vegetarian, but the first of those I grabbed is V for Vegan, by Kerstin Rodgers (Quadrille, £20). I've met Kerstin too, also known as Ms Marmite Lover, and she's the primary force in supperclubs. She's strident and saucy and that comes across in clever recipes that even the most committed carnivore could love.
50 best foods for healthy living

Show all 50
Benign dictatorship saffron spaghetti is a case in point. "Do not freestyle it," she says. "I don't care how poor you are, you can buy a halfway-decent tin of tomatoes." Her nut roast might win me over, if ever I'm to be persuaded, and the pictures (memorably a wild mushroom forest pie) are delightful. The whole book has a punky design, which is very Kerstin, and not very old-school vegan – so much the better.
Video courtesy of divertimenti.co.uk/events
A quick detour to say a word about "celebrity" cookbooks. The vegetarian one just published by Mary McCartney (yes, daughter of ...), called At My Table (Chatto & Windus, £20), is perfectly nice but compared to those named above it is – pardon the pun – very vanilla. It's not one I'd leap to recommend.
Much, much more thrilling is A Girl and Her Greens, by April Bloomfield (Canongate, £25). There's tons to read even before the recipes as the Birmingham girl turned Manhattan super-chef, covers her childhood and her slow conversion to the joys of vegetables. She's famous, rightly, for her meat dishes but there is much to learn from her – just don't expect purity (bacon makes a few appearances).
And so to new-old Asian, the summer's other big box-office. The very best of these are Maunika Gowardhan's Indian Kitchen (Hodder, £25) and Lizzie Mabbott's Chinatown Kitchen (Mitchell Beazley, £20).
Maunika's book is divided into chapters named Hungry, Lazy, Indulgent and Celebratory; the first packed with lipsmacking quick recipes, including an instant hit with me, chicken tikka with pomegranate molasses. There's also chilli paneer fry and masses of other familiar and intriguing dishes (all clearly very true to Maunika's Mumbai upbringing). Later on in the book, rich curries and opulent veggie dishes too, for the hordes. I'll definitely be using this one regularly.
Meanwhile, off to China. Lizzie Mabbott's book goes some way beyond its own geographical remit and includes dishes from other parts of Asia (an unexpected joy; you can tell she grew up in bustling Hong Kong).
So, you'll find kimchi and rotis as well as classic Chinese dishes here. Her tone is chatty and authoritative – not always easy to pull off – and you'll want to stretch yourself to the full-on, unfamiliar recipes (still not convinced by century egg salad, sorry Lizzie!).
Finally, a quick nod to Jeremy Pang, whose Chinese Unchopped (Quadrille, £20) comes out a fortnight from now. Some years ago, at his ace cookery class HQ, School of Wok, Jeremy taught me the basics (egg fried rice and sweet and sour chicken) one evening and my family clamour for them even now. His book is as instructive as he is: tips and advice (such as having a "wok clock" so everything's prepared and in the right order to add to the last-minute cooking) appear in abundance throughout. I can't wait to try his "Grandma's lionhead meatballs", although Sichuan-style aubergine also looks good and is, yes, as vegetarian as it sounds.
Register for free to continue reading
Registration is a free and easy way to support our truly independent journalism
By registering, you will also enjoy limited access to Premium articles, exclusive newsletters, commenting, and virtual events with our leading journalists
Already have an account? sign in
Join our new commenting forum
Join thought-provoking conversations, follow other Independent readers and see their replies