Arundhati Roy's book on caste rejected by some anti-caste activists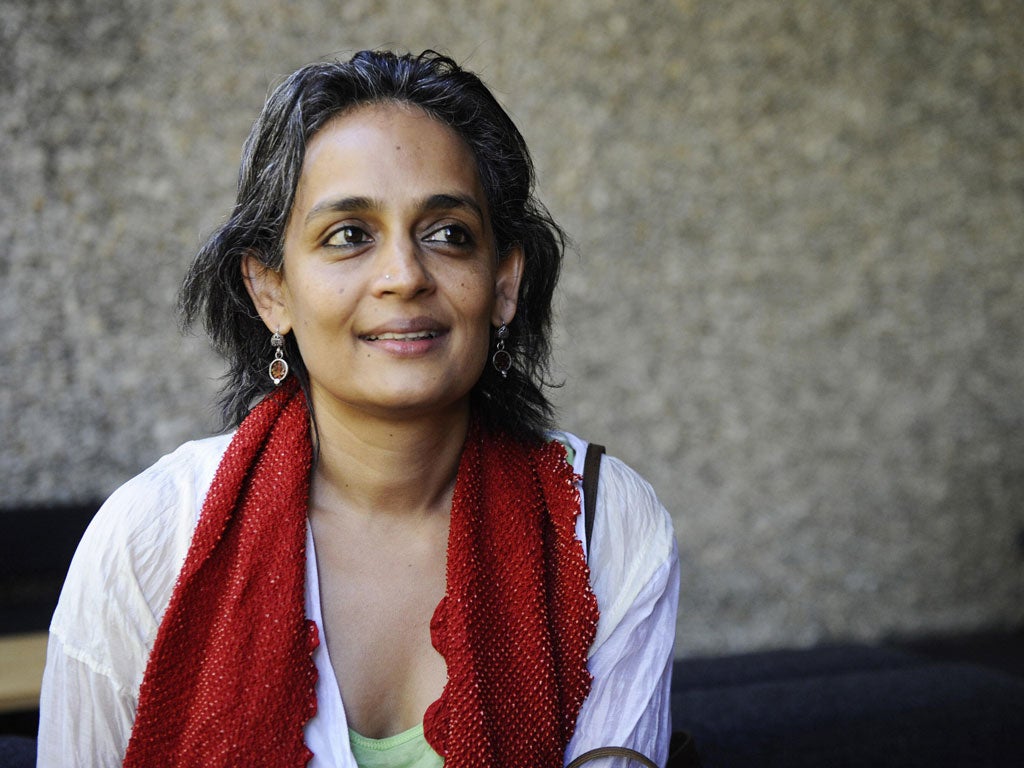 Booker Prize winner and activist-author Arundhati Roy was recently in London to launch her new book called The Doctor and the Saint, except, it's not entirely her book.
Roy has written an introduction to the seminal text The Annihilation of Caste - a critique on Hinduism and caste, penned by the great Indian social reformist Dr B.R. Ambedkar. He wrote the piece for a lecture in 1936 which was not delivered: the upper caste organisers found the text too radical to 'permit' him to speak.
In March 2014, her book was launched in India triggering controversy. Roy, who is usually praised for her efforts in trying to represent the marginalised in her writing, found herself in an awkward position as well-known anti-caste activists and Dalit (formerly Untouchables) writers rejected her introduction. A popular YouTube Channel, Dalit Camera uploaded a series of interviews and critiques on Roy's introduction, including an open letter to her. By August, an online media portal dedicated to anti-caste issues called Round Table India (RTI) had published several articles by a range of authors.
"We object to Roy's text not because of her non-Dalit origin but due to her poor grasp of the seminal text and even shallower and sensational out-of-context introduction to the original text at risk of maligning Ambedkar" says Anu Ramdas, Editor of RTI.
Roy, in her introduction to The Annihilation of Caste, has described Ambedkar as being Anti-Adivasis (tribals) and pro-eugenics. "This is like calling Steve Biko a racist", said Ravichandran, founder of Dalit Camera.
Roy accuses Ambedkar of using the language of eugenics, "a subject that was popular with European fascists' to make the case against Hindu population." Ambedkar's own analysis on Caste was in fact quite the opposite. He said caste "….has no scientific origin, and those who are attempting to give it an eugenic basis are trying to support by science what is grossly unscientific."
In another instance, Roy insinuates that it was Ambedkar's views on adivasis that led the Indian State to seize adivasis' homelands. Roy's grasp of the original text have angered anti-caste scholars. In the introduction, she appears to be an advocate of progressive politics, while unwittingly pitching Dalit politics against adivasis.
In my opinion, Roy's introduction denies readers the opportunity to understand the nuanced relationships between caste, class, religion, capital, technology and neo-liberal politics in India and among overseas Hindus. Anti-caste movements and ideology are full of complexities, are multi-layered and require strategic alliances with different ideologies and groups. For example, Dalits and anti-caste intellectuals are always wary of romanticising rural lives in India as the smooth functioning of rural eco-system is inextricably linked with caste-bound duties and hierarchies. They have therefore often embraced technology, capitalism, urbanisation – at risk of experiencing new forms of inequalities - as ways to break the caste system.
Roy's views on such matters are flat and monolithic, I think. She posits that Ambedkar embraced a pragmatic western liberalism which she connects with today's neo-liberal-market-capitalism. She then uses this subtext to launch her romantic views on globalisation and development.
Her introduction, in fact, barely references the original text and mainly focuses on comparing Gandhi with Ambedkar, which seems to be the real purpose of the book. Roy, by her own admission, said at the launch at Columbia University that she had chosen not to publish her text as a stand-alone book, because she is…"pretty sure it would have been banned or disappeared in some ways. So it was a bit of a Trojan horse operation."
"Roy has abused Ambedkar's text to protect her commentary on Gandhi for sensational and marketing reasons", claims Naren Bedide, an activist and contributing editor at RTI. "In fact, she has used Dalit politics as a shield to cover her own publishing interests".
Roy is listed as either principal co-author or as the only author on several online book selling portals, including her publisher, Verso in the UK. "A series of misleading author listings for B.R.Ambedkar's seminal text The Annihilation of Caste on web portals has generated a lot of flak against writer and columnist Arundhati Roy…." reported India's The Hindu newspaper.
Of course, introducing a seminal text like Annihilation of Caste will doubtless be a politically sensitive task, that is hardly neutral. It requires self-reflectiveness of the author's political and privileged positions and an understanding of the contextual nuances of the text. Roy demonstrates neither, to my mind.
Roy opens her introduction with a confession of her privilege: "My father was a Hindu, a Brahmo (the high priestly caste in the ladder). I have never met him until I was an adult." She came in contact with the text several years ago only because she was 'asked' to write an introduction by the publisher due - one assumes - to her celebrity-author status.
Feminist scholar Andrea Smith's analysis of white privileges tells us how the confession of privilege is often a ritual without much meaning and is eventually based on the structures of dominations it was supposed to resist. Roy's opportunity to learn about Ambedkar and critique on Gandhi, to introduce this book to the world is, I would argue, a clear example of her upper-caste privilege. But like 'white privileges' would want us to believe, Roy presents herself as transcending these structures, as a cosmopolitan subject beyond her caste and class privileges. This is only possible however, as Smith says, as long as Dalits remain 'trapped within identities'.
In The Doctor and the Saint, neither Ambedkar nor the Dalits, but solely Roy appears to be the only beneficiary of this project. Her life, be it in her activism or this book, appears, to me, chillingly similar to a neoliberal 'poverty baron' who flies around the world offering her services to reduce poverty.
At the end of her introduction, she says caste cannot be annihilated "unless those who call themselves revolutionary develop a radical critique of Brahminism." She could contribute more to Dalit politics by reflecting on her own everyday upper caste practices and privileges (such as the ever-present caste identity in her name) before introducing Annihilation of Caste to 'foreigners'.
Murali Shanmugavelan researches Caste and Communication at the School of Oriental and African Studies, University of London.
Join our commenting forum
Join thought-provoking conversations, follow other Independent readers and see their replies