AS Byatt returns to large-scale fiction with an epic but intimate novel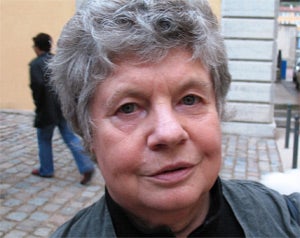 For a writer so often praised, and sometimes scorned, as a cerebral conjurer of ideas and images, AS Byatt likes to get her hands dirty. Her first full-length fiction in seven years, The Children's Book (Chatto & Windus, £17.99) bulges with a quarrelsome crowd of mucky-fingernailed artist-craftspeople and their hangers-on. These visionary writers, potters, puppeteers and pamphleteers endeavour to design a whole new world – and new forms of sexual and family ties to match it – through the two English decades before the First World War.
Throughout this intricately worked and sumptuously inlaid novel, the potter's art gives readers a touchstone for the creative life. Its Yorkshire-born author is related, via her mother's father's family, to Robert Bloor, a 19th-century entrepreneur who revived Royal Crown Derby ware. She has written with virtuosic skill about many other visual arts, but says "I've always avoided pots because pots are in my ancestry". Now, having crafted a potter protagonist – clever Philip Warren from the Five Towns, who develops from a homeless urchin sketching in the South Kensington Museum to the rising star of Edwardian art ceramics – his creator felt she had to share his manual métier.
One of her daughters lives next door to potter and writer Edmund de Waal. Which explains how Dame Antonia Byatt CBE found herself coated in the primeval slime from which all beauty comes. "He invited me to his studio and actually let me put my hands in clay, which was a surprisingly important experience. It taught me what I had always known but only intellectually – that people think with their fingers."
In truth, soul and body have always overlapped in her work. Not for nothing did her friend and editor, Jenny Uglow, suggest she call a collection of essays Passions of the Mind. But in The Children's Book, her conjoined clans of aesthetes, reformers and horny-handed makers often tend to think with appendages other than their fingers.
Olive Wellwood, a matriarchal doyenne of the late-Victorian fairy-tale, lives with her clutch of differently-parented children in the bohemian Arts-and-Crafts heaven of rural Kent in the late 1890s. She is happy to believe, amid this genetically diverse tribe, that "stories are the inner life of this house. A kind of spinning energy". Over the next 20 years, evoked via a lavish spread of people, settings and ideas, this charmed circle of light and love both widens and fragments. "You have muddled us all up," accuses daughter Dorothy, as the downside of a pioneering sexual and intellectual freedom strikes home.
The Children's Book seethes and pulses with an entangled life, of the mind and the senses alike, as dense as spring undergrowth in its Kentish woodlands. Scholars, potters, painters and authors spar over the principles of art with a captivating fervour that shuns the glib hindsight of assuming that the Modernist revolution would sweep this crew of decorators clean away. In its style, as in its debates, the novel shows that "the skill of the painter and gilder was as much skill as that of the moulder". Here, ornament is not a crime.
Colour and sensation flood Byatt's writing, and never seem far from her life. On the golden afternoon we meet at her south London home, Byatt and her husband, Peter, are unwinding after a visit from two California-based grandchildren. April sunshine lights up the array of paintings on the walls, awash with primary colours. I know, from happy past experience, that I can with any luck look forward to a glass of champagne when the interview ends. The Wellwoods would surely approve.
Yet this brimful novel had its origins in a forensic curiosity about why "the children of children's writers always came to bad ends". In the Edwardian heyday of fable and fancy - the age of Peter Pan, The Railway Children, and The Wind in the Willows - grim fates lay in wait for young prey. "Kenneth Grahame's son was not the only one who killed himself," Byatt reports. So, probably, did one of JM Barrie's "Lost Boys". Rudyard Kipling "destroyed his son" by forcing him into the army. As for Alison Uttley's son, "he managed to get married and she hated his wife. And he drove himself off Beachy Head."
Is there a pattern of perdition here? "The children's writer on the whole wants to be a child," says Byatt, "and takes up the central place in the child's story". Olive fashions fairy-tales for her children, which the book artfully recreates – one was independently written for a Byatt grandchild. But does Olive inscribe their destiny as well?
Byatt admits that she "does not love" this generation of thinkers and artists as warmly as she does the High Victorians who inspired Possession: (1990): the Booker-winning, world-conquering "romance" that so drastically altered many perceptions of the writer-critic who, from 1972 to 1983, taught English at University College, London. Yet she gives them their due, and much more. A ferocious imaginative generosity brings every hand-fired bowl, allegorical puppet-show, Suffragist tract and fumbling free-love tryst back to exhilarating life. Sex makes fools of these high-thinking Utopians, naturally enough. But with the tormented potter Fludd and his near-catatonic daughters, something worse than folly lurks.
Some critics will treat The Children's Book as a damning record of abuse. Byatt, who researches every by-way of her fiction with a scholar's relish, looked into the life of Eric Gill – the designer and sculptor who, notoriously, had sexual relationships with his daughters.
"What I was struck by in Fiona McCarthy's life of Gill is that he doesn't seem to have done them much damage," she says, with a typically brisk disregard for conventional pieties. "His children seem to have managed to get happily married." This Byatt touch doesn't amount to an argument for incest – far from it - but an argument against determinism. Here, as elsewhere, her characters ride through fire and flood to exercise the freedom to choose and change that the novelist grants them. After all, Byatt's 1965 study of her friend Iris Murdoch's early work carried the title Degrees of Freedom.
She dissects and dramatises her figures' plight, but seldom mocks or flays them. Where family secrets and face- saving fibs abound, "I don't believe that tout comprendre c'est tout pardonner," she says. "But I think that you should jolly well try to understand rather than judge for as long as possible."
With characters' fictive freedom comes a respect for chance and accident as the ruling divinities of history. That emerges in the desolating blow-by-blow collapse of these once-blessed children into the killing-grounds of the First World War. For Byatt, "The City [which keeps the Wellwoods' rural bliss afloat] clearly had no idea the war was coming. Most people didn't... I think my father must have known World War Two was coming before I was born [in 1936], but most of these didn't."
As in the Frederica Potter quartet of novels, from The Virgin in the Garden (1978) through to A Whistling Woman (2002), Byatt proves herself a peerless chronicler of the English progressive mind – and heart – as it blunders through golden and leaden days into the invention of the world we all inhabit now. Fabian idealism crashes into neo-pagan libertinism - notably in the fruity figure of Olive's radical but "randy" consort, Humphry. Sensualism and socialism waltz in an uneasy clinch. Priapic arty males tussle with high-minded but hot-blooded feminists.
Her young women yearn to think, study, vote and work with a hunger for liberation that collides with a thirst for love. "I'm very moved by that generation of young women, realising they can go to college and live the life of the mind," she says. "And then they've got a terrible choice. It was still true for my generation: either sex or work."
Would this dilemma read like ancient history to younger women readers? "I think that women have not solved the problem of their biology, My daughters have a quite different problem, which is that they simply can't physically cope" - with the multiplying tasks imposed by the society the Wellwoods helped to forge. "There is a generation of men coming up who do an enormous amount more. But that doesn't take away the basic problem – that children as animals need your complete attention."
Like Philip the genius of the kiln, Olive the literary queen bee - who attends to some offspring but overlooks others - has fought her way out of smoke-blackened industrial England. Memories of the Victorian coalfield, where terrors worthy of the Grimms unfold in an infernal maze of tunnels, prompt Olive's tales of underground domains. Beneath the pastoral idyll, the poor toil and die – as Byatt's Fabians know. In the author's northern youth, that pillaged earth "was close ... But my mother had a total horror of the South Yorkshire coalfield. She said that she used to start feeling sick the moment she was travelling through it or anywhere near it."
Byatt's abundance always feels shadowed by austerity. The daughter of a public-spirited barrister (and sister, as the world knows, of the novelist Margaret Drabble), she was educated at a Quaker school in York and studied at Cambridge in the moralising midsummer of FR Leavis. She grew up a voracious reader in a home that admired but distrusted art. Now, as we talk about the ruin that has defaced the downs and woods her characters revere, she refers to her ambivalence "about whether art solves anything. There's a Puritan streak in me that thinks I should go out and attempt to solve what's happening to the landscape or do green agitation – and not write books. But the other side is that I don't like books that are written as propaganda."
Neither does she do confessional literature. "I've always wanted to avoid writing what I call a 'me novel'," she says. "I can't write about anything until I've got quite a lot of sources." Among the multiple perspectives of The Children's Book, "none of my sources is me... It's nothing to do with my feelings about anything. I know that as a general principle, I avoid myself. And then," she adds, "you find that you've met yourself because you go around and around".
A rare example of the heights-scaling novelist who remains an exacting critic, Byatt has flashes of impatience with the cosy clichés of book-chat. The many viewpoints of her books inhibit the "identification" with a single figure that reading-groups crave: "My method of looking at everybody, I suspect, makes it harder for anyone to find that."
Like a master-potter, or magic-working puppeteer, she has fashioned all the folk we know so well. At a recent festival, "People said, 'How could you bear to give these characters up - don't you want to go living in their company?' Well, no. The story's finished and I never was in their company, I'm a writer looking through their eyes, which is different. They're not my friends." Perhaps not. But, wrangles over realism aside, they may well become yours.
Join our commenting forum
Join thought-provoking conversations, follow other Independent readers and see their replies