Books of the year 2014: The best graphic novels
In charcoal drawings (above), half without words, Carol Swain shows how one girl, much like Swain's childhood self, negotiates some sense of belonging between manmade 'civilisation' and nature's bluntness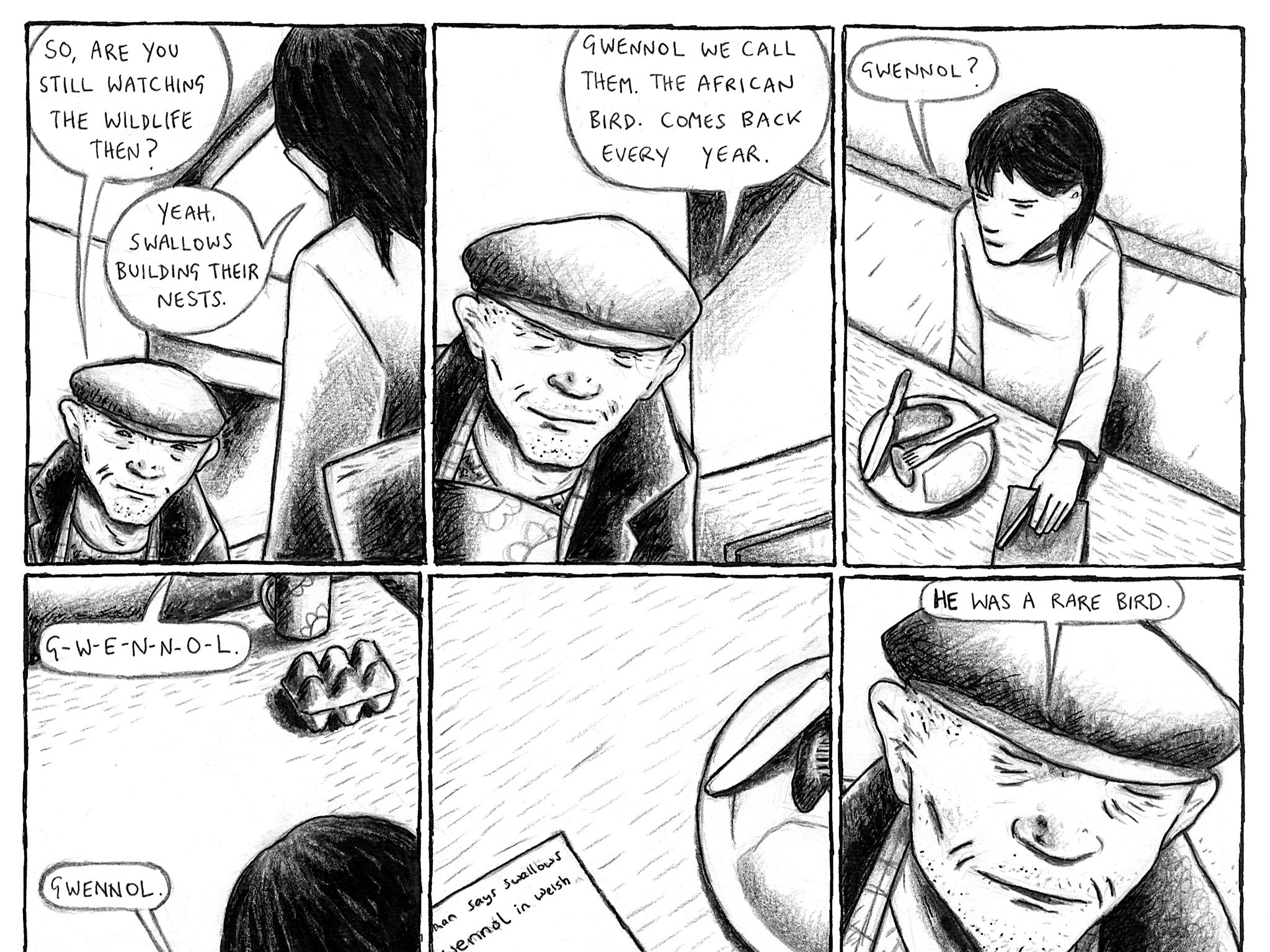 In a year packed with veterans' career highpoints and newcomers' remarkable debuts, the three following graphic novels from Britain, America and France demonstrate how the medium at its most innovative and individualistic can stretch the multi-layered, visual-verbal experience of comics far beyond mere films on paper.
In Carol Swain's Gast (Fantagraphics, £16.99), Helen, an only child whose family has recently moved from the city to rural Wales, becomes fascinated by a cross-dressing farmer's suicide; only she and his Avon lady attend the funeral. So it seems entirely natural that his closest companions, two dogs, and his prized ram, can talk and tell her most about their owner's life and death. They explain that the trace on the wall above his bedboard is a circular stain of "raddle", sheep dye he coloured his long hair with "like a ragged fleece". The ram sounds almost sympathetic: "You humans are the saddest of animals." In charcoal drawings, half without words, Swain shows how one girl, much like Swain's childhood self, negotiates some sense of belonging between manmade "civilisation" and nature's bluntness.
The fixed location of Here (Hamish Hamilton, £25), which expands a six-page comic from 1989 into a 320-page mixed-media inventory, is one corner of Richard McGuire's childhood living-room. Spanning from three billion years ago to the 23rd century, the year of the events depicted appears in the top left of each spread and in each additional panel embedded within it, anchoring the overlapping histories and ever-changing families, fashions, decors and technologies, simultaneous in this single spot. Time-jumps range from eons to moment-to-moment, sometimes as "rhyming events" – dancing, breakages, insults, hands – sometimes in narrative bursts.
Here heightens our awareness of how much has gone before and is still to come and wonders if we are all "future transitional fossils", as one T-shirt asserts? Feeling the powerlessness of now, our lifetime may appear but a blip. Perceive this bigger picture, however, and our place within it turns here and now into everywhere and eternity. As someone in 1971 marvels in Here, "There was a moment there when we were all together in the same room. It was just for a moment. I don't think anyone even noticed." McGuire primes us to start noticing.
French couple Kerascoët are my choice from Europe for Beautiful Darkness (Drawn & Quarterly, £15.99), co-written with Fabien Vehlmann. What seems like a flighty fairytale in a Quentin Blake style soon swerves into unsettling amorality, as charming Aurore and her friends find their tea-party interrupted by viscous red dollops raining from their ceiling. A mass exodus reveals that these tiny folks' collapsing home lay inside a young girl's corpse on the forest floor.
The otherworldly realm of Richard Dadd's fairy paintings collides here with a grittier unsolved murder mystery. Is a lone woodsman the killer or might Aurore represent one last glimmer of his missing daughter? Kerascoët's cute yet cruel creatures enjoy making our moral compass go haywire.
Join our commenting forum
Join thought-provoking conversations, follow other Independent readers and see their replies