Books of the Year: Children's books
Bears, rabbits, tigers, flies (and snot-caked bullies)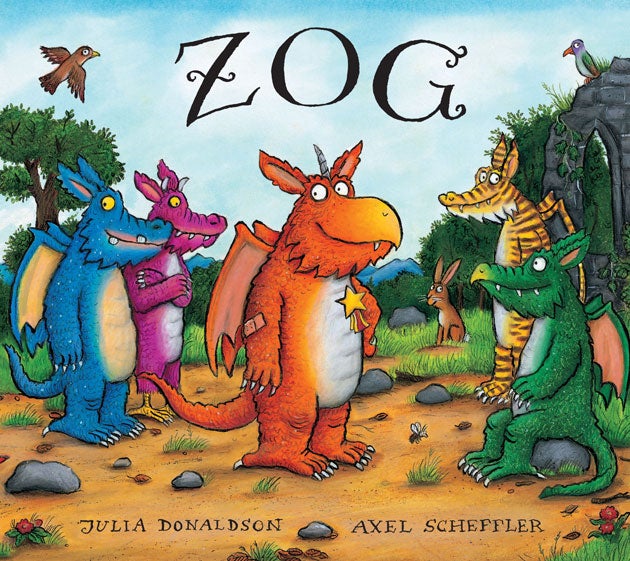 When talent and imagination combine with fiendish wit, expect to be seriously entertained. Listen carefully - there will be a test: if a pair of baby rabbits is left in a field, how many pairs will there be: (a) at the end of each month? (b) at the end of each year? This question is posed in Emily Gravett's The Rabbit Problem (Macmillan, £6.99). Part calendar, part pop-up, the book bursts with activity, so aptly reminiscent of our warren-dwelling friends. If Gravett isn't the best in the business, it's hard to know who is. For humour with heart, also see Dog Loves Books by Louise Yates (Red Fox, £10.99), which has just snapped up the Roald Dahl Funny Prize in the six-and-under category.
For those with a taste for nostalgia and a gentler pace, look no further than Michael Bond's The Paddington Treasury (HarperCollins, £14.99), illustrated by RW Alley. Here is a bear who needs no introduction: having thrilled generations of children with his adventures, Paddington is back in this collection of six of his most popular stories. Clutching his signature jar of marmalade - now alarmingly empty - the Peruvian bear arrives at Paddington Station and soon makes the acquaintance of the Brown family. This volume would make a perfect gift for the young, or young at heart.
The Julia Donaldson and Axel Scheffler dream team returns with the tale of Zog, a keen yet accident-prone dragon (Alison Green, £10.99). Always, conveniently, at the scene of his mishaps an unassuming princess is quick to help. She even suggests he captures her for one of his exercises and thereby meets her knight in shining armour - a young man who, like her, is eager not for the spoils of conquest but for the sensible benefits of a medical degree. Look out for cameos from the Gruffalo in Scheffler's rich illustrations.
Rounding off the picture books, Michael Rosen's Tiny Little Fly (Walker, £11.99) is a glittering gem. Rosen's characteristic rhyme and playful humour is perfectly accompanied by Kevin Waldron's vivid imagery.
Emily's Surprising Voyage by Sue Purkiss (Walker, £3.99) is a delightful story for readers moving on to chapter books and features charming illustrations by James de la Rue. In 1852, the SS Great Britain sets sail on her maiden voyage to Australia, carrying 630 passengers - one of whom, Purkiss tells us, is young Emily Ainsworth. Emily is reluctant to leave her home in England for the uncertainties of a new world, but soon finds suitable distraction in the form of mop-haired Thomas Drew and his curious companion. Together they explore the vast ship, unearthing its ghostly secret.
Series titles are often overlooked, yet they dominate early chapter books. Linda Chapman's stories are among the best, and her Skating School: White Skate Wishes (Puffin, £4.99) is a wonderful read on a cold winter's evening. Readers will identify with the heroine's struggles for acceptance among a competitive group of girls, and enjoy her journey to the enchanted Land of Ice and Winter. Ideal for fans of Dancing on Ice.
And now for something completely different: The Little Prince - A Graphic Novel (Walker, £15), based on Antoine de Saint-Exupery's book, by Joann Sfar and translated by Sarah Ardizzone. What a wonderful idea, a graphic adaptation of this spellbinding story. When a pilot crashes his plane in the desert, he is met by a mysterious boy. "Draw me a sheep," says the boy to the wide-eyed pilot. So begins a journey rich in gentle truths and intergalactic possibilities. One of its most poignant sequences is the Little Prince's encounter with the fox. "Tame me," says the fox. "Wheat is of no use to me, it doesn't remind me of anything. But you've got hair the colour of gold. So it'll be fantastic when you tame me. The golden wheat will remind me of you." The Little Prince tames the fox, but when he has to leave, the fox is sad. "So it hasn't been worth it," the Little Prince says. "Oh yes, it has," says the fox, "Because of the colour of the wheat." A book that defies age and genre and demands re-reading.
One of the most gifted writers around must surely be Linda Newbery, and Lob (David Fickling, £10.99), her latest novel for younger readers, is the kind of book that will inspire in children a deep love of nature, and in adults a yearning for the wonderment of childhood. It tells the story of Lucy, who believes in a mysterious green man named Lob, about whom her grandfather has told her tales. No one else believes in Lob - few can see him - but Lucy knows he's real. What is Lob? Grandpa Will describes him as being "made of rain and wind. Sun and hail. Light and dark. He's made of fire and earth and air. He's made of grit and stones and stardust. Time gone and time waiting." This is a book of real beauty.
For humour, see Anthony McGowan's Einstein's Underpants - And How They Saved the World (Corgi Yearling, £5.99). An alien invasion is imminent, and only Alexander can stop it, aided by an unlikely band of misfits. Einstein's Underpants is zany, irreverent and downright absurd - children will love it. Note, for instance, this description of a bully: "His big nostrils had a hard, caked-on layer of green crust on the outside, with a more liquid, glistening layer on the inside, like the devil's own confectionery." It is with such pearls as these that McGowan entertains the older readers in this category. Also recommended for mischievous adults.
Inbali Iserles is the award-winning author of 'The Tygrine Cat' (Walker, £5.99). Its sequel, 'The Tygrine Cat on the Run', (Walker, £5.99) is out on 3 January
Join our commenting forum
Join thought-provoking conversations, follow other Independent readers and see their replies