Calabash International Literary Festival: Readings, music and storytelling on Jamaica's glorious Treasure Beach​
Regional winner of the Commonwealth short story prize, Stefanie Seddon writes about her experience at Calabash alongside Man Booker winners Marlon James and Eleanor Catton
Stefanie Seddon
Treasure Beach, Jamaica
Tuesday 14 June 2016 09:51 Comments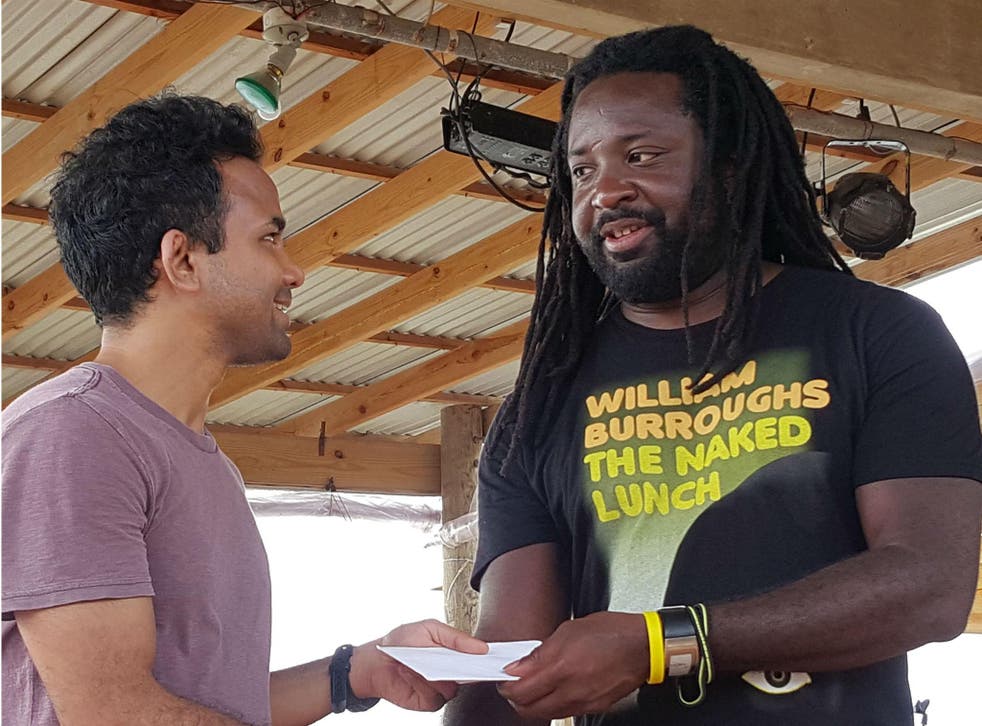 "I'm Mervyn," says the elegant elderly gentleman squeezing into a vacant seat on my rickety wooden bench. I stretch out a sweaty hand. It trembles. The temperature is a lofty 35 degrees but in the pressure-cooker humidity of a blazing Jamaican afternoon, it feels hotter. I'm in the food and drink field of the 13th Calabash International Literary Festival, and in less than one hour I will be taking to the stage to read my short story Eel, a finalist for the Commonwealth Short Story prize. I'm here as the regional winner for Canada and Europe, and this is my first ever reading. 2015 Man Booker Prize winner Marlon James will be in the audience, 2013 winner Eleanor Catton too. Mervyn listens to my woes, then nods, sagely.
"I recommend a Red Stripe," he says, waggling a finger at the shaded verandah of the Jack Sprat bar. It's good advice and my new acquaintance is well placed to give it. Later, I discover he is Mervyn Morris, Jamaica's eminent Poet Laureate. Our fortuitous encounter on this dusty patch of grass is precisely what you'd expect at Calabash; a three-day festival of readings, music and storytelling on Jamaica's glorious Treasure Beach. Here, community is king, and that makes it the perfect soulmate for a festival whose heartbeat is its audience.
This year's starry line-up includes Man Booker winners Catton and James, Indian poet Tishani Doshi and the acclaimed Nigerian writers Chris Abani and Chigozi Obioma. From a beachside stage, behind a lectern twisted with scarlet hibiscus and bleached driftwood, comes a sweeping range of voices; poets from Russia, St Lucia and the US, novelists from the UK, Trinidad and New Zealand. Marlon James's book-signing queue snakes along the beach, his devoted readers clutching novels close to their chests like small babies. But it says something about a country's literary scene when a big name like James isn't the only local hero in town. Notable Jamaican writers including Kingston-born Nicole Dennis-Benn and London-based poet and novelist Kei Miller are returned to the fold by ebullient host Kwame Dawes. Patois is everywhere, brought to life in readings by James and Miller, called out over steaming tins of plantain and curried goat, and celebrated in the festival's theme, a wonderfully tactile word-play on fruition; Fruu-ish-aan. Say it slowly and you'll never want to leave.
The setting is spectacular. Somalian Ladan Osman reads her rich, transformative poetry and a pelican sweeps past with powerful grace. Waves pound the shoreline as nomadic Macedonian poet Nikola Madzirov speaks of memory and exile. Late at night, it's time for Roots Rock Reggae in front of a DJ stage framed with 10-foot-high books; food, music and stories mingled with the smell of ganja in an irresistible Jamaican stew.
"Passion is the only price of entry," say the Calabash organisers. It's a free-to-all policy that has its fruu-ish-aan in an atmosphere rarely seen elsewhere. Here, the audience is the real star. Under a canopy of blustery marquees, each session draws around 1500 people, with standing room only for the headline events. Everyone is welcome, everyone listens. Greying Rastas in pressed white shirts perch beside octogenarians in tightly wound turbans; hip millennials hold hands with glamorous girls in tangerine dresses that billow in the hot sea breeze. There are well-behaved children with ice creams, DJs in spectacular hats, cargo-panted fishermen. Legendary poet and musician Linton Kwesi Johnson is here, and everyone carries a book. Perhaps it's because the authors are so accessible that this crowd makes such a connection with the stage. Here's a disarmingly normal Eleanor Catton, squeezing past my knees to reach a fold-up chair. There's Marlon James in a William Burroughs T-shirt, looking like he's walked into a beach bar. The engagement is tangible; uproarious laughter accompanies Geoff Dyer's account of English manners and American landscapes, while UK journalist Decca Aitkenhead's compelling reading from All at Sea grips the crowd in an agonising silence. Here, the speakers belong to the audience, not the other way round.
That, it seems, includes me and my fellow regional finalists. I'm not the only first-timer and it's a confession that transforms my listeners into a sea of kindly aunties. South African Faraaz Mahomed elicits a loud cheer when he reads a passage featuring rum; Trinidadian Lance Dowrich rewards them with his carnivalesque tale of a cheese-stealing born loser.
"It's more like a concert or sports event," says New Zealand novelist Tina Makereti, representing the Pacific with the otherworldly Black Milk. "I feel I can laugh and cheer, and that's a cultural thing that reminds me of Māori and Pasifika audiences." Makereti's epic journey to get here – four flights, three different time zones – is indicative of the high regard in which Calabash is held. And for the organisers of the Commonwealth Short Story prize, Calabash is the perfect interactive platform. This year saw 4000 entries, and the £5000 overall prize is won by Mumbai academic Parashar Kulkarni for Cow and Company, a darkly funny story of religion, capitalism and chewing gum. Kulkarni flew in on Sunday morning, stealing the briefest of naps before taking to the stage. He seems remarkably unfazed by the success of his first-ever story. "It's a great platform for an emerging writer," he says, sitting at a table to talk politics and literature with James and Marina Salandy-Brown from Bocas Lit Fest in Trinidad.
Perhaps the truest expression of the Calabash spirit comes in two open-mic sessions. This year, the victor was Birkbeck PhD student and poet Keith Jarrett, whose You've Been Writing Poetry Again... was received with laughter, gentle heckles and spontaneous applause, not all at the end of his performance. "Live literature audiences are often stone-faced and silent," says Jarrett, "but Calabash was the opposite. I felt I was in conversation with the crowd and when I got off stage, that conversation continued."
Calabash is just that; a long conversation between authors and their audience. Now that I've joined in, it's going to be very hard to leave.
Register for free to continue reading
Registration is a free and easy way to support our truly independent journalism
By registering, you will also enjoy limited access to Premium articles, exclusive newsletters, commenting, and virtual events with our leading journalists
Already have an account? sign in
Join our new commenting forum
Join thought-provoking conversations, follow other Independent readers and see their replies