Chelsea Manning interview: 'I'm opening myself up to some really intimate things in this book'
The former Army intelligence analyst, who was jailed for leaking military and diplomatic documents to WikiLeaks in 2011, speaks to Charlie Savage about telling her own story for the first time Comments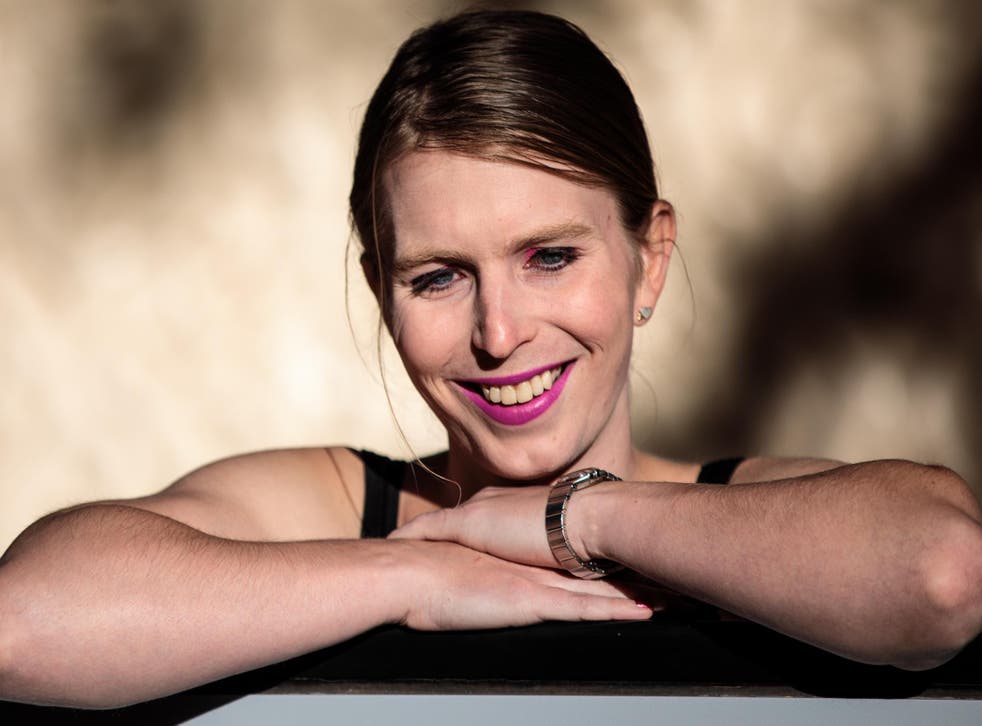 Ever since she was publicly identified as the source who had disclosed a huge trove of military and diplomatic documents to WikiLeaks in 2011, Chelsea Manning, the former Army intelligence analyst, has been a polarising cultural figure – called a traitor by prosecutors, but celebrated as an icon by transparency and anti-war activists. Her life story, and her role in one of the most extraordinary leaks in American history, has been told in news articles, an off-Broadway play and even an opera. But while she spoke at her court-martial and has participated in interviews, Manning herself has not told her own story. Until now. Manning is writing a memoir, which Farrar, Straus and Giroux will publish in winter 2020, the publisher announced earlier this month.
Manning was convicted in 2013 and sentenced to 35 years in prison, the longest sentence ever handed down in an American leak case. After her conviction, Manning announced that she was a transgender woman and changed her name [from Bradley] to Chelsea, although the military housed her in a Fort Leavenworth, Kansas, prison for male inmates. She had a difficult time there, attempting suicide twice in 2016, before President Barack Obama commuted most of the remainder of her sentence shortly before he left office in January 2017. In the meantime, WikiLeaks published Democratic emails stolen by Russian hackers during the 2016 presidential campaign, transforming its image from what it had been back when Manning decided to send archives of secret files to it.
Manning reappeared in the news this year, refusing to testify before a grand jury as federal prosecutors continue to build a case against Julian Assange, the WikiLeaks founder. Assange, in custody in Britain, is fighting extradition to the US for a charge that he conspired with Manning to try to crack an encoded password that would have permitted her to log onto a classified computer network under a different person's account rather than her own, which would have helped her mask her tracks better. She was jailed for two months for contempt over her refusal to answer questions about her interactions with Assange, then freed because the grand jury expired. But on Thursday she was once again found in contempt by a federal judge for refusing to testify before a grand jury and will return to custody, just seven days after being released from the same Virginia jail.
Tell me about your book
"It's basically my life story up until I got the commutation, from my birth to my time in school and going to the army and going to prison and the court-martial process. It's a personal narrative of what was going on in my life surrounding that time and what led to the leaks, what led to prison, and how this whole ordeal has really shaped me and changed me. I view this book as a coming-of-age story. For instance, how my colleagues in the intelligence field really were the driving force behind my questioning of assumptions that I had come into the military with – how jaded they were, some of them having done two, three, four deployments previously. And then also there is a lot of stuff about how prisons are awful, and how prisoners survive and get through being in confinement.
Do you have a title yet?
There is no title yet. I am trying very hard to have some control over that, but none has been decided yet. Noreen Malone from New York magazine worked on it with me. She did a lot of the groundwork in terms of the research, and I did the storytelling, so it was a collaborative effort. I'm still going through and editing where she has taken independent sources to help refine my story, fact-check, verify things and provide a third-person perspective in shaping things.
Is it written in first-person or third-person?
It is written in first-person, but there are parts of the book that reference material that are independent of me. I'm still under obligation under the court rules and the Classified Information Procedures Act of 1980 to not disclose closed court-martial testimony or verify evidence that was put in the record. Things like that. So I can't talk about that stuff and I'm not going to, and so I'm trying to keep this and maintain this as more of a personal story. There are parts of it that might reference reports or whatnot but I'm just going to say, "the media reported this, but I'm not confirming or denying it".
Are you going to submit the manuscript to the government for a classified information review?
We're trying our best to avoid the review process. There is a lot of stuff that is not going to be in the book that people would expect to be in there, but rules are rules and we can't get around it. It's more about personal experiences I had rather than anything specific. I'm not trying to relitigate the case, just tell my personal story.
So if it ends with you getting out of military prison, you're not going to address your current situation with the grand jury investigating WikiLeaks?
No, we're not planning on including that in this current stage. If there is a book that gets into the more juicy details about that stuff, then we'll probably get around to that after going through a review process, several years down the road from now, whenever the dust settles. But I think this is more about trying to contextualise my story from my perspective rather than get into the weeds of what is in the record of the trial, what is in the documents, what the investigation focused on, because we're just not able to get into that area.
It sounds like you are a lot freer to talk about your gender identity than the WikiLeaks issue
Yeah. This is less a book about the case and more a book about trials, tribunals, struggles, difficulties, and overcoming them and surviving. If people are expecting to learn a lot more about the court-martial and a lot more about the case, then they probably shouldn't be interested in this book. But if they want to know more about what it's like to be me and survive, then there are reams of information in here. It's much more autobiographical than it is a narrative thriller or crime story or anything like that. I have always pitched this as being very similar to Wild by Cheryl Strayed. I'm really opening myself up to some really intimate things in this book, some really very personal moments and much more intimate points of my life that I've never disclosed before. You're probably going to learn more about my love life than about the disclosures.
Alexandra Alter contributed to the reporting
© 2019 New York Times News Service
Register for free to continue reading
Registration is a free and easy way to support our truly independent journalism
By registering, you will also enjoy limited access to Premium articles, exclusive newsletters, commenting, and virtual events with our leading journalists
Already have an account? sign in
Join our new commenting forum
Join thought-provoking conversations, follow other Independent readers and see their replies