​Children's books round-up: Magic, nostalgia and a wicked dash of a subversion
From The Orchard Book of Bedtime Fairy Tales to Matt Haig's A Boy Called Christmas...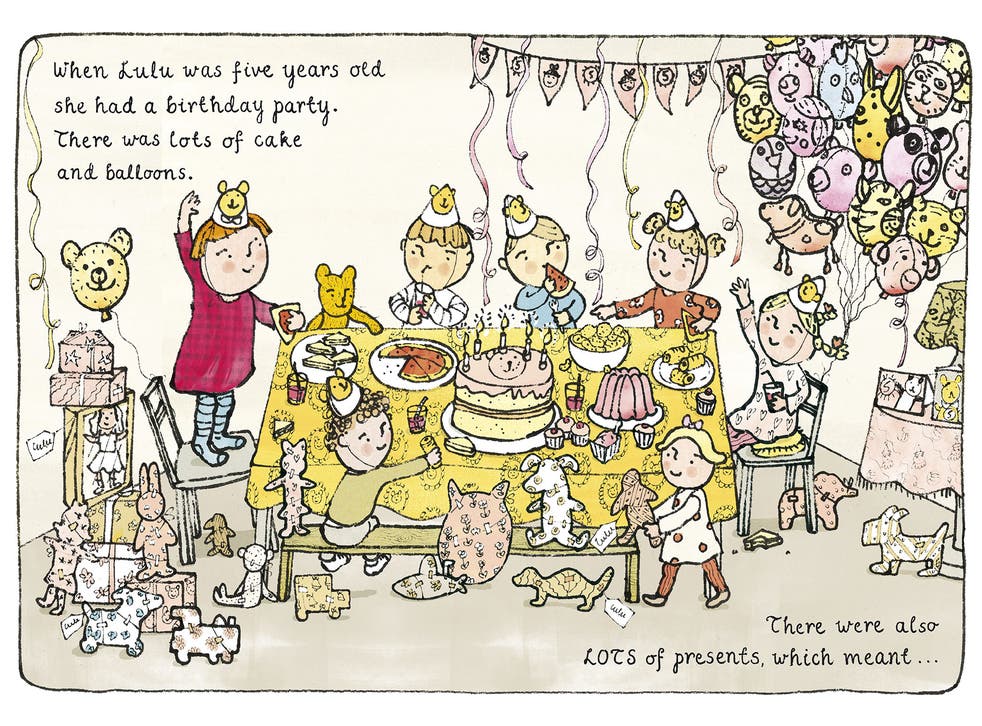 The Orchard Book of Bedtime Fairy Tales (Orchard, £12.99), first published in 1999, well deserves this current re-issue. Luminously illustrated by Helen Craig, 10 favourite stories once again come vividly to life as only they can. Little Red Riding Hood, seen as a tiny figure dominated by huge trees all around her, comes to the end of her journey with the wicked wolf merely knocked over. The same gentle tone infuses depictions of idyllic village life and countryside as background to the adventures of Goldilocks, the Three Little Pigs and other well-loved characters.
Too Many Toys! (Walker, £11.99) might at first sight seem a title more agreeable to parents than to children but five-year-old Lulu, star of this picture book, has a problem that many might recognise. Almost drowning under the heaps of toys coming her way she tries to play with each one of them in order to be fair. Finally defeated, she invites her friends to a Great Toy Giveaway, just keeping Jupiter, her long-term favourite teddy bear. Heidi Deedman's nostalgic pastel illustrations are perfect for an old-fashioned story, gently warning about some of the disadvantages of over-consumption even at junior level.
Culture news in pictures

Show all 33
Anne Michaels's The Adventures of Miss Petitfour (Bloomsbury, £10.99) is a collection of five original stories tastefully illustrated by Emma Block in full retro style. Picking out particularly interesting words in different colours, the author addresses her young readers as if they were personal friends, commenting on what and how she is writing during frequent digressions from the main plot. Miss Petitfour herself, the supremely elegant owner of 16 cats, periodically floats into town courtesy of an inflated tablecloth. Once there, everyday practicalities vie with the surreal as each charmingly eccentric story meanders to its end.
A contrast then to the urgent, rude energy found in Jeff Kinney's Diary of a Wimpy Kid: Old School (Puffin, £12.99). This tenth book in the series, with 150 million copies sold so far, is just as funny as its publicity machine claims it to be. As always half comic-strip, half novel, it sees young Greg Heffley this time sent off on a week-long field trip, with predictably subversive results. Throughout the text, Greg simply has to imagine something for it then to appear pictured on the page. So when Dad lectures him about how he used to make his own entertainment when young, there is an instant image of this same father years ago playing Kick the Can with his mates. But when Greg tries this out with his best friend Rowley – he of the two projecting front teeth – they quickly get bored and abandon it for a video game. This laugh-aloud stuff is aimed at pre-adolescent children but is bound to be popular with all ages.
Reading Matt Haig's A Boy Called Christmas (Canongate, £12.99) is like enjoying the warmth of a good fire on a cold day. Set in Finland, it tells the story of young Nikolas, left in the care of a horrible aunt while his poor but loving father goes off on a desperate money-making quest. This is to discover whether Elfland truly exists in the far North where no one has ever yet managed to explore. When his parent fails to return, Nikolas sets off in pursuit, helped by a flying reindeer he has teamed up with. Everything finally falls into place, but not before the son and his newly discovered father find themselves at cross-purposes. Preferring to stay in Elfland, which can only be seen by those who believe in it, Nikolas gradually turns into the Santa Claus of legend. Chris Mould's brilliant line drawings inject rich humour into this gentle, affecting story, perfect for Chrismas in every way.
Join our new commenting forum
Join thought-provoking conversations, follow other Independent readers and see their replies