Clare Morrall reveals the strange places the ideas for When the Floods Came from and her interest in isolation
Clare Morrall tells James Kidd about the sources of inspiration for her new novel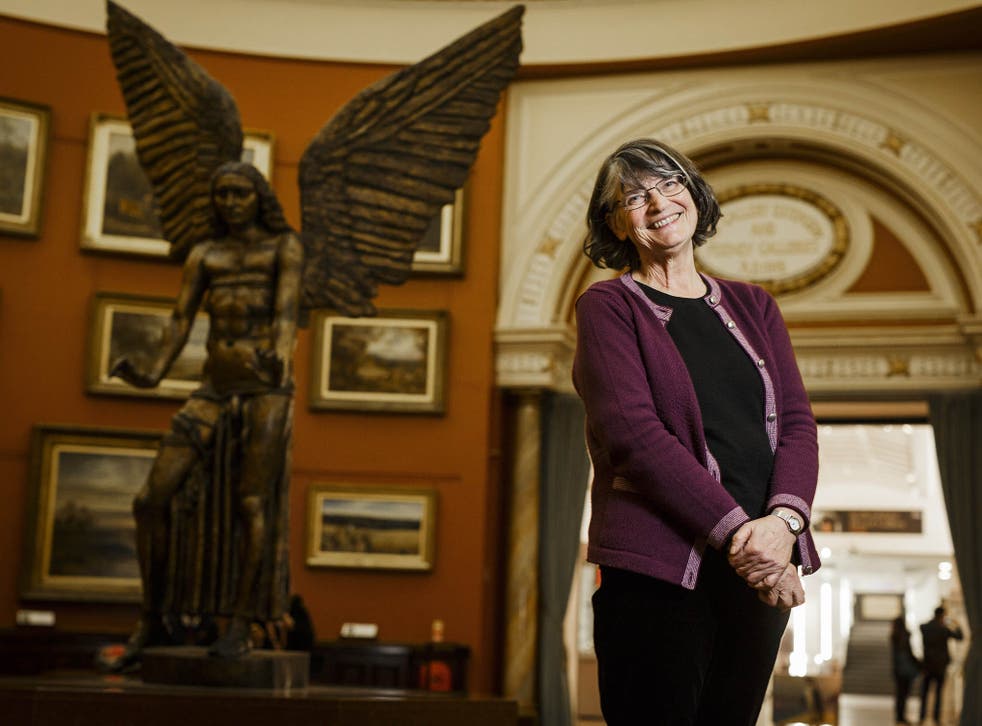 Meet Clare Morrall in Birmingham Art Gallery. More exactly, I bump into the novelist, whose debut Astonishing Splashes of Colour was shortlisted for the Man Booker Prize, beside Jacob Epstein's statue of The Archangel Lucifer.
It proves a perfect choice, and not only because the brooding, winged figure is hard to miss. Epstein's Lucifer also appears in Morrall's new novel When the Floods Came, albeit in a museum reduced to ruins by a pandemic.
Today, Morrall's ruined city being reclaimed by wilderness is not so hard to imagine. Opposite, Birmingham's Central Library is being demolished. "I do like decaying worlds," Morrall tells me later. "I have always liked empty houses. Everything tells you about people who were there but are not any more."
Morrall, by contrast, seems anything but absent. As she guides me towards the café, she chats about her day teaching violin and piano at the Bluecoat school, about Benjamin Williams Leader's painting February Fill Dyke which resembles her childhood home in muddy, rural Exeter, and the quality of the cakes one could have with coffee.
A voracious talker and easy laugher, the 64-year-old has the rather endearing habit (a teacher's perhaps) of underlining our conversation with red pen. She asks questions on my behalf, even if they haven't occurred to me. "I did read a lot [of science fiction] when I was younger," she says. "You are going to ask me what, but I can't remember."
Certain lines of enquiry are given short shrift. I ask after her health: two years ago Morrall survived lymphoma and a course of chemotherapy.
Did the experience inspire the global trauma imagined in the new book? "Not connected, no. That's something that just gets in the way and is irritating and you hope for the best." Instead, the novel was inspired by a vision: "People cycling on motorways. I have had this image in my mind for years. You have to think, 'Why would that be the case?'"
Comparably strange glimpses often kick-start Morrall's imagination: The Language of Others began with a child roller skating in a stately home. "The idea of writing about the ordinary just doesn't appeal. I only get excited by odd and strange things.
In the end I am writing about why people behave as they do, and why people are strange. I mean, people are odd. It's so easy for us to judge on the basis of what you see on the surface. I can see that life is much more complex and people are odd for reasons." Morrall laughs. "Not that you can forgive them in the long run because it gets so wearing."
Other aspects of When the Floods Came also originated in strange places. Take Aashay Kent, the novel's ambiguous male lead and dead-ringer for Epstein's Lucifer. "I became interested in the concept of charm," Morrall says, offering as an example one of her daughter's ex-boyfriends. "One in particular was quite an intriguing man we were all charmed by.
Then you realise, bit by bit, there was quite a nasty underside to him. Then he comes bouncing back with a great big grin. The bizarre thing is you know what you see is not the reality, and yet the way this charisma works is you are drawn back into it."
Aashay's appearance propels Morrall's family, the Polanskis, out of self-imposed exile in an empty tower block. In a world where children are rare enough to be kidnapped and traded, the family is terrified by the thought of who might be prowling outside their home.
"I have always been interested in isolation," Morrall remarks, noting that her second novel Natural Flights of the Human Mind was set in a lighthouse. "I would by nature be very isolated myself. I like isolation. I am aware that it's not good for me."
As a child, Morrall says she lived in a world of her own. "I was part of a big family but spent my entire life reading. I had no concept of other people. I only got on with people at school who would do as they were told." That laugh again.
Her seclusion was confirmed by an early bemusement with popular culture. We talk briefly about David Bowie: "He never interested me very much. I was one of these Radio 4 listeners thinking, 'For goodness sake, can't we get on with some real stuff.'"
Except for a brief flirtation with the Beatles, her passion was fired almost exclusively by classical music. "My heroes were Sibelius and Carlo Maria Giulini, a wonderful conductor. I respect people's need for popular culture. I don't think a lot of it's very good."
Classical music served a profound purpose for the "stroppy" and "over-emotional" adolescent. "I dislike sentimentality. People think I mean emotion isn't a good thing. They don't understand that emotion is more deeply felt. Music gets that. I didn't have any other way of expressing myself and the music gave it to me.
I was living in a completely imaginary world all the time." Was this, I ask, out of love of art or fear of the world? "I wasn't scared. I just didn't look. I would never have known if I was being bullied." Morrall pauses and says with some amusement: "This is not my book. You are taking me off the subject."
The 15 best opening lines in literature

Show all 15
The book in question joins an ever-expanding band of novels imagining the end of the world as we know it. Morrall has bent the usual tropes – pandemic, vagabonds, looting, paranoia, escape – to her own will. "I am not one for writing about serious violence. Obviously I know that things do happen.
"But I did want it to be a more benign world. Things potter along. I have had disasters in my life. I know that you have to keep going and you get there in the end. We all survive somehow."
Morrall sounds similarly stoic, and a touch bossy, when I suggest how timely the novel feels given the spread of the Zika virus and the recent flooding. "I do think people are silly. What they are thinking is, 'Put up barriers'. We have no guarantees that it's not going to get worse. It seems to me that people should be working with the weather and not against it."
What does Morrall propose? "I do think we could be designing better houses. I keep thinking if I was flooded I would find it very hard to leave my home. I would cling to it. I would be thinking, 'Can't I survive upstairs?'"
Morrall herself has adapted and gained strength after her own personal crisis. "I am at a stage when I have finally got enough confidence to think I am quite good at this. I was never very confident in the past."
The Man Booker helped, as did the money it brought. Learning how to be a more effective teacher is also crucial. "I think I am at my best now. I think I understand the children better than I did before. I think the feeling that you can do something well is important."
Some things, of course, never change. She mentions a new work-in-progress. "It's about two brothers who live on a train and don't speak to each other." Morrall laughs, one final time. "Just my sort of thing."
Join our new commenting forum
Join thought-provoking conversations, follow other Independent readers and see their replies