David Levithan interview: The US author on leading the way in LGBT fiction for young adults
'It was probably a radical notion in 2003 that teenagers could be gay'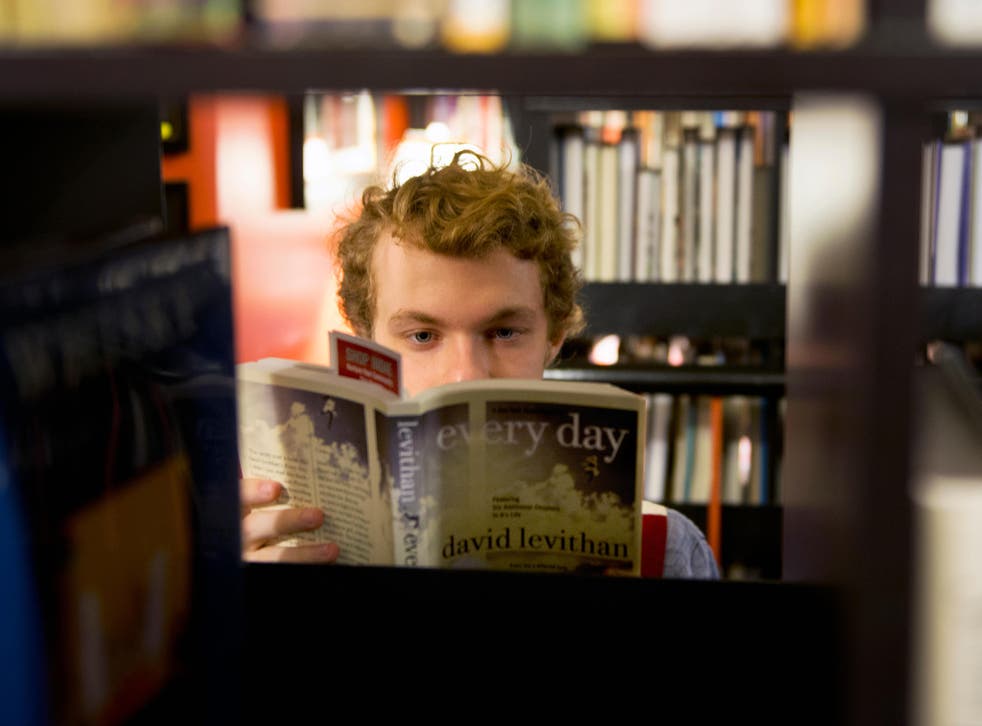 In the dozen years that US author David Levithan has been writing young adult (YA) novels that focus either on or around LGBT issues, teen-marketed books with gay narratives have come out of the closet, and into the mainstream. When his 2003 debut, Boy Meets Boy, became a runaway bestseller on both sides of the Atlantic, it also courted – as runaway bestsellers often do – an attendant controversy, not merely because his lead characters were gay, but because they weren't persecuted or in peril, but simply in love.
"I guess that the book was seen as pretty daring at the time," Levithan, 42, says from his home in Hoboken, New Jersey. "It was probably a radical notion in literature back then that teenagers could be gay, and happy, and in love, and that this alone would drive the plot forward. The book would not be seen as groundbreaking in the same way if it were published now because we have, at last, moved on."
His new book, Hold Me Closer, illustrates just how much. It's what he calls a "musical novel", (in the way that Glee was a musical TV drama; in other words, it frequently breaks out into song), and is narrated by Tiny Cooper, a character who last featured in Will Grayson, Will Grayson, the book Levithan co-wrote in 2010 with YA titan John Green (The Fault in our Stars). Tiny Cooper, the self-appointed "world's gayest person", was Will Grayson's break-out star, and the subject of an awful lot of subsequent fan mail. Published later this month, it is expected to be a bestseller among gay and straight readers alike, but as Levithan suggests, it would have struggled to find a mainstream publisher 20 years ago.
"But this is where we are now," he says. "We know that there are kids like this out there, and that they need the context of literature to help them navigate their own identity, and the world around them."
His is far from a lone voice in the growing LGBT YA world. As an editor for the US publisher Scholastic, he is also responsible for helping bring a wide range of books to commercial attention, many featuring gay, bisexual and transgender characters. One of Scholastic's most anticipated 2015 titles is a book called George by the writer Alex Gino, about a transgender fourth grader (nine or 10 years old) who takes the titular role in a school production of Charlotte's Web, and in doing so finds acceptance from his peers.
"These are exciting times in YA publishing," says Levithan. "We're looking for diversity, and also diversity within that diversity. The notion that there is just one gay story to tell is as ridiculous as suggesting there is just one straight story. We need so many more voices."
A decade previously, things were different, and gay narratives were often frowned upon in teen fiction. Homosexuality was at last starting to be openly discussed in schools, but not everyone relished the prospect. Levithan's Boy Meets Boy proved a flashpoint; many school libraries refused to carry it.
"That reaction came from fear, I think," he says. "It's like, if you don't talk about something, then it doesn't exist. But books like mine were so out there that they couldn't be ignored; they were not closeted books."
Rainbow List 2014

Show all 101
The author himself has always been out, ever since a nursery school teacher, concerned he was playing more with girls than with boys, thought his parents should be forewarned. "My mom and dad didn't quite know how to react to the teacher's concern," he says now, "but it wasn't a big deal. My uncle was out, and he blazed a trail for me."
Having written stories from a precociously young age, it was inevitable, once he started writing professionally, that Levithan would choose to reflect his own life experiences on the page, not least as so few others were managing to do so.
"I guess people feared we were legitimising the gay lifestyle, and that in doing so, impressionable readers might become gay as a result." He laughs thinly. "I really wish I could write a novel that had that kind of power, but I'm not that good a writer. Besides, that suggestion is merely a sideways way of saying we don't want gay kids in our schools, rather than admitting that of course there are gay kids in our schools, and they deserve to be represented in literature."
But even now, there continues to be resistance to acknowledging teenage sexuality. A recent news report suggested that one in five gay teenagers in the UK suffers from homophobic abuse from teachers and other adults in schools.
"That's sort of horrifying," Levithan says, "because it confirms that there are still certain deeply ingrained prejudices around." In such cases, he adds: "Why choose to do the job you are doing at all? You're not a librarian to keep books out of the hands of children, and I don't know teachers who get into teaching to prevent kids from learning about who they are. I would hate for all teachers to be defined by the bad ones, but there are clearly many who bring their own bias to work when they are not supposed to."
Which is perhaps one reason why so many children turn to books for empathy. The rising popularity of YA novels has also increased their power as educational tools. Levithan's 2013 book Two Boys Kissing, for example, was inspired by the ignorance of today's teenagers on the still-prevalent dangers of HIV and Aids.
"It's scary how ignorant they can be today," he says. "I wrote that book because there seems to be such a disconnect between the generations." The disconnect, he believes, is due in part to the internet.
"Whatever your identity is, you can nowadays go online and quickly find information about it, see images, and whatever else you want, but what is missing is the context, the emotion, how it really feels.
"Which is where YA books come in, because books, more than anything else, I think, can help illuminate these things. We don't necessarily try to be educators, but education is a by-product of the one thing that underscores all these books: being truthful about who we are, the lives we lead."
'Hold Me Closer' by David Levithan, (Penguin, £7.99) is published Tuesday 17th March
Register for free to continue reading
Registration is a free and easy way to support our truly independent journalism
By registering, you will also enjoy limited access to Premium articles, exclusive newsletters, commenting, and virtual events with our leading journalists
Already have an account? sign in
Register for free to continue reading
Registration is a free and easy way to support our truly independent journalism
By registering, you will also enjoy limited access to Premium articles, exclusive newsletters, commenting, and virtual events with our leading journalists
Already have an account? sign in
Join our new commenting forum
Join thought-provoking conversations, follow other Independent readers and see their replies