David Mitchell and Michel Faber interview: Two of this generation's best novelists on love, life and literature
As acclaimed novelists (and friends) David Mitchell and Michel Faber get together for a chat, James Kidd is there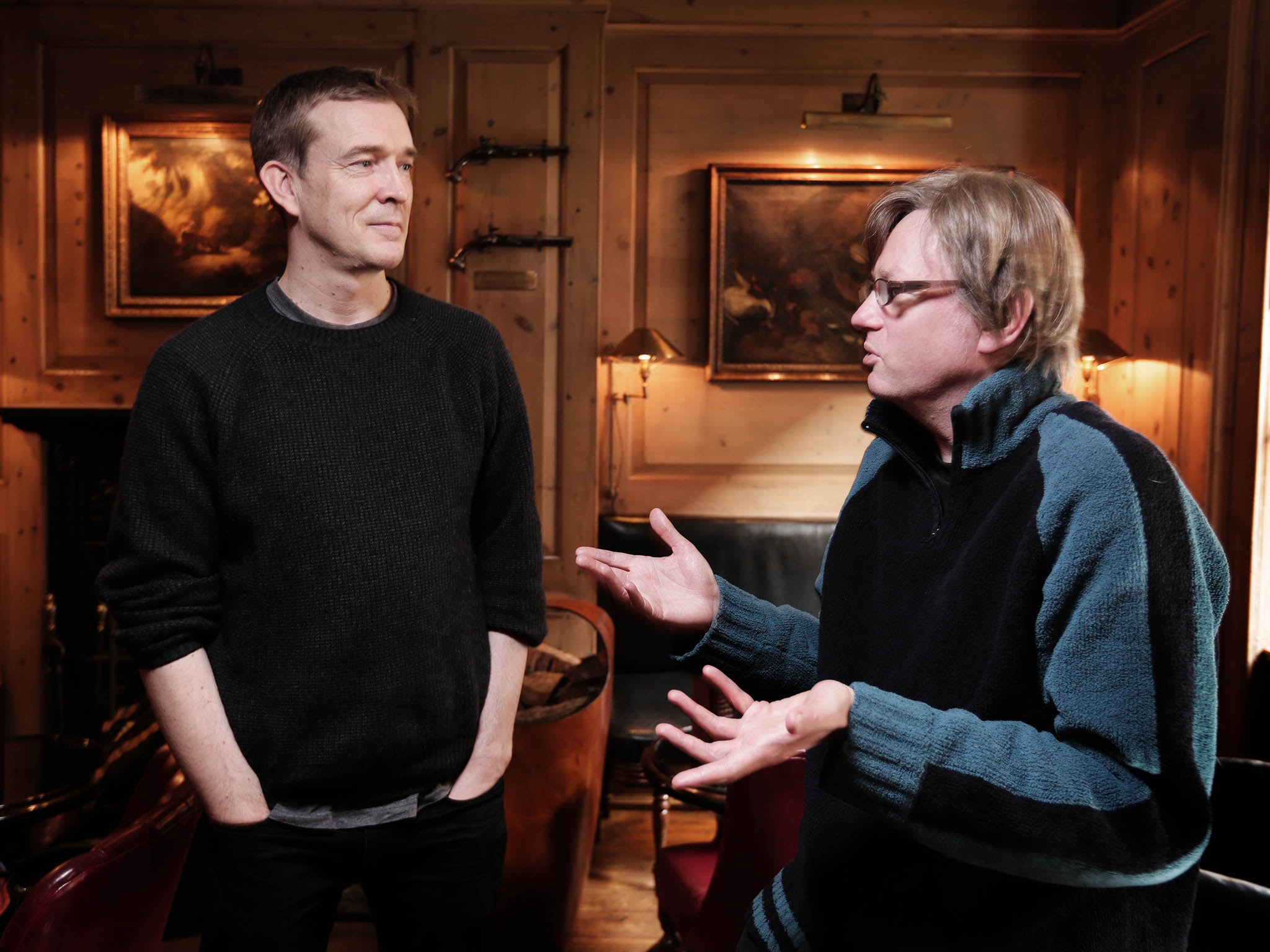 Mitchell and Faber.
They sound like a firm of hip Euro-architects. Instead, it was an offer I couldn't refuse. Chair a private conversation between two of the most adventurous, admired and, to be blunt, best novelists of this or many other generations. Slouched elegantly in one corner, David Mitchell, 45, author of the modern classic Cloud Atlas and this year's mind-spinning, genre-splicing, time-travelling epic, The Bone Clocks. Seated in the other, an "apprehensive" 54-year-old Michel Faber, incapable of writing any two books alike from Under the Skin to The Crimson Petal and the White to the extraordinary, deeply moving The Book of Strange New Things. As games of Fantasy Literary Interviews go, it was a no-brainer.
The resulting two-hour conversation skipped from Mitchell's populist instincts – "Where is the dishonour in writing something your mum is going to love, and your mum not being Virginia Woolf?" – to his frustration with populism's limits: "I think that the cultural dominance of narrative forms that seduce you with character and plot perhaps at the expense of ideas, like The Magic Mountain [won't last]. Starvation sharpens the appetite."
Faber explained his theory of writing to music that contrasts with the mood of his work. "If I could be playing Miles Davis's Big Fun and could look at [The Crimson Petal and The White] and it felt Victorian then it probably was." He expressed disbelief at a world reliant on virtual storage: "What could be a more perfect Dr Seuss homily to show to children the sheer insanity of this species who decided to put all their stuff in The Cloud?"
The mood was informal, relaxed and often lighthearted. "I don't know if it makes you uneasy," Faber asks, "when reviewers talk about the stunning originality of our ideas? We're treading territory that has been trodden before – science fiction, genre, fantasy. It's just that we are cooking those flavours in a different way – that is more likely to appeal to people who would otherwise only read Conrad."
"You say it makes you uneasy when reviewers praise your blinding originality?" Mitchell shoots back. "Where have you come from, matey?"
Mitchell suggests his work draws on the "influence of propinquity or next-to-each-otherness": "I think I have recently discovered I am basically not a novelist, I am a novella writer. If you put novella A next to novella B then they – interact isn't right – smack off each other, they glint at each other. They possibly echo or reflect each other, and make a third thing." He offers a musical example. "You have an exquisite, slow thing by Scarlatti and put it next to Miles Davis's 'Green in Blue' or In a Silent Way or 'Guinnevere' off Bitches Brew."
Faber, a Davis fanatic, interjects: "That's off Circle in the Round, is it not?' (Both are correct. "Guinnevere" was recorded during the Bitches Brew sessions, but ended up on Circle in the Round.)
There is a through-line connecting each writer's conversation to his prose. Mitchell is a phrase-maker, whose clauses tumble over one another as he strives to define and redefine exactly what he means. "I feel clobbered by the impossibility of translating into words as much of this enormous world we live in with its subtly complex and sprawling Periodic Table of emotions. To quote Freddie Mercury, I want it all."
Faber speaks more directly, in starker, bolder, clearer terms. "I think throughout the 20th century, for some reason, serious writers increasingly had contempt for the average reader. You can really see this in the letters of such people as Joyce and Virginia Woolf. They were looking for people who were smart enough to get it. I think that if you are a serious writer you are almost obligated to provide the intelligent average reader with something that they can relate to and care about. If you are writing only for a tiny elite, then that surely should sound alarm bells."
Both writers feed voraciously on high and low art in life. Mitchell is as happy quoting Freddie Mercury, Ringo Starr and even Rizle Kicks' "Skip to the Good Bit" as he is when alluding to Thomas Mann's The Magic Mountain. Faber goes toe-toe on Freddie Mercury quotations ("Let me entertain you"), but is wary of inserting overt pop culture allusions into his work. "I strive to use references that may still make some kind of sense once our age has passed into history. That robs my writing of a certain connectedness to my time, but potentially might allow it to make sense to people who are not in this time. I am most likely mistaken because 99.9 per cent of all literature, however good, is fated to disappear down the plughole."
There are other moments when the conversation becomes unavoidably affecting. Eva Youren, Faber's wife of almost three decades, died in July of cancer. "For most of 2013, I was trying to counsel myself that it was all right that I never finished [The Book of Strange New Things]. Sometimes shit happens and your wife gets very ill and you happen to be working on a book at the time and history proved that was fated not to be. It was actually Eva who persuaded me to finish the book."
Listening to Faber talk tenderly but unsentimentally about this period, one cannot help but re-cast The Book of Strange New Things in terms of its heart-breaking composition. A loving, married couple, divided by interstellar space and vastly different experiences, attempt to connect by writing letters.
"We always had an intimate relationship but it grew even more intimate as I became her carer as well as her husband. Eva was a no-bullshit person so we discussed everything around her extinction. But on the other hand, when your partner is dying of a disease that you don't have and you know that you are going to outlive her, they are on a different planet. They've already gone somewhere where you can't follow. The book ended up embodying that, even though it wasn't planned."
Faber's voice caves quietly when he describes the correspondence between his central characters. "Those same letters might be incalculably precious to him if he lost her, and they were all that he had left. He would then study them as devotedly as an academic studies the letters of Keats."
Adding to the poignancy of these words is Faber's announcement that he is giving up fiction. "I don't think literature helps. I don't think writing helps anybody, or the writer. But it is what suggests itself to be possible at particular times. And besides The Book of Strange New Things is my last novel, and we both knew that."
It sounds like an extension of grief, but he says the decision was made before Eva died. "I wanted each of my books to be very different from the other, and I feel I have pulled it off as many times as I can before I start to repeat myself." He sighs. "I also never saw writing as a career. Being a published writer is something that happened to me unexpectedly as a result of Eva's encouragement to put my stuff out there. On an emotional level writing novels is something I did very much with and for Eva. Whenever I finished a chapter, she would read it and we would talk about it for some hours and she would give me excellent feedback. That era is over."
The retirement from fiction is news to Mitchell. "Along with several hundred thousand others, I very much hope you are wrong. I will cling to the hope that you are wrong." Later, he gently tries to counsel Faber as part of a longer consideration of the development of his own "creative DNA".
"You can console yourself that something you can do in this book you couldn't have done 20 years ago." He turns to Faber. "That's the rationale about hoping you are wrong about The Book of Strange New Things being your last book. You can't see the yous you will be evolving into yet. The author of Under the Skin couldn't have written Strange New Things or The Fire Gospel. Life does surprise you, thank god."
Faber responds: "I guess the only escape clause is the wisdom in David reminding me that human beings can be wrong, as indeed they can. But I would be surprised if there was another. I am writing poetry now. I may collaborate with Eva on her unfinished stories that she left behind. I may write some more short stories of my own."
I would like the last word to belong to a different facet of the Mitchell-Faber friendship. Mitchell remembers the Gothenberg book fair. "Eva found this funky, boutique guesthouse downtown with backpackers and drug smugglers." Faber's eyes light up. "Well, we did stay in a brothel in Greece. It was handy because at three o'clock in the morning when we needed to go for our flight all the ladies were still up, obviously. They just knocked on our door to make sure we were awake."
Join our commenting forum
Join thought-provoking conversations, follow other Independent readers and see their replies