Diana Athill: How writing has been her therapy through miscarriage and not marrying
The Independent republishes 'An undertow of failure... to conform', Danuta Kean's interview with the late Diana Athill, from 29 November 2015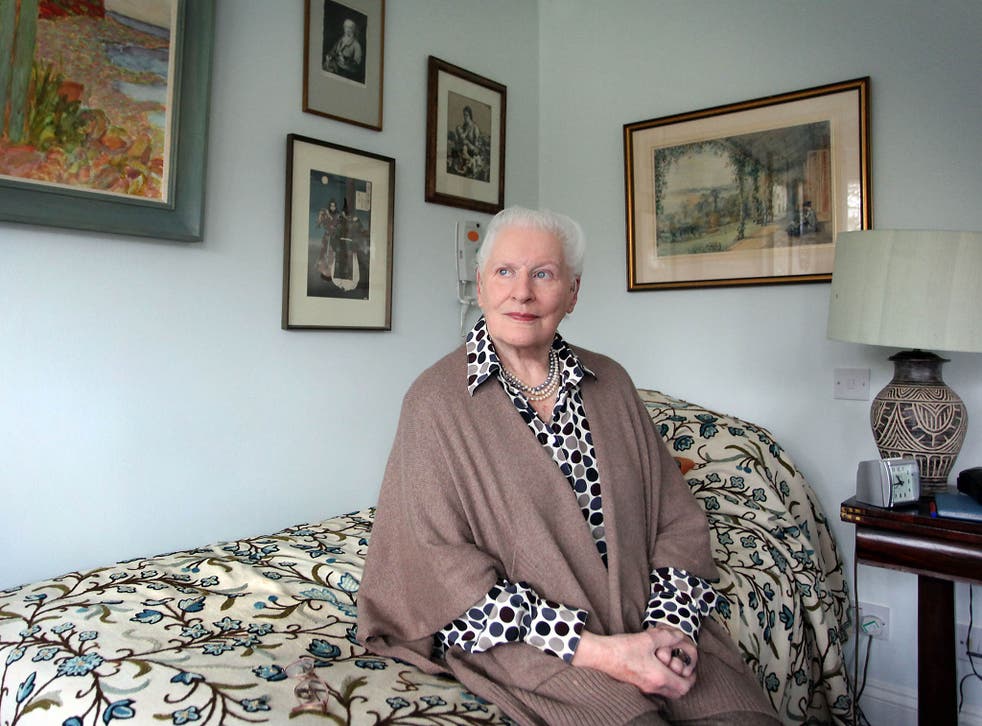 Diana Hill died on 23 January aged 101. Her interview with The Independent On Sunday is reproduced below:
As she lay recovering from a miscarriage that nearly killed her, a sudden warmth spread through Diana Athill's body. Fifty years on the nonagenarian writer traces its path with hands bent with age up from her stomach past her heart to the top of her head: "It was as though a wave of pure joy came up through me. I thought: 'I am still alive'." Her face is lit by the memory. "It made me understand the value of life to an extraordinary extent, which I never had before."
It is, to say the least, an unusual response to such a tragedy and forms the centrepiece of her latest book, Alive, Alive Oh! And Other Things That Matter, a gloriously wise and knowing collection of memories rather than straightforward memoir.
She was born in 1917, and I doubt other debutantes presented alongside her to Edward VIII have eschewed convention so publicly. A highly successful editor at André Deutsch whose authors included Jean Rhys and V S Naipaul, she never married, but instead conducted a series of affairs with men, some married, many of them black, including an eight-year love affair with the Jamaican playwright Barry Reckord, with whom she lived for 40 years.
Her indiscreet memoirs, including the 2009 Costa Biography Prize-winner Somewhere Towards the End, have scandalised and delighted equally. Over 50 years she has performed an emotional striptease, revealing private passions with stark honesty and humour – Jean Rhys once told her there was no point in writing unless she was absolutely honest about her experiences.
40 books to read while self-isolating

Show all 40
Not everyone approved: her mother's buttoned- down response to her first memoir, Instead of a Letter, was silence. "She thought, 'There is my darling daughter whom I love and she did something that I really cannot like, so let's pretend she hasn't done it. Let's wipe it out as if it hadn't happened'." The two never spoke of the book, a ploy Athill says worked – on her deathbed her mother smiled so radiantly at the writer, she knew forgiveness had been granted long ago.
As we chat in the cosy room of her retirement home in Highgate, north London, surrounded by the detritus of memory, I realise Athill is an accidental rebel. Her failure to conform is a symptom not a cause: she didn't marry after her first love dumped her, leaving her unwilling to face such heartache again. "I had an undertow of feeling a failure because of losing Tony (Irvine)," she confesses. "Having started love like any other girl assuming I was going to get married, when it didn't happen I saw it as a failure."
Even her career success was accidental: she had to work because she lacked independent means; and Instead of a Letter, published in 1963, came from the compulsion to write about the "undertow of failure" left by the love affair with Irvine. "Before I wrote that book, that sense of failure was how I felt." She twists a large, jewel-encrusted gold ring around her wedding finger. "After writing it, that sense of failure was completely gone. I never had that feeling again. It was a wonderful therapy." Her look is gleeful, unburdened. Outside, the rain stops.
Writing about the miscarriage when she was 43 has also unburdened her. Not of guilt or longing, but of the questions people ask of childless women – never childless men. The story is told without sentiment – her "beady eye", she calls it. On finding herself pregnant to a married lover, she gave into a deeply buried desire for a child rather than have a third abortion. But, alone in her flat months into the pregnancy, she was violently sick and a bloody miscarriage followed. The detail is harrowing. She has never mourned the lost child, a lack of sorrow that will shock some, but Athill is firm: she has not repressed grief. She was too glad to have survived. "If I had died, which I thought I was going to, I wouldn't have minded very much. I wasn't frightened of the dying, I just wanted this awful experience to end."
Dressed simply in slacks and a sweater, her white hair scraped back above eyes that sparkle with intelligence, I find it hard to reconcile the "sweet" old lady in front of me with the stark prose of her memoirs. But the room – bedsit rather than bedroom – is crammed with reminders of the life about which she has written. On the wall hangs a small, rather fine drawing of a blue tit in a simple, wooden frame. "Do you see that bird?" she asks. "That was a gift from Tony when I was 15. It is rather nice isn't it? I rather like it now." The picture symbolises how her feelings for her long-lost lover have evolved. No longer wounded, she insists he liberated her from convention. "I have been able to find myself in a way that I would not have otherwise."
In her introduction to Alive, Alive Oh! Athill makes it hilariously clear that the book will steer clear of sex and cites a discussion with friends at the home in which all the lovers they had enjoyed were listed. Those beady eyes twinkle: "In one's late nineties it does become irrelevant." She laughs raucously. Then adds: "But one remembers it affectionately." Her mother would be shocked. I am shocked. I feel like a teenager whose gran just eyed up her boyfriend. To an extent Athill acknowledges that the repressed emotions of her very U upbringing insulated her from wider disapproval of her lifestyle. As a poor relation of an upper-class family, her early years were spent at her grandparents' estate in Norfolk. The first chapter of the new book is a Downtonesque recollection of a childhood spent running wild, scrumping and goading the head gardener.
Did the restlessness of her adulthood reflect a desire to get back to those unfettered post-First World War days? She looks surprised by the question. "I suppose it might have been," is her non-committal answer. I push harder and a note of slight irritation enters the well-modulated voice. "It gave one a sense of independence. When I was travelling, I always wanted to travel alone. Do my own thing." It has been a philosophy of life as well as travel.
As she approaches her 98th birthday she is aware of the last great journey ahead. She is not afraid. But that does not mean she welcomes it. Her health has not been as vigorous as she would hope: earlier in the year she had a heart attack and she has gallstones, for which she wants surgery. Pain is what she fears and the gallstones cause her pain: "Today I feel fine, yesterday I felt bloody awful." A cancerous growth on her kidney – "a great fat thing" – has proved less of a threat than feared. As I leave she struggles to get up, so I tell her to stay seated. "I can see my own way out," I say. But I don't want to go. I want to remain in the room, listening to her memories.
Danuta Kean is books editor of 'Mslexia' and editor of 'Writing the Future: Black and Asian Writers and Publishers in the UK Marketplace'
Join our new commenting forum
Join thought-provoking conversations, follow other Independent readers and see their replies