Diary of a Wimpy Kid: Jeff Kinney has sold 150 million copies of his book
Following the huge success of his 'Diary of a Wimpy Kid' series, Jeff Kinney could have let success go to his head – but Nick Duerden couldn't have met a more ordinary guy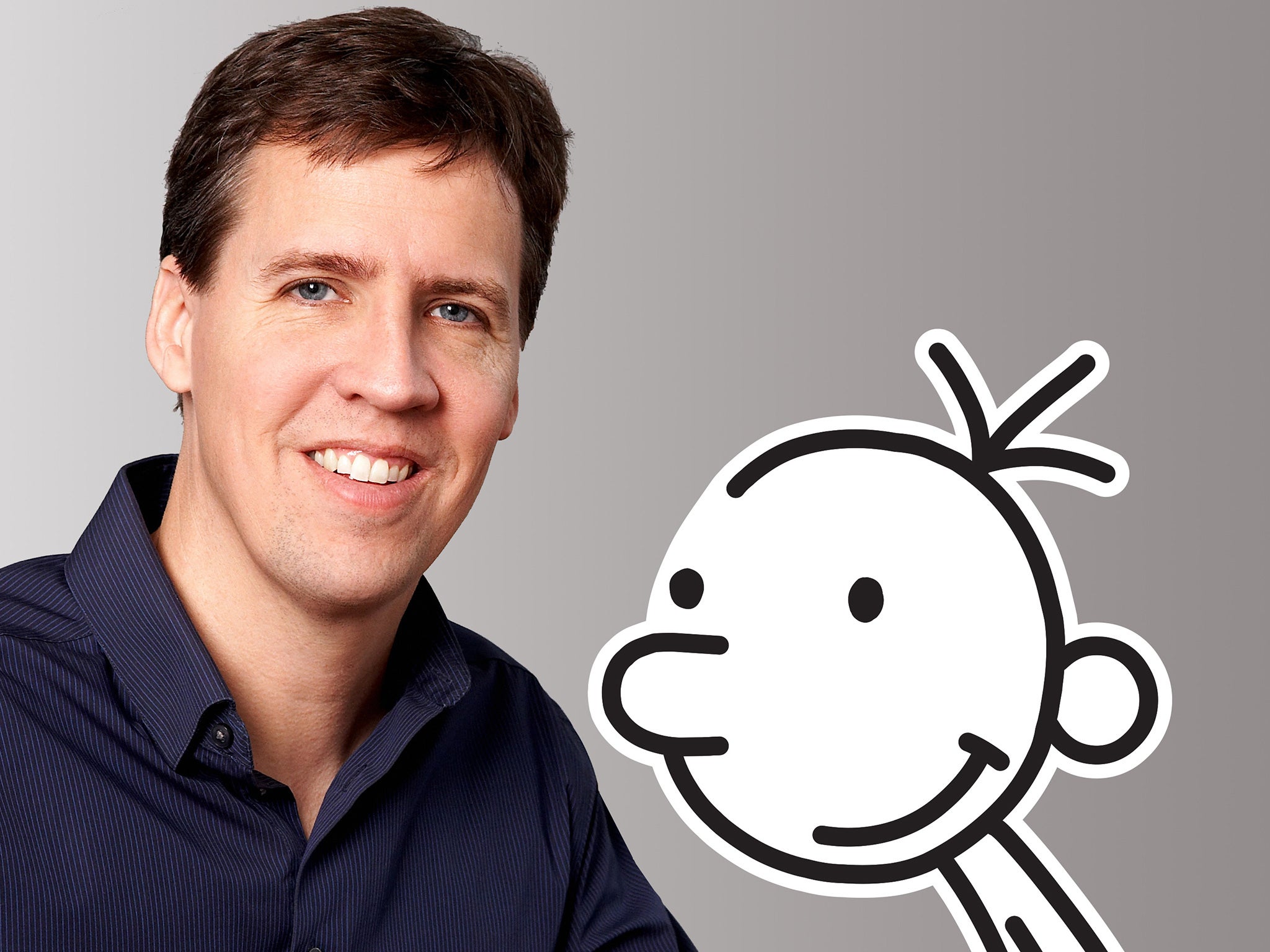 This month, the American children's writer Jeff Kinney published the 10th book in his blockbusting Diary of a Wimpy Kid series. Entitled Old School, it came out simultaneously in more than 90 countries, and within a single week had sold a million copies. With figures like this, Kinney need never have strayed from home and could have simply concentrated on writing the 11th book, but instead he decided to head out on tour to promote it even more. In the past two weeks he has visited Canada, Australia, New Zealand, Germany, Spain, China and Japan. This week it's the UK, and then he's on to other sundry European destinations, before heading on to South America.
"It's Tuesday, right? At least, I think it is," he says with a laugh, settling into his central London hotel suite, and sounding far perkier than someone carrying that amount of jet lag should. Given his astonishing sales record –the number of copies in print of Wimpy Kid now exceeds 164 million, there's a film franchise and Time magazine has voted him among the 100 most influential people on the planet – you might expect Kinney to have superstar tendencies, albeit of the literary kind. But to call him unassuming would be to understate matters. Kinney, in his pressed shirt and ironed chinos, is almost vigorously ordinary and normal.
"I'm always worried kids will be disappointed when they come to meet the writer of their favourite book, only to find this middle-aged, average-looking guy," the 44-year-old says.
Kinney's early ambition was to become a newspaper cartoonist. While at university, he had created a comic strip about a socially maladjusted freshman called Igdoof, and spent several years trying to get his work syndicated. But, he says, "my drawings weren't professional enough". He started designing children's websites, and in his spare time continued drawing, replacing Igdoof with a middle-school student by the name of Greg Heffley. And lo, Diary of a Wimpy Kid was born. It has probably worked so well because of its universality: we were all awkward kids, once. Written, as the title implies, like a diary – in handwriting – and full of simple yet sprightly cartoons, it's more comic strip than novel, and follows the eternal travails of adolescent Greg, his family and friends. The latest story finds him attempting to unplug himself from the modern world – switching off phones and computers – with reassuringly calamitous results. As with the previous nine books, this one runs to a very precise 217 pages (Kinney likes order and uniformity), and children, as ever, are devouring it the way they do sugar.
But if his books are easy to read, Kinney insists they are torture to write. "I enjoy having worked, but I don't enjoy the work," he says. "It's a grind. I can spend four hours trying to come up with a single joke" – his books are full of jokes – "and fail to write even one. And I spend up to 17 hours a day on the drawings. It breaks you down."
He must surely be exaggerating here, if only because the man has cranked out 10 volumes in just eight and a half years. But if he struggles with the writing process, then he does enjoy the spoils of his efforts. He downplays giving talks alongside the Titanic director, James Cameron, and enjoying dinner with US presidents past and present, but will concede that his unexpected success has benefits.
"I never expected to become wealthy, but I do like being able to make positive changes in my town," he says. Kinney lives with his wife and two boys in Massachusetts, in a town called, perhaps appropriately for an Everyman, Plainville, where they live in a "regular" house and pursue a largely "ordinary" life. But he has built a soccer field for the local school, and a downtown bookshop called An Unlikely Story. "It's become the cultural hub of the region, and that is very validating," he says.
This has been his busiest year: he has written the screenplay for the fourth Wimpy Kid film, is planning two seasonal specials, and also a musical. The books, meanwhile, keep coming.
"I often debate whether to try and create something else or simply be happy with what I have," he says. "But I always feel that when a cartoonist retires their characters, it leaves a hole in people's lives. I don't want to bring them to an end unless I have good reason to do so. And I don't, yet."
'Diary of a Wimpy Kid: Old School' by Jeff Kinney (Puffin Books, £12.99) is out now
Join our commenting forum
Join thought-provoking conversations, follow other Independent readers and see their replies