Digital Dickens: How Scott Sigler is changing the way we read
Downloaded any good books lately? Guy Adams meets Scott Sigler, the podcast king who's changing the way we read
Wednesday 16 July 2008 00:00 BST
Comments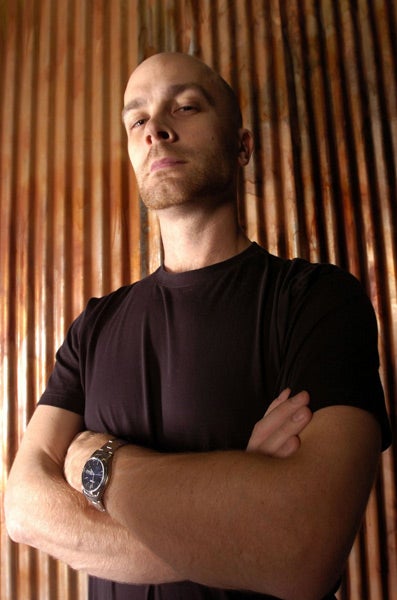 In a one-bedroom flat above a noisy San Francisco street, Scott Sigler is plotting a revolution in the world of books. Sigler is a science-fiction writer with a host of fans, who are described as "junkies" on his website. His work is gripping, pacy, and often stomach-churningly violent. He tells stories that are, as the saying goes, hard to put down.
But what makes Sigler groundbreaking is that most of his novels have never appeared in print. They are broadcast via a small cubicle containing an Apple Macintosh and some recording equipment. That is pretty much all Sigler has needed to become the world's most famous podcast author.
"I sit right here," he says, motioning to a small chair. "Sometimes I'll read for half an hour, sometimes more. I give special voices to each character, and try to make it sound over the top. I might use a guitar song, or heavy metal music. Then it goes online and people can download it for free."
One oddity of the internet revolution has been that, while it changed the face of popular music, authors and their works have remained relatively untouched. Some bookstores were rudely shunted out of business by Amazon, but the creative bit happens much as it always has; writers produce fiction that's packaged and sold in books. There has been no real market for electronic fiction.
Until Sigler. His novels were all first released as audio books, free for online subscribers to download, one episode at a time, over a few months. His first, Earthcore, notched up 10,000 listeners. Its sequel, Ancestor, managed 30,000. A third, The Rookie, cemented his status as a Dickens for the digital age.
This week, he will try to reach the traditional book-buying public with Infected, a physical book. The gory tale of a parasite from space that latches on to human hosts is published in the UK by Hodder as part of a five-book deal.
The book's progress will be closely watched. Most aspects of its marketing turn publishing wisdom on its head. Publishers tend to guard copyright jealously, but Sigler has released a free audio version online, and has let fans download a PDF version via his website.
Sigler's thinking – and this is the revolutionary bit – is that it's worth making commercial sacrifices to secure a fan base, because fans will always want physical copies of the books, even if they've already heard an audio version for free.
"The only way to get people's attention these days is to give them something for free," Sigler says. "If someone walks into a bookstore, why would they pick up a Scott Sigler when there's a Stephen King? They won't. So I give my content away, give readers a chance to try it for free. And if they like my stuff, then guess what: they'll go out and buy the book."
It has taken Sigler, 38, some time to persuade a major publisher to back his thinking. Having written since childhood, he began podcasting in 2004, after decades of failing to make it into print. "I was working in IT marketing, and had discovered podcasting when not many people knew about it," he says. "My theory was that I knew there was a market for my stuff, I knew some people would like it, so long as I could get it out there. If enough people listened, a percentage of them would become fans, and four or five years down the line, they'd pay to buy my books. That's pretty much what happened."
Now, visitors to scottsigler.com are part of an online community that helps to create a "buzz". That buzz can be managed to drive sales by manipulating the online marketplace through Amazon's sales charts. This is the second revolutionary element to Sigler's fiction.
Last year, a book version of Ancestor was published by a tiny firm that sells only via mail-order. Sigler made it to No 7 on the Amazon bestseller list (No 1 in sci-fi) by asking all his fans to buy a copy on the morning of its launch. The book only sold 2,000 copies (its entire print run), but they created a sales spike. "With no marketing budget, no advertising, no media coverage and an artist nobody's heard of, we managed to drive it up to No 7," Sigler says.
Sigler's success has been a boon to other podcast authors, who mostly publish on www.podiobooks.com. Several now have traditional book deals, with debuts coming from JC Hutchins, also a science-fiction writer, and the crime writer Seth Harwood.
Sigler seems to have star potential – and if the way he's selling Infected works, it could help the world of publishing to avoid the fate of the music industry in the online age. "Tech-nology will eventually change how books are written," Sigler says. "Now, hopefully, I'm ahead of the game. By the time people like Stephen King wake up to the internet, they'll be on an equal playing field to people like me."
'Infected' is published by Hodder (£6.99); other work is available on www.scottsigler.com
Join our commenting forum
Join thought-provoking conversations, follow other Independent readers and see their replies