Domestic Noir is bigger than ever; top ten releases for 2015
Rebecca Whitney
Tuesday 13 January 2015 15:47 Comments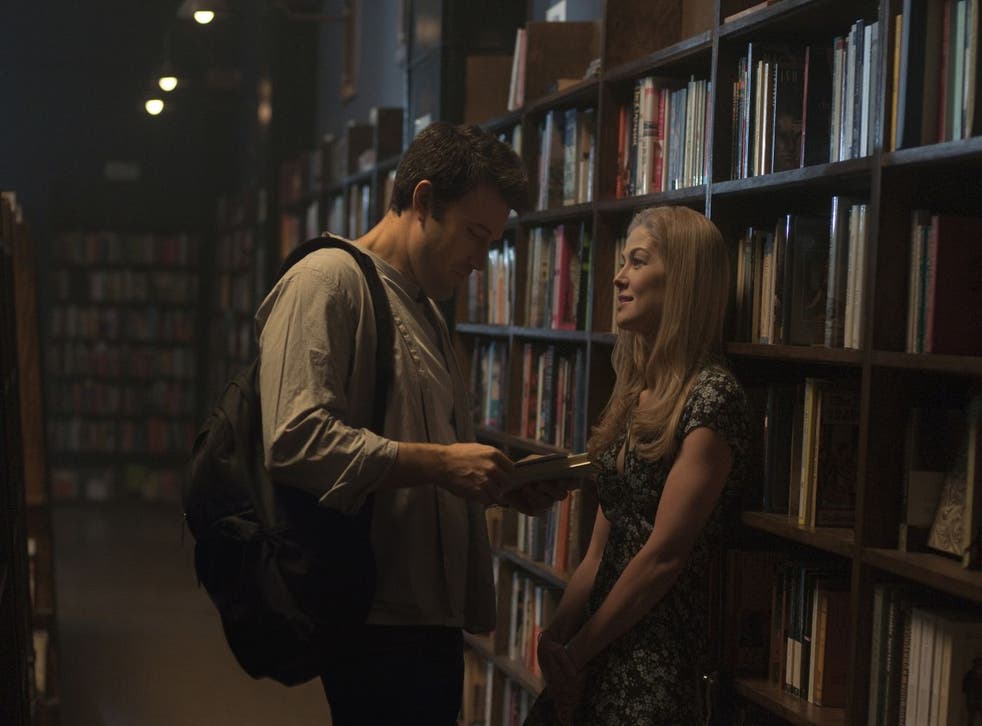 As the market for psychological and crime thrillers continues to grow, with Gone Girl becoming the 25th bestselling adult fiction title of all time, publishers rush to fill the gap in 2015 with homegrown and international talent. But why do these stories keep on keeping us enthralled, and what is it specifically about the toxic marriage and its fall-out that leaves us wanting more?
Much has been written on this subject suggesting that, as a generation of Facebookers and Instagrammers, we are hooked into a sanitised online version of ourselves, keen to present a manipulated and buffed-up doppelgänger to the world when underneath everything is far from OK. Often I've heard it said that social media makes us unhappy, that seeing 'other' people enjoying the perfect holiday, being the most loved-up, or part of the happiest family, makes the rest of us feel inadequate, even though in our heart of hearts we know that those sun-drenched smiling snapshots are just manufactured selfies of the good bits. When the camera gets put down, it's back to reality, and out come the daggers. As a species we are intrinsically nosy, desperate to know that other people possess the same ticks and foibles as we do, and there is something uniquely compelling when we witness the tragedy of people just like us falling into the hole we have barely managed to avoid ourselves. Paula Hawkins, author of The Girl on the Train, writes, 'I think we're all fascinated by the dark secrets that lie at the heart of ostensibly happy relationships. There are three key relationships at the heart of The Girl on the Train, and we see them from the points of view both of those involved and of those on the outside, and it is in the contrast between those viewpoints that I think the interest lies.'
I would go one step further and say that part of our obsession with reading about the lives of people just like us, stems from the fact that who we love and who we spend our days with – our primary relationships – are key to all our other relationships, and that the dissection of the good and the bad we allow into our lives helps us to understand the greater world around us. And with global politics and climate change seemingly spiralling out of control, what we experience within our homes and with our partner, is something we can hope to improve, and on some level control. Women make up the majority of not only readers but also writers of Domestic Noir, and the familiar is where we mainly exist, so our ability to change the emotions and actions within our proximity can feel far more empowering than clicking an online petition or writing to an MP who has no interest in diverging from the party line. Sophie Orme, Senior Editor at Mantle, writes, 'readers have a constant thirst for dark realism in novels; for books in which they can identify with the principal characters yet find themselves taken out of their day to day experiences. Marriage seems to me to be the ultimate setting to explore here – the culmination of a journey of love, a partnership, a relationship in which a couple places themselves in one another's hands entirely, where really the stakes could not be higher.'
My own book, The Liar's Chair – the story of a woman in an abusive marriage who self-destructs after she is involved in a hit and run accident – came about partly as a study of why women are enticed into and stay in relationships that cause them such pain. We all know domestic abuse happens, but what we don't understand is why seemingly strong, independent and educated women end up in a place of such fear and subservience. How is it that they appear to tolerate and cover up the terrible things that happen to them, and why is it so hard for them to put a stop to the cycle? According to Refuge, an average of two women are killed every week by their partner or an ex, and one in four women will experience domestic violence at some point in their lives. A recent study by Jeremy Horder, Professor of Criminal Law, found that some judges continue to hand down lenient sentences to men who have killed their partners, if infidelity has played a part, skewing the blame for the murder onto the woman. It would appear that some key elements of our society still hold on to outdated attitudes that wives are the property of their husbands.
Writers such as Claire Mackintosh, Christobel Kent and Collette McBeth also write on the subject of domestic abuse, and I suspect that perhaps this new generation of authors are vocalising a form of collective rage that not more is being done to understand and help women who suffer at the hands of an abuser. Literature can be entertaining, but it can also be informative, and these books work in some small part towards dissecting the shame and powerlessness, the psychological and often violent manipulation that abused women experience to keep them trapped in this most toxic of relationships, away from prying eyes, and in the environment we expect to be the most loving and nurturing. Through the unpacking of this more sinister side of some relationships and the empathy that that creates, perhaps we can cease to blame the victim, and concentrate on punishing the real perpetrator of the crime.
So are these new books simply more studies on the darker side of love or are their authors taking the Gone Girl trend towards fresh and exciting directions? Flawed female characters and unreliable narrators are very much key to these new novels, although this is not a totally new concept, as Hawkins writes, 'Daphne du Maurier wrote Rebecca in the 1930s, for example. And over the past twenty years we've seen flawed female characters brought memorably to the page by writers like Zoe Heller, Lionel Shriver, Kate Atkinson, Louise Doughty and Sophie Hannah.' But many of these newer protagonists are in control of their destiny, even if that destiny is not pleasant, and the novels deal with more than just the damaged relationship, exploring as well the notion of a sinister presence entering the heart of the home – the place to where we retreat, where we expect to feel most safe and loved – and setting off an emotional bomb. More often than not the instigator of this event, if not the women herself, is old junk from her past; secrets from which she has been hiding or attempting to control. Orme, writes, 'I do think a real shift has occurred from the traditional woman in peril book… to this new, more rounded portrayal of the central female character. Gone Girl is slightly apart in this… in that the female psychopath – while very much a central character – is not intended to be seen as a victim in her own right. With The Liar's Chair, The Girl On The Train and Hausfrau however, the authors have shown us that we don't necessarily have to like the female protagonist to sympathise with her plight and be gripped by her story.'
Expect more complex and driven female leads in thrilling stories, as demand continues for the ever-fascinating and uniquely complex world we like to call home.
Rebecca Whitney's Top Ten reading list for 2105:
The Girl on the Train, by Paula Hawkins
The Girl in the Red Coat, by Kate Hamer
Haus Frau, by Jill Alexander Essbaum
The Kind Worth Killing, by Peter Swanson
Second Life, by S J Watson
Disclaimer, by Renee Knight
The Life I Left Behind, by Colette McBeth
I Let You Go, by Clare Mackintosh
The Crooked House, by Christobel Kent
The Book of You by Claire Kendal
*Rebecca Whitney is the author of The Liar's Chair, published by Mantle on 15 January
Register for free to continue reading
Registration is a free and easy way to support our truly independent journalism
By registering, you will also enjoy limited access to Premium articles, exclusive newsletters, commenting, and virtual events with our leading journalists
Already have an account? sign in
Join our new commenting forum
Join thought-provoking conversations, follow other Independent readers and see their replies