Gerbrand Bakker interview: Escape to the strangest country with newly crowned winner of The Independent Foreign Fiction
His eerie tale of a Dutchwoman adrift in Wales has won our accolade. Boyd Tonkin talks to him about Snowdonia, subtitles – and soap operas
Boyd Tonkin
Thursday 23 May 2013 16:57 Comments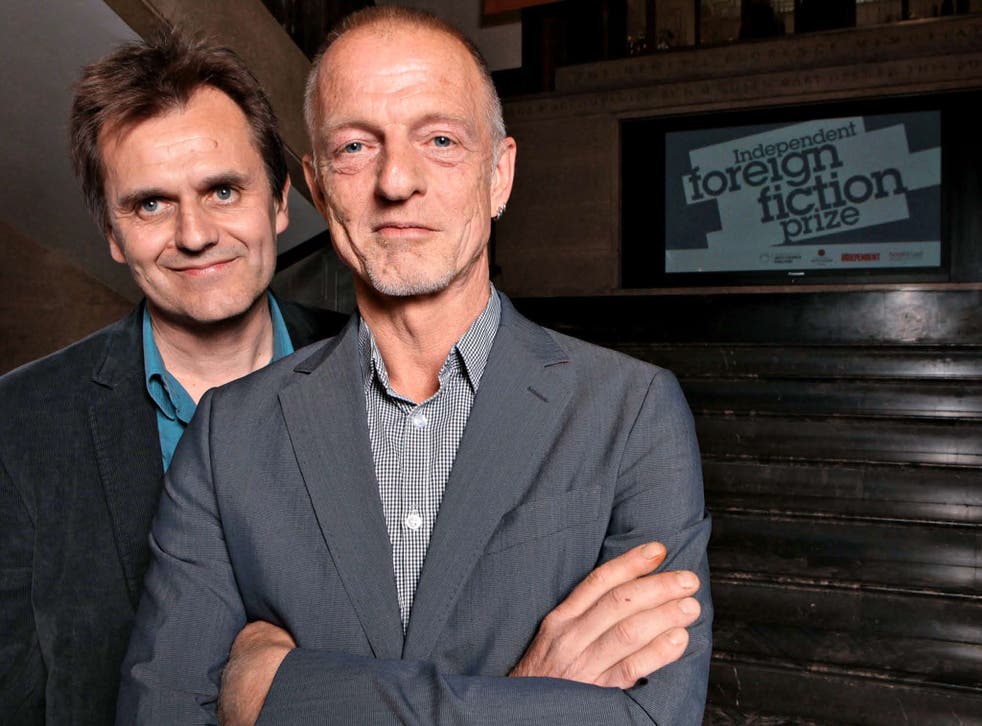 I can state with a reasonable degree of certainty that, before Gerbrand Bakker's The Detour, no other major novel from continental Europe had ever featured characters who watch the BBC's rural relocation series Escape to the Country. The Detour, which on Monday won the Independent Foreign Fiction Prize for the Dutch author and his outstanding translator, David Colmer, tells the eerie, unsettling and gently devastating story of a Dutchwoman who stages her own escape to the country. Going AWOL from her own life, pursued by demons that gradually come into the reader's view, she flees to north Wales and settles into a place of beauty, strangeness - and gathering menace.
After Bakker's victory - a genuine surprise for the novelist, who had travelled from Amsterdam for the ceremony – I asked him about the curious allure of daytime property shows. Does he see Escape to the Country? "I watch it. I love it!" In the BBC-loving Netherlands, he reports "You can watch it every day." Of course, his fugitive heroine's choice of viewing is hardly random. For she can never escape. The past, her own and others', will catch up and find her. It haunts even the ravishing but sinister scenery that Bakker – and David Colmer, who takes half of the £10,000 award for his immersive translation – evoke with such a flair for the beguiling mystery of this landscape and its inscrutable people.
Mischievous, irreverent, with a droll informality that belies the sculpted precision and compression of his prose, Gerbrand Bakker came late to fiction. He has trained as a gardener, and The Detour captures with a countryman's inwardness the harsh seasonal routines of his stranded heroine's hill-farming neighbours. For many years, however, he worked as a subtitler for Dutch TV. It taught him that, in writing, less is more. In particular, he laboured for a long time on the CBS soap opera The Bold and the Beautiful. "They blabber and blabber, but you only have seven seconds for a subtitle on screen. That's what The Bold and the Beautiful taught me. I learned to leave things out."
The Detour (published in hardback by Harvill Secker, and in paperback by Vintage) echoes throughout with absences and elisions; with things half-seen and words half-said. Its protagonist, an academic translator, specialises in the poetry of Emily Dickinson. One of her oblique, elusive lyrics stands at the novel's heart. It begins: "Ample make this bed./ Make this bed with awe;/ In it wait till judgment break/ Excellent and fair…" Bakker says of his Dutch version of her lines that "I made the translation in order to understand the book." Then he adds, unsolemn as always, that the fragile poetic idol of the US student curriculum "wrote an awful lot of doggerel as well".
Bakker knows his setting. He visits friends in north Wales once a year, and has climbed Snowdon "at least" 11 times: "It's one of my favourite mountains". And, beyond the appreciation of a "beautiful but slightly menacing landscape", his novel captures its inhabitants and their idiosyncrasies. For all its mood of past trauma, present dislocation and future threat, The Detour rolls out stretches of deadpan culture-clash comedy. Speaking in not-quite-flawless English, the Dutchwoman half-understands natives of this Welsh-speaking heartland who may themselves be talking in their second language – another challenge to which translator David Colmer rises with total conviction. Bakker ascribes this elliptical comic touch to his home province in the Netherlands. "We West Frieslanders have a very cool, dry humour. I think I absolutely put that in my books."
As a published author, Bakker began with a young-adult title in 1999. The Twin, his first novel for adults but one rooted again in a sharp and sure grasp of the febrile world of childhood, won the International IMPAC Dublin Literary Award in 2010 against competition from every continent. Now, with the Independent prize, he has beaten the world again.
Yet he gives every impression of strolling lightly over the hallowed turf of literature. "I write instinctively," he says. "Something wants to come out. Only now do I see that this book is terribly much about myself". It emerged, he recalls, from a "hugely depressed" period. "I write from the back of my mind. I don't see what I'm doing."
What he's doing at present is renovating a house in Germany. Yes, Escape to the Country. "I'm satisfied – contented – and I'm making a garden." So any future book will have to wait for creative seeds to germinate, although his multi-voiced second adult novel June (2009) will appear in English in due course. "After this renovation is finished, I will have a wonderful writing cabin - with a veranda." He will put it to use – later. "I don't feel like writing at the moment. But I want to want to write."
Jean Boase-Beier, one of my fellow-judges for the prize (with Gabriel Josipovici, Elif Shafak and Frank Wynne), writes on these pages about the entrancing qualities of The Detour. As always, however, choosing a winner from this worldwide harvest of vintage fiction proved tougher than successive sprints up Snowdon. We decided on this occasion to give a special mention to a second novel from the 2013 shortlist; one that so delighted and captivated the jury that it deserved public recognition. That book is Traveller of the Century by Andrés Neuman (translated by Nick Caistor and Lorenza Garcia, and published by Pushkin Press), which Elif Shafak honours here.
The winner: A journey of mystery and Menace
Jean Boase-Beier on Gerbrand Bakker's 'The Detour' (Vintage)
Gerbrand Bakker tells the apparently simple tale of a young academic who leaves her Dutch home to live in an isolated cottage in Wales. As the woman adjusts to the alien landscape, a young man and his dog appear, and a relationship, wary and tender, develops between them. But this is no romantic country idyll. Odd things happen. Someone is taking the geese that live in the garden, one by one. Something is happening to the woman, too. Only gradually does the reader realise what it is.
The reader's involvement is complete. We are pulled in different directions: do we want the husband, who has set off from Holland in pursuit, to find her, or do we want her to be left in peace? Part mystery, part fable, the story takes the escapist dream in all our hearts and shows it in pragmatic terms. We are always hunted; life is a constant struggle to make our journey fit the map in our minds.
Bakker's tale is re-told by translator David Colmer with a sure touch, the Dutch prose rendered with mesmeric simplicity. Bakker's North Wales is a mysterious land of stone circles, green paths, mists and distant mountains, its inhabitants friendly but unfathomable. And it is this foreignness of vision that Colmer has conveyed: we are seeing this strange new land against the mental background of the flat landscape the woman has left behind. Though this is a sad, even tragic tale of loss and grief, of paths that might have been taken, there is comfort in the moments of humour, of tenderness, of joy. Yet we sense, all along, where the journey must end. This makes the story all the more compelling.
Special commendation: A home for imagination
Elif Shafak on Andrés Neuman's 'Traveller of the Century' (Pushkin)
You won't come across Wandernburg, the town where 'Traveller of the Century' takes place, anywhere on a map. And yet, as irrational as it feels, by the time you finish reading the novel, you might find yourself, as I did, longing to be there. There should have been a sign at the entrance of the town, or on the first page of the book, that says, "Welcome to Fearless Imagination". For that is precisely what Neuman gives us: a plot throbbing with verve, characters as unusual as they are familiar, scenes that combine the carnal with the intellectual, dialogues that flow beautifully and, most of all, a subtle yet strong energy that pervades the entire narrative. Neuman's writing is a graceful waltz between things we are used to seeing as "opposites": the mind and the heart, the literary and the sexual, the political and the philosophical, ideas and emotions. He has a discerning eye for the foibles of human existence and yet an unwavering compassion for, and understanding of, them. Rarely comes a novel that blends poetry, history, philosophy, semantics, politics, a murder mystery – and love, that too – with such skill.
'Traveller of the Century', translated by Nick Caistor and Lorenza Garcia, was one of our top two choices. I admire Neuman's style and courage. He swims against the current. Despite the dominant trend in publishing to confine writers to boxes, books to genres, creativity to brands and fiction to a function, Neuman takes his readers on a literary pilgrimage, back to the essence, and reminds us why we loved stories so much even as little children: the ability and the freedom to be elsewhere, anywhere, everywhere.
Register for free to continue reading
Registration is a free and easy way to support our truly independent journalism
By registering, you will also enjoy limited access to Premium articles, exclusive newsletters, commenting, and virtual events with our leading journalists
Already have an account? sign in
Join our new commenting forum
Join thought-provoking conversations, follow other Independent readers and see their replies