Haruki Murakami interview: 'When I write fiction I go to weird, secret places in myself'
The great Japanese author talks to Sarah Lyall about the creative process, how his disciplined nature helps liberate his strange imagination, his new novel 'Killing Commendatore' and his love of ironing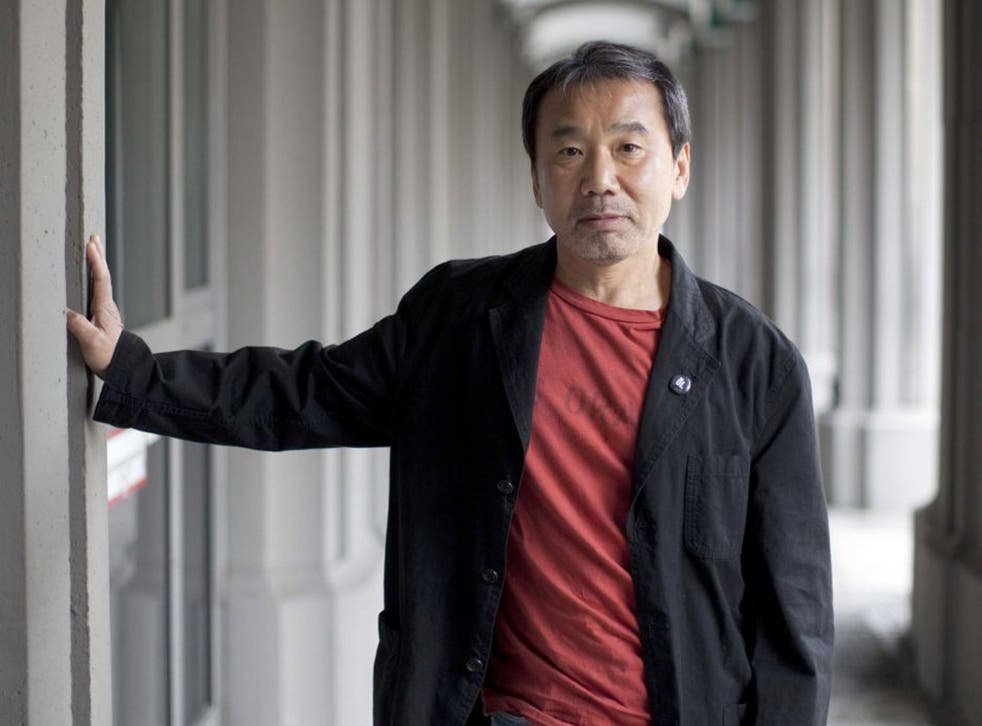 The new novel by the great Japanese author Haruki Murakami, Killing Commendatore features (for a start) a mysterious bell that rings by itself; an abstract idea that steals the body of a two-foot-tall man in a painting; and an odd trip to an underworld frequented by, among other things, some scary Double Metaphors. As the author himself writes at one point, "a number of things made no sense".
But this is Murakami, whose intensely popular fiction plays at the boundary between the real and the surreal, the mundane and the fantastical, regular life and irregular happenings. Killing Commendatore is hard to describe – it is so expansive and intricate – but it touches on many of the themes familiar in Murakami's novels: the mystery of romantic love, the weight of history, the transcendence of art, the search for elusive things just outside our grasp.
Murakami's works have been translated into 50 languages; in addition to novels, he also writes short stories and nonfiction and translates books from English into Japanese. In town for a few days last week, Murakami, 69, sits for a brief interview in his publisher's office after an hour's jog around Central Park. (He is an avid runner and music listener.) Sipping from a Starbuck's cup printed with the word "Emily" – it had been picked up by an assistant – he speaks about the mysteries of the creative process, his love of ironing, and how his disciplined nature and strict adherence to a daily schedule of writing help liberate his strange imagination. These are edited excerpts from the conversation.
How did you get the idea for 'Killing Commendatore'?
I don't know. I picked it from the depth of my mind somewhere. All of a sudden I wanted to write the first one or two paragraphs. I had no idea what was going to happen next. I put it in a drawer on my desk, and then all I had to do was just wait.
What about the rest of the book?
Then one day I got the idea that I thought I could write it, and I started to write and kept on writing. You wait for the right moment, and it will come to you. You need confidence that you will get an idea. And I have confidence because I have been writing for almost 40 years, and I know how to do it.
Is the writing process difficult for you?
When I don't write my own things, I'm translating, which is a very good thing to do while I'm waiting: I'm writing but it is not my own novel. So it's kind of like training, or manual labour. Also, I'm jogging and listening to records and doing family chores, like ironing. I like ironing. It's not like I have a turbulent mind when I write. Basically, it's fun.
Do you read your reviews?
I don't read reviews. Many writers say this, and they're lying – but I'm not lying. My wife reads every review, though, and she only reads the bad ones out loud to me. She says I have to accept bad reviews. The good reviews, forget it.
Your books are full of the surreal and the fantastical. Is your life like that too?
I'm a realistic person, a practical person, but when I write fiction I go to weird, secret places in myself. What I am doing is an exploration of myself – inside myself. If you close your eyes and dive into yourself you can see a different world. It's like exploring the cosmos, but inside yourself. You go to a different place, where it's very dangerous and scary, and it's important to know the way back.
It seems to be difficult for you to talk too much about the underlying meanings of your work.
People are always asking me about the books: "What do you mean by this; what do you mean by that?" But I cannot explain anything at all. I talk about myself, and I talk about the world, metaphorically, and you cannot explain or analyse metaphors – you just have to accept the form. A book is a metaphor.
You have said that 'Killing Commendatore' is a homage to 'The Great Gatsby', a novel that, as it happens, you translated into Japanese about 10 years ago. 'Gatsby' can be read as a tragic tale about the limits of the American dream. How did this work in your new book?
The Great Gatsby is my favourite book. I read it when I was 17 or 18, out of school, and was impressed by the story because it's a book about a dream – and how people behave when the dream is broken. This is a very important theme for me. I don't think of it as necessarily the American dream, but rather a young man's dream, a dream in general.
What do you dream about?
A: I don't dream, except maybe once or twice a month – or maybe I dream more but I don't remember the dream at all. But I don't have to dream, because I can write.
© The New York Times
Register for free to continue reading
Registration is a free and easy way to support our truly independent journalism
By registering, you will also enjoy limited access to Premium articles, exclusive newsletters, commenting, and virtual events with our leading journalists
Already have an account? sign in
Register for free to continue reading
Registration is a free and easy way to support our truly independent journalism
By registering, you will also enjoy limited access to Premium articles, exclusive newsletters, commenting, and virtual events with our leading journalists
Already have an account? sign in
Join our new commenting forum
Join thought-provoking conversations, follow other Independent readers and see their replies