Have we lost the art of writing love letters?
On Valentine's Day, John Walsh looks at the history of billets doux - and wonders whether they can survive in the digital age
Monday 14 February 2011 01:00 GMT
Comments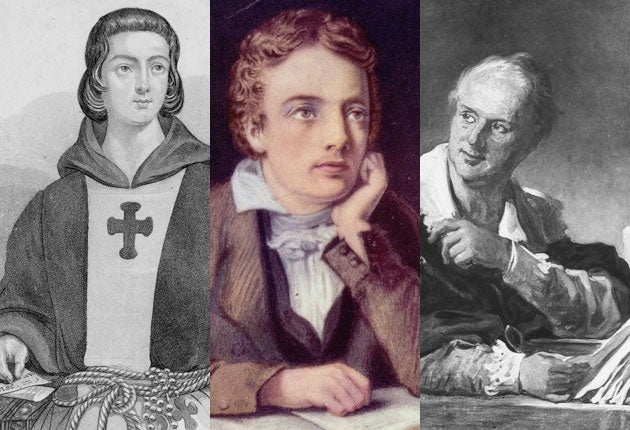 'The frankest and freest product of the human mind and heart is a love letter," wrote Mark Twain in the introduction to his autobiography. "The writer gets his limitless freedom of statement and expression from his sense that no stranger is going to see what he is writing."
The writer is, of course, sorely deluded if he thinks any such thing. Literary history is crammed with the unguarded outpourings of lovers, spouses, lechers and romantics. And today, when one billion Valentine's Day cards will be sent worldwide, we might wonder where the tradition of the passionate avowal came from – and whether it's now dead and gone.
The origins of St Valentine are lost, but one myth suggests he was a priest in third-century Rome who defied the emperor Claudius II, who had outlawed marriage for young men (because he thought single men made better soldiers than married ones). Because Valentine went on marrying young lovers in secret, he was thrown in jail and condemned to death – a martyr for love.
It's thought that he sent a passionate greeting to the jailor's daughter who visited him in his cell, and signed it "from your Valentine".
Though he died in AD270, he was given a saint's day –14 February – in AD498 by Pope Gelasius. It took nearly 1,000 years for the first Valentine to appear – a poem written to his wife in 1415 by Charles, Duke of Orleans, while incarcerated in the Tower of London after Agincourt. It's now in the British Library.
British romantics began to celebrate the day in the 17th century. It was in the mid-18th that lovers sent each other handwritten notes or little love tokens.
By the turn of the 19th century, they could express their feelings in pre-printed cards rather than private notes. In America, a woman called Esther Howland started selling mass-produced Valentines – twee conglomerations of hearts, flowers, lace, ribbon, bunny rabbits and glutinous protestations about the sweetness of kisses.
Love letters, however, never needed any help from Valentine's Day and flourished before and despite its existence. The letters of Pliny the Younger offer a warmly human picture of private life in Rome circa AD100, particularly when writing to his adored wife Calpurnia: "You say that you are feeling my absence very much, and your only comfort when I am not there is to hold my writings in your hand and often put them in my place by your side... I too am always reading your letters, and returning to them again and again as if they were new to me – but this only fans the fire of my longing for you. If your letters are so dear to me, you can imagine how I delight in your company. Do write as often as you can, although you give me pleasure mingled with pain."
The first published love correspondence was in the early 12th century between Peter Abelard, a leading French philosopher, and his student Heloise, the beautiful neice of Canon Fulbert of Paris.
Despite the 22-year age gap, they became lovers. The Canon found out and, when Heloise was revealed to be pregnant, sent his kinsmen to Abelard's house where they castrated him. Heloise entered a convent and the lovers never met again. Instead they wrote to each other. Her letters are marvels of frankness and self-abasement: "God knows I never sought anything in you except yourself; I wanted simply you, nothing of yours... I looked for no marriage-bond, no marriage portion, and it was not my own pleasures and wishes I sought to gratify, as you well know, but yours. The name of wife may seem more sacred or more binding, but sweeter to me will always be the word mistress, or, if you will permit me, that of concubine or whore."
The Tudor period was a dangerous time for written-down expressions of love (or loyalty or religious adherence). Too many seemed to lead to the gallows. Letters of the period are dominated by Henry VIII, whose notes to Anne Boleyn in 1524 are full of yearning and non-regal pleas that, though far away, she should not go off him: "My Mistress and Friend, I and my heart put ourselves in your hands, begging you to recommend us to your good grace and not to let absence lessen your affection... For myself the pang of absence is already too great, and when I think of the increase of what I must needs suffer it would be well nigh intolerable but for my firm hope of your unchangeable affection..."
We have to wait for the turn of the 18th century for the modern love letter to appear – a thing of charm and tongue-in-cheek overstatement, like this one in the 1700s from the playwright William Congreve to Mrs Arabella Hunt, a court musician: "Recall to mind what happened last night. That, at least, was a lover's kiss. Its eagerness, its fierceness, its warmth expressed the god its parent. But Oh! its sweetness and its melting softness expressed him more... Convulsions, pantings, murmurings shew'd the mighty disorder within me: the mighty disorder increased by it. For those dear lips shot through my heart, and thro' my bleeding vitals, delicious poison, and an avoidless but yet a charming ruin."
A little later, in 1770s Germany, Johann von Goethe was romancing Charlotte von Stein by insisting that his solitary walks and moody lonesomeness were all because of his fixation on her. It was a trope of the Enlightenment that love didn't confuse and baffle the lover with vague sentiment; on the contrary, it clarified everything: "In you, I have a measure for every woman, for every one; in your love a measure for all that is to be. Not in the sense that the rest of the world seems obscure to me; on the contrary, your love makes it clear; I see quite clearly what men are like and what they plan, wish, do and enjoy; I don't grudge them what they have, and comparing is a secret joy to me, possessing as I do such an imperishable treasure."
Another favourite approach was the whine of masochism, as the lover suffers torments that his lady love may leave him, and receiving her letters becomes a form of torture. As Denis Diderot, the French encyclopaedia compiler, pointed out in his letter to Sophie Volland in 1759: "How impatiently I waited for it! I am sure my hands trembled when opening it. My countenance changed; my voice altered; and unless he were a fool, he who handed it to me would have said – 'That man receives news from his father or mother, or someone else he loves.' I was just at that minute about to send you a letter expressing my great uneasiness. While you are amusing yourself, you forget how much my heart suffers."
This you're-so-cruel approach was also adopted by Napoleon Buonaparte in his letters to Josephine de Beauharnais. Even while he was marauding around Europe, as commander of the French forces in Italy, he was ticking off his new bride (in 1796) for her inattention: "I do not love thee any more; on the contrary, I detest thee. Thou art horrid, very awkward, very stupid, a very Cinderella. Thou dost not write me at all, thou dost not love thy husband; thou knowest the pleasure that thy letters afford him, and thou dost not write him six lines of even haphazard scribble. What do you do, then, all day, Madame? What matter of such importance is it that takes up your time from writing to your very good lover?"
The classic love letters of the last two centuries, however, have been those of poets, playwrights and novelists, and their theme is tiresomely formulaic. Whether it's John Keats worshipping Fanny Brawne ("I have been astonished that Men could die Martyrs for religion – I have shuddered at it. I shudder no more – I could be martyr'd for my Religion – Love is my religion – I could die for that. I could die for you"), Victor Hugo rhapsodising over Adele Foucher ("When two souls, which have sought each other for however long in the throng, have finally found each other, a union, fiery and pure as they themselves, begins on earth and continues forever in heaven. This union is love, true love..."), or Oscar Wilde in raptures over Bosie Douglas ("What wisdom is to the philosopher, what God is to his saint, you are to me"), the theme has been transcendence – the insistence that the loved one inhabits a higher plane of being than the normal run of mankind. One can feel a sense of relief to read the flagrantly pornographic letters James Joyce wrote to Nora Barnacle when they were temporarily parted in 1909. He encouraged her to masturbate while reading them and called her, among a great many other things, his "darling brown-arsed fuckbird".
Do people send each other love letters any more? Or is the exchange of amorous declarations between partners now forever delegated to the insulting greetings card, the fluffy-bunny message in newspaper classifieds, the wholly unpassionate email, the economical salutation of the text message ("yr hairs so lng yr tits so gr8 theres nuthin bout you I don't r8. fanC a shg?")? Probably. But as recipients of real love letters will tell you, they don't have to be the work of Elizabeth Barrett or Lord Byron, or to insist on the beloved's spiritual qualities, to have an effect. Just a recital of her (or his) most shining virtues can do the trick. As St Valentine probably found when sending that note to his jailer's foxy daughter, 1700 years ago.
Join our commenting forum
Join thought-provoking conversations, follow other Independent readers and see their replies