How to Train you Dragon author Cressida Cowell: What's making her breathe fire?
Anything that stops children getting excited about reading, that's what, says the author of How To Train Your Dragon
Susie Mesure
Saturday 21 September 2013 18:44 Comments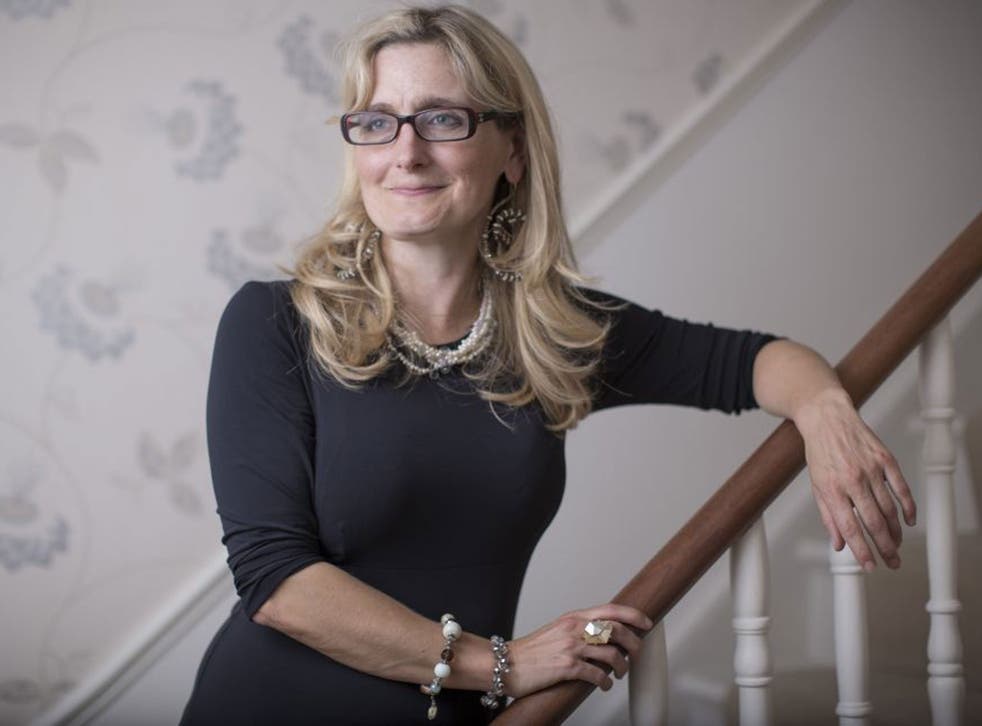 Cressida Cowell is battling dragons. Frightening, fire-breathing beasts that threaten her very status as one of this country's most successful children's writers. How else to explain her fear of telling me what she thinks about Michael Gove?
She thumps the table. So hard that crumbs fly off the macaroon-and-flapjack-laden plate that greeted my arrival in her west London kitchen. "I have a feeling that I oughtn't to say ... Well, I think it would be sensible to, oh, um, I think I'd rather not."
Petite and somehow fresh in black despite the late summer heat, the author of the How to Train Your Dragon books is flustered for the first time during our chat. Writing a best-selling-series-turned-Hollywood-megahit has opened classroom doors across the UK, which puts Cowell in an influential position when it comes to her views on the state of education in this country.
"I'm in favour of creativity in schools and I'm a little anxious about …" But it's no use; she trails off, pounding the table yet again. The rigid curriculum? I suggest, before telling her I'll put her down as "not a fan". She laughs. Another thump. "Oh dear; yes, the emphasis does seem to be going, very much towards testing rather than inspiring."
This is the very opposite of what Cowell, 47, seeks to do with her children's epic, which this week gets its eleventh, and penultimate, instalment: How to Betray a Dragon's Hero. The hero in question is Hiccup. Hiccup Horrendous Haddock the Third, to be precise. The books mix text with emotive pen-and-ink sketches of Viking heroes, anti-heroes, and, of course, dragons, all drawn by Cowell in the studio-cum-shed that nestles in the back corner of her tiny terraced garden. She makes them "very visual" on purpose; her aim, to grab even the most reluctant of readers' attention.
"The competition is so tough. I put in all those pictures because kids today are much more visual than when I was growing up. The pictures make a kid who's got it in their head that books are dull, that books are associated with school, and all those reading schemes, feel they're exciting, that they're fun."
She packs in the action, ever conscious that readers could opt to watch TV or do just about anything on an iPad rather than read another chapter. This, she thinks, affects the types of new books out there. "I do think that children don't have the attention span that we used to have when we were little, so they're not necessarily going to get excited by the same books you loved when you were a kid. I don't think that Black Beauty is necessarily going to set a kid on fire," she says.
The good news for anxious parents is that Cowell, who has three children of her own, (15, 13 and nine), thinks it doesn't matter what kids are reading. Citing research by the National Literacy Trust, she expands: "The key is to get them excited. It could be The Beano; it could be non-fiction, just as long as the kid is reading for pleasure. As a parent you can't think, 'Oh, this book is too young for them.'"
Given her earlier jibe, I'm guessing she's not a huge fan of reading schemes. She picks her words carefully, claiming they're fine providing they "excite your kid", but adds: "What I have a problem with is when – and this does happen, not necessarily to me but to friends of mine – schools say 'Your kid can't read that, he's too young for that, or he's not on the right reading level for it.' And I think, if the kid is reading, don't stop them! Whether you think it's too young, or too old, it doesn't matter; they're reading!"
Her son, she adds, felt that Tintin "didn't count" when he was asked to write about the books he'd read this summer holiday. "Why doesn't that count? I think that counts as a book! Just because it's got pictures in. A lot of the language in Tintin, or something like Calvin and Hobbes, uses really long words."
What she is desperate to avoid is "school bashing", which she worries has become something of a national pastime, especially when it comes to analysing declining literary rates. "It's just such a difficult area. All of those things, like television, all of the other demands on children's time are a major factor, and that's not the schools' fault; that's nobody's fault."
No one could accuse a young Cressida of having too many demands on her time while growing up. She recalls spending endless summers left to her own devices on a remote Scottish island. Not just any island, but one owned by her father, "a lifelong environmentalist" – and, I later learn, a former corporate and establishment heavyweight, Michael Hare, 2nd Viscount Blakenham.
The family, she says, would be dropped off on the "completely uninhabited" island in the Inner Hebrides. "It was very Outward Bound and adventurous. You'd go out in storms to catch food to eat." This is important because the island, which she refuses to name (and I respect, despite later Googling it), inspired her Viking epic, right down to the Scottish accents in the Dreamworks animated version. She remembers her younger self imagining dragons living in the caves, where her father would point out various species of birds. Later, he would tell candlelit tales of the quarrelsome Viking tribes that roamed so many centuries ago.
"I think that all comes through in the books, because I know what I'm talking about," she says, referring to Hiccup's adventures. "I know what it's like to go out in a storm in a boat. With fantasy I think that it's very important that it feels that it might be true."
All that time gave her plenty of reading opportunities. Her conquests aged 13 included Albert Speer's Inside the Third Reich, which she says she read three times out of necessity. Not that she would advocate such extreme measures to combat illiteracy today, admitting that she has spared her own offspring such extreme boredom.
Several cups of tea down, there is just time for photos, and a peek at her writing den. There, amid the greenery and distracted by our photographer, she relents on the subject of Gove, admitting: "What worries me is that so many teachers are critical. I do hope he is listening." And with a thumbs up to OK my use of her comment, I leave her, posing on her garden steps, her reputation and influence very much intact.
Cressida Cowell will be presenting a live 'How to Train Your Dragon' webcast on 26 September, the day the new book is published by Hodder Children's Books. Register free here
Register for free to continue reading
Registration is a free and easy way to support our truly independent journalism
By registering, you will also enjoy limited access to Premium articles, exclusive newsletters, commenting, and virtual events with our leading journalists
Already have an account? sign in
Join our new commenting forum
Join thought-provoking conversations, follow other Independent readers and see their replies