Ian McMillan revisits the train journey at the heart of Philip Larkin's Whitsun Weddings
This weekend is Whitsun, and while the festival may no longer resonate, Larkin's best-loved poem, lives on - along with the train journey at the heart of it. Ian McMillan climbs aboard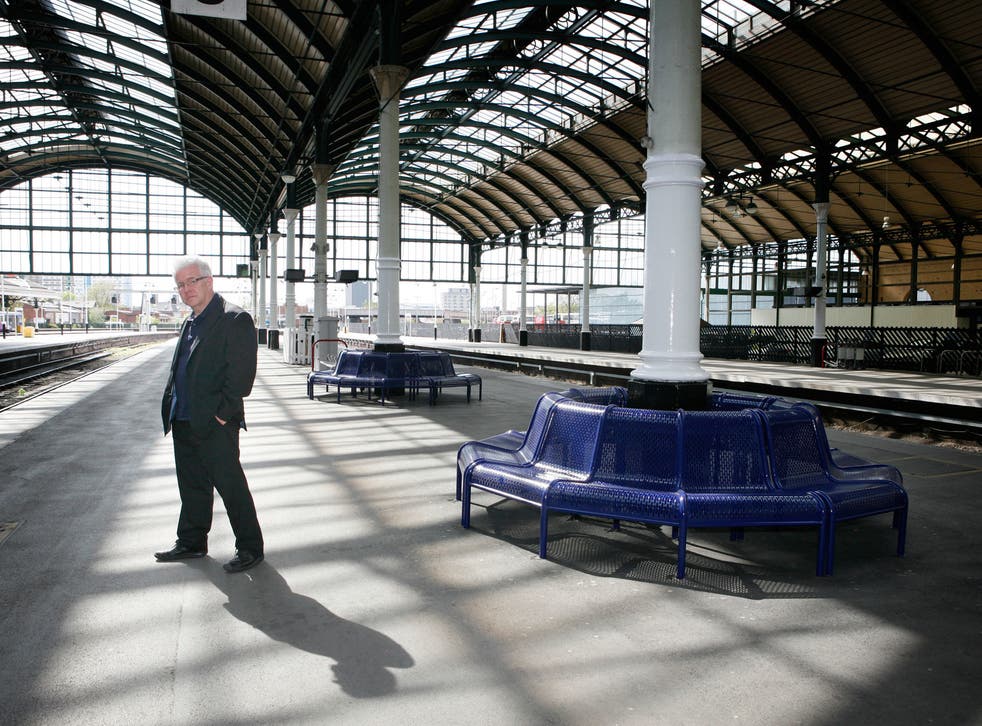 I'm on the platform at Hull station and I'm scribbling in my unlined notebook. I'm trying to inhabit, from a distance of five decades-plus and a different world view, Philip Larkin's most famous poem: the one that sees him take a train from Hull to London, gathering brides and grooms on a Whit Saturday afternoon as he trundles south. I'm sitting, self-consciously, near the statue of Larkin by Martin Jennings that dominates this end of the station, and I'm trying to create my own version of the opening lines of "The Whitsun Weddings".
He writes, "That Whitsun, I was late getting away:/Not till about/One twenty on the sunlit Saturday/Did my three-quarters-empty train pull out…" My lines are, oddly, both the same and very different: "That Tuesday, I was late getting away; not till about 15.57 on that sunlit afternoon did my packed-to-the-gills train pull out…"
Larkin died 30 years ago this year, and I'm here in a spirit of pilgrimage and homage, to follow his journey from here to King's Cross, down a slice of England that has changed enormously since Larkin's glasses glinted in the sun that reflected off the bedroom windows of the terraced houses he passed. As I sit and write, a bloke in a flat cap that looks as though it's been chucked on to his head from a great distance wanders over and says, apropos of nothing, in an accent as broad, deep and gorgeous as the Humber, "You must be thick!" Maybe he's right. It's almost time I was off. I don't know why he said it, but it added a certain something to the day.
The statue of Larkin seems to show him walking purposefully from what used to be the station hotel towards the platform. He once wrote, "I never thought about Hull till I was there", which is the way I feel about Bexleyheath, but that phrase encapsulates the ambivalent relationship the poet has with Hull. He walks away from it, he takes the train to London, he puts distance between himself and the city. As I stroll towards the 15.57, I wonder what he would have made of the fantastic news that Hull is to be UK City of Culture in 2017. His smile would have teetered on the edge of wry, I reckon.
I first read Larkin at secondary school in an anthology called Nine Modern Poets and I can still remember his spectacled gaze boring into me from my desk. As a Captain Beefheart-listening teenager I admired him grudgingly, preferring Dylan Thomas's fireworks, Ted Hughes's nature-stink and RS Thomas's language. As my hair has grown greyer, though, I've learned to love Larkin, and maybe love isn't too strong a word. I would never tell him that, of course.
I also love train travel; I love to sit (or stand) and gaze out of the window or stare at my fellow passengers and, at the drop of a hat, tweet about them. I see tweeting as one of many new poetic forms for the digital age; as a tweeter I'm curator and artist, hunter-gatherer and craftsman. Each of the tight and precise observations in "The Whitsun Weddings" could be tweets, I've decided: the Odeon that goes past, and the cooling tower; the poplars casting long shadows over major roads.
I like the way that we're all (sometimes literally as you go over a bump) thrown together on trains; it's a kind of enforced democracy, if you discount first-class. I get the feeling that Larkin didn't like people all that much, because he writes about "the fathers with broad belts under their suits and seamy foreheads", and "mothers loud and fat", but I like to celebrate them and rejoice in their varied humanity. The ones that'll fit in a tweet, anyway.
Larkin travels on a Whit Saturday and his train slowly fills up with brides and grooms: "all down the line/fresh couples climbed aboard", and the poem, which was actually written in 1958 although not published until several years later, seems to speak from some impossibly far away place in a dimly remembered time.
In all my years of riding the rails I've never seen newlyweds clambering on to a train. These days the spaces those couples occupied are often filled by stag and hen parties, pink ladies and men dressed as penises pouring beer down their necks as though they are plugholes and the ale is dishwater. Which I guess it often is. Despite his world-weary cynicism, Larkin seems somewhat innocent, and I think he would be appalled by the formulaic stag/hen rituals. Uncles shout smut in his poem; they don't watch porn on smartphones as they try to adjust the straps of huge cowboy hats around the chafing necks of their slumping mates.
Larkin's "three-quarters-empty train" is a distant dream, too; most trains these days are as crowded as away ends at Premier League matches. Larkin's girls who "grip their handbags tighter", who "stared at a religious wounding", would be texting the fact, and tweeting it, and putting it on Facebook. There's nothing wrong with that, of course; but I imagine Larkin's Twitter account would have been mainly unused, a branch line threatened by the Beeching Axe. Larkin would have lamented the loss of privacy as people shout about warts to other people hundreds of miles away. I don't, because I think this endless interaction constantly brings us together as social beings.
My small Northern Rail train rattles towards Doncaster, where I'll have to > change for London. I listen in to half-conversations on phones, as I always do. Larkin would have approved of this, at least; observation of the shifting human tapestry forms a huge part of his work. As we pass the beautiful steel poem that is the Humber Bridge, a man gasps, as though he's in an Alan Bennett play, "Look, we don't have to buy them anything: they're not even close acquaintances!"
In "The Whitsun Weddings" Larkin writes of people on the platforms "…watching us go,/As if out on the end of an event/Waving goodbye/To something that survived it." And somewhere in those elusive and allusive lines is the essence of train travel as Larkin and the couples and me and my fellow rattlers experience it. We are often out at the end of an event, in that hole in the space-time continuum that train travel is. Especially if there are over-running engineering works near Hatfield and Stainforth. Of course, Larkin would have travelled by British Rail, and I'm on a Northern Rail train, which is part owned by German state railways, and later I'll be getting on a Virgin East Coast train. East Coast rail returned its profits to the Exchequer; Virgin East Coast returns its profits to shareholders. I have no comment to make: I simply present the facts. British Rail as a concept hangs on, though; I was on a train recently and someone bought a sandwich from the trolley, looked at it and said "British Rail," shaking his head as though privatisation had never happened.
We pass Brough and Goole ("the next towns, new and nondescript", Larkin may have called them) and I play my train game Here Comes Larkin. I look for Larkin-alikes on the platform. None at Brough; a man in a jacket jabs at a crossword like he's trying to kill ants on it. At Goole there are two Larkins: one walks away and the late afternoon sun sends pale semaphore signals from his pate. One stands and waits and slowly gets on. His scribbled combover shifts in the breeze but does not surrender to gravity.
At Doncaster, as the trainspotters gaze at us briefly, then look away because we're human, there's a sudden kerfuffle as I scuttle for a train that's a couple of minutes late. Sometimes you want a train to be late for just this reason; you can catch a march on time. You can get to your destination earlier and this makes you feel somehow superior. Unless you've reserved a seat on a particular train, of course – another idea that Larkin would have found unfathomable, although he might have compared those little slips of paper that show which seats are reserved to library tickets. You've borrowed this ride. Don't overstay your welcome.
Now the train gathers speed as it slides south, passing Retford, slowing and stopping at Newark where no Larkins get on but a man shakes hands with another man so vigorously that it almost looks like they are dancing, almost recreating the birth of hip-hop. The landscape is flat and full of mysteries. Why is that car parked there? Why is that man standing and staring into space as his dog runs the opposite way to his gaze? The train passes isolated houses and I imagine people in them living simple, fulfilled lives. I imagine they never lose their remote down the settee or find they've put a red sock in a white load in the washing machine
Grantham gives us a kind of half-Larkin: a man whose glasses seem to hide great wisdom and who pulls out a Stephen King novel and uses his ticket as a bookmark. At Peterborough there are no Larkins; a man who is sweating so much he looks like he's been dipped in a sink full of olive oil sits down and groans like an old settee.
London is calling. Larkin's train would have been much slower than this one that is taking just over an hour and 45 minutes to get from A to B. If I live long enough to see HS3 and the Northern Powerhouse, and if they ever happen, I'll be able to get to the capital in the time it takes to read and comment on a couple of Larkin poems. Longer poems, of course.
He writes, as his journey moves towards its conclusion, "it was nearly done, this frail/travelling coincidence", and again he has captured what train travel is: an unrepeatable event, even on a familiar journey. A sense of possibility, of encounter, of seeing and hearing something poetic, something you will remember for a long time, something that might shape the rest of your life. And like Larkin, you might see "someone running up to bowl" but I bet you never see a wicket taken. I never have.
Now the train is at King's Cross, with its new and lovely roof and light that has, as Larkin writes, "a sense of falling, like an arrow shower/sent out of sight, somewhere becoming rain." The trip is over.
I think a train journey is like a poem; it begins, it ends, it travels somewhere. It's packed with rhythms and images. It has a narrative that is sometimes interrupted and sometimes not straightforward. It is built from a mixture of language and time. I sit and begin to write this piece in a cafe on the station concourse. I sip an espresso and watch for Larkins ambling by.
Ian McMillan presents 'The Verb' on Radio 3. His latest book, 'Neither Nowt Nor Summat: In search of the meaning of Yorkshire', is published in June by Ebury
Join our new commenting forum
Join thought-provoking conversations, follow other Independent readers and see their replies