Jacqueline Wilson on getting children to read, escapism and inspiring books
The bestselling author has teamed up with budget airline easyJet to fill planes taking kids abroad over the summer with "flybraries" – passenger seat pockets containing children's classics chosen by Wilson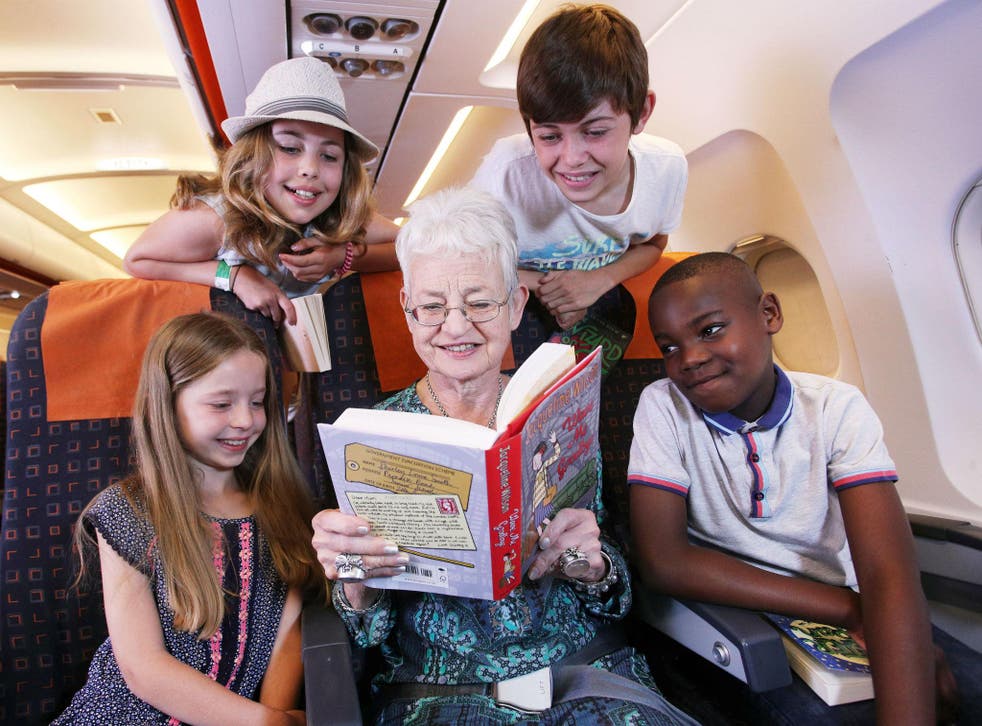 "It's very easy to put children off reading without meaning to," says children's author Dame Jacqueline Wilson, whose sales figures speak to the contrary.
The 71-year-old has written more than 100 novels, is best known for The Story of Tracy Beaker series, and has sold more than 40 million books in the UK alone. Her latest book, Wave Me Goodbye, is about 10-year-old Shirley, an evacuee who is thrown into uncertainty when she is sent away on a train with her schoolmates during the Second World War.
Her novels place difficult issues such as family dysfunctions, divorce, mental illness and bereavement into first-person narratives that young readers can easily understand and relate to.
But Wilson is aware that some children find books intimidating and that school sometimes makes reading seem less than fun. So she is spearheading a campaign to get kids reading during summer holidays.
She has teamed up with budget airline easyJet to fill planes taking kids abroad over the summer with "flybraries" – passenger seat pockets containing children's classics chosen by Wilson.
According to the Department for Education, just 37 per cent of 10-year-olds read for pleasure and one in five children in England cannot read well by the age of 11.
Every year studies claim children are reading less today than their parents' or grandparents' generation – and a new one by easyJet to support its campaign is no exception.
"Children aren't reading as much today for the obvious reason that they have so many other things to occupy them. Every child now plays some kind of electronic game," says Wilson, adding that schools can sometimes add to the problem.
"Because the school curriculum is so crammed there is very little time for any kind of reading for pleasure.
"When children pick up a book often teachers ask them questions to make sure that they've read it and understood it. Well, I think that just kills the whole thing dead.
"At school we used to have story time, normally at the end of the day, when we just listened to a story being read aloud to us. It was fun. That's what it is all about."
She has picked Peter Pan, Alice's Adventure in Wonderland, The Railway Children and The Wizard of Oz to populate the "flybraries". Like Wilson's own works, the stories she's chosen don't shy away from harsh realities like loss or loneliness.
"Rather than to point children in the direction of modern children's books, I wanted to choose tried and tested books that have never been out of print," she says.
"Stories like Alice in Wonderland that are actually out there anyway, and that children already sort of know. It makes it easier for children to feel comfortable starting to read those kinds of books.
"Children have the most amazing ability to lose themselves entirely in books. If you ask adults what they read as a child often they can recall stories with a vividness.
"If you can get children reading then they will be readers for life."
Wilson, who spoke last year for the first time about her difficult early life with "parents who argued every day, about practically everything", talks of reading in childhood as escapism.
She was a voracious reader and wrote her first "novel" at the age of nine – 21 handwritten sides of paper.
"The first proper book I read was The Magic Faraway Tree by Enid Blyton," she says.
"Enid Blyton might have been a racist or a Zionist, but when you're five or six you don't care. What you want is a story that transports you. One that it's easy to read and that you can race through.
"By the time I was about 10 I had a little collection of paperbacks and children's classics. My father used to tell me to take my head out of books and go and do something useful."
The first adult book Wilson read was Jane Eyre by Charlotte Brontë. "I was bored and had run out of library books. I would have been about 11 at the time," she says.
"My parents didn't have many books but there was an old copy of Jane Eyre. It didn't look very promising from the outside. But from the moment I started reading I was riveted.
"I hadn't realised that sometimes adult books started with the main character as a child. And here we had a little girl sitting in a window seat and it just seemed very real to me.
"I couldn't stop reading it, I was blown away by it and it's still one of my all-time favourite classics."
As a child Wilson read and reread Noel Streatfeild's Ballet Shoes and Louisa May Alcott's Little Women – but omitted them from the easyJet libraries for fear of alienating boys.
"It's so silly because children can be put off reading books that they would love for the silliest reasons. I think you have to quite canny about [enticing them]," she says.
The Railway Children is her all-time favourite children's book for reasons that have followed her into adulthood.
"I just love E Nesbit's work. Her style. How she understands children.
"I also sympathise with the fact that the mother writes for a living and finds it hard work. And whenever she sells a story they have buns for tea."
Wilson has a daughter, Emma, whom she had when she was 21, around the time she started writing novels and when she was regularly contributing stories to magazines.
"When you're writing for magazines or you've got to finish your novel it can be hard juggling everything. You want to be a good mum, but there are deadlines to meet.
"Luckily for me my daughter was a bookworm and the sort of child who was happy to read, write her own stories or draw while I worked.
"When I'd finished or sold a story we'd often actually have buns for tea. I took that from The Railway Children."
Register for free to continue reading
Registration is a free and easy way to support our truly independent journalism
By registering, you will also enjoy limited access to Premium articles, exclusive newsletters, commenting, and virtual events with our leading journalists
Already have an account? sign in
Register for free to continue reading
Registration is a free and easy way to support our truly independent journalism
By registering, you will also enjoy limited access to Premium articles, exclusive newsletters, commenting, and virtual events with our leading journalists
Already have an account? sign in
Join our new commenting forum
Join thought-provoking conversations, follow other Independent readers and see their replies