The odd life of Catcher in the Rye author JD Salinger
As the centenary of celebrated author JD Salinger rolls around, Martin Chilton explains why the literary hermit behind 'Catcher in the Rye' would reject such a celebration
Tuesday 01 January 2019 09:12 GMT
Comments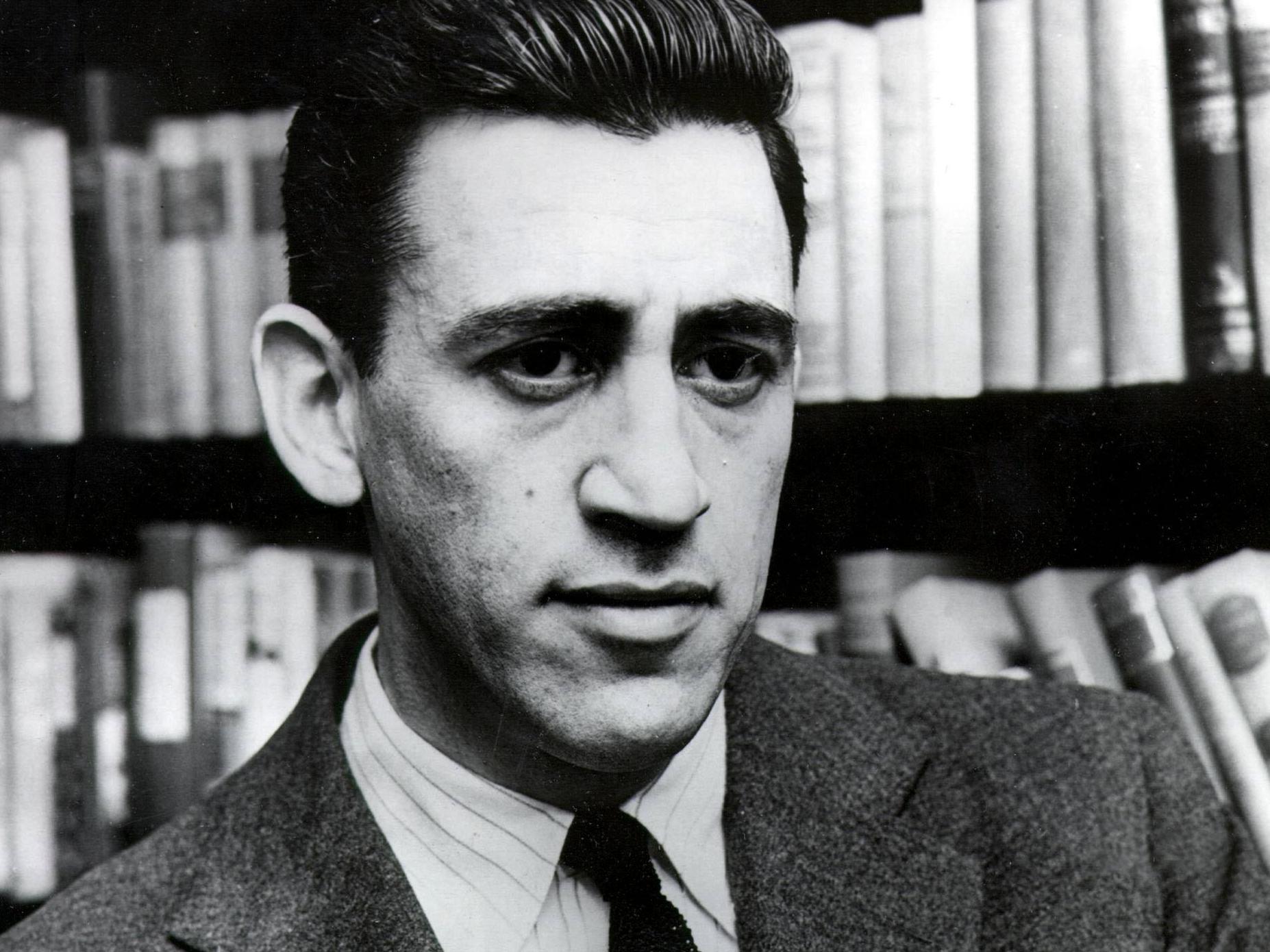 If he were still alive, JD Salinger, the world's most famous literary hermit, would surely turn his back on any brouhaha surrounding his centenary in 2019.
The Manhattan-born author notoriously went into suburban seclusion in the town of Cornish, New Hampshire, soon after the publication of his best-selling 1951 novel The Catcher in the Rye. Throughout the following years he would utter the plea "why can't my life be my own?". He also complained bitterly to close friends about the "damn people" who sent him invitations to social events.
"My father hated birthdays, holidays, and pretty much any planned or culturally mandated celebrations, and he'd certainly hate this centennial," Matt Salinger, the 58-year-old actor who appeared in Revenge of the Nerds and Captain America, told the Associated Press recently. He was commenting after the announcement that the New York Public Library will open a major exhibition in October featuring "manuscripts, letters, books and artefacts from Salinger's archive". Little, Brown Book Group are also staging events across America next year to mark the anniversary of the author's birth on 1 January 1919.
When Salinger died on 27 January 2010, aged 91, he was described as "a recluse" in virtually every report. Although he spent much of his adult life trying to avoid interviews, the term is not an accurate description the famous author. Jerome David Salinger, who went by the name Jerry, played up to a loner image. He may have described himself to a friend as "a perennial sad sack", but he was an active socialite as a youngster (frequenting the glitzy Stork Club in New York) and even toyed with the idea of becoming an actor.
In 1941, after leaving a creative writing course at Columbia University, he worked for three weeks as the entertainment director of the cruise liner MS Kungsholm. In that role, Salinger was responsible for helping to make sure the 1,500 passengers sailing round the West Indies were having fun. He organised games of deck tennis and danced with unattached ladies who were on board. His career in showbusiness was brought to an end that year when the Kungsholm was requisitioned by the US government for use in the war effort. When Betty Eppes, a reporter for The Baton Rouge Advocate, asked him what he had been like as the ship's jolly entertainer, Salinger sidestepped the question.
In the spring of 1942, Salinger was drafted into the US army. The Second World War was a defining experience and the horrors he witnessed left him with mental scars for life. "I have survived a lot," he said, although he never talked publicly about what he had seen at a concentration camp. Salinger served as an infantry man and in counter-intelligence and participated in the assault on Utah Beach as part of the D-day landings. He was present during the brutal and bloody Battle of Hürtgen Forest in late 1944. "You never really get the smell of burning flesh out of your nose entirely, no matter how long you live," he told his daughter Margaret.
According to Kenneth Slawenski, one of Salinger's biographers, the traumatised young soldier was sent to hospital at the end of the war, for what would now probably be diagnosed as post-traumatic stress disorder. While undergoing treatment, he met a half-German, half-French woman called Sylvia Welter and they were married within weeks. The union lasted just eight months and ended abruptly when he discovered she had been a Gestapo informant during the war. He annulled the marriage and cut off all contact.
During those army days, Salinger had worked away at writing short stories and his resolve to be a writer had been strengthened by meeting Ernest Hemingway, who was in Europe reporting on the war. After returning to America, Salinger continued to work on his novel about a character called Holden Caulfield. The character first appeared in the short story "I'm Crazy", which was published in Collier's magazine in 1945. The Catcher in the Rye was first published on 16 July 1951 and has since sold more than 70 million copies.
40 books to read while self-isolating
Show all 40
The celebrated opening of the novel – "If you really want to know about it, the first thing you'll probably want to know is where I was born, and what my lousy childhood was like, and how my parents were occupied and all before they had me, and all that David Copperfield kind of crap." – enraptured readers and helped make the book an instant success. Salinger did not like the fame that came with a hit book. The same man who went to London in 1951 and drank cocktails at the home of Laurence Olivier and Vivien Leigh disliked the idea that he was now public property. Over the next two years, he decided that his only chance to continue a life dedicated to writing was to eschew celebrity life and New York's literary cliques. "Contact with the public hinders my work," he said. In 1953, on his birthday, he left the city to live in a secluded 90-acre rural compound in Cornish.
Although the Salinger myth is of the oddball introvert, his early life in the tiny rural town was filled with socialising, especially with young women. Some of his biographers believe this fondness for young girls started with his love for 16-year-old Oona O'Neill, the daughter of playwright Eugene O'Neill. While Salinger was away on war duty, O'Neill became the fourth wife of the 54-year-old film star Charlie Chaplin. Salinger was devastated and wrote her a stinging letter of rebuke, in which he reportedly drew a cartoon of Chaplin holding his penis as he chased after Oona.
His 1950 short story "For Esmé – with Love and Squalor" was inspired by Jean Miller, the young girl who was 14 when they first met. She later became his lover. "Jerry Salinger listened like you were the most important person in the world," Miller told his 2013 biographers David Shields and Shane Salerno. "I felt very free with him."
In his first year in Cornish, the 34-year-old Salinger spent a lot of time hanging around with local teenagers. He bought them food and drinks at a soda bar called Nap's Lunch and would take them to ball games in his old army Jeep. He often invited them to his house to listen to music (he was a fan of Billie Holiday and showband tunes) where they would drink coke and eat crisps. He would get them to join in games that involved a Ouija board he nicknamed "Pierce".
His favourite teenager was 16-year-old blonde Shirlie Blaney. "He seemed to love having us around ... he was just like one of the gang," she later told Shields and Salerno. They claimed the writer was having a relationship with the Vermont high school student, which would certainly explain why he broke his rule about giving interviews and allowed her to quiz him in 1953 for her school magazine. In the article, she described the half-Jewish son of a cheese salesman as a "tall and foreign-looking man". Blaney quoted Salinger as saying he was considering moving to London to make a movie. Her feature appeared in the local The Claremont Daily Eagle and was then picked up for syndication across America. Salinger was furious and apparently never spoke to her again.
According to another biographer, Paul Alexander, he had a standard pick-up line in these years. "I'm JD Salinger and I wrote The Catcher in the Rye," he would tell women. The line seemingly worked with a teenager called Claire Douglas, whom he met at a party in New York in 1954, shortly after he stopped seeing Blaney. She fell in love with the author and was persuaded to drop out of school and live with him. When Salinger wed London-born Douglas in February 1955, there was no reference to his first marriage in the documentation. They stayed married for 12 years, during which time they had two children, Margaret and Matthew. Margaret was born in 1955, the year her father's stories Franny and novella Raise High the Roof Beam, Carpenters were published in The New Yorker.
Life as the daughter of the famous author was bizarre – not least because he would lecture her at length on the correct way to chew food. Margaret's memoir from 2000, Dream Catcher, describes growing up in an atmosphere of emotional coldness. Although Salinger had resented being sent away during his childhood – he particularly detested his time at the Valley Forge Military Academy – he was unsympathetic when his daughter rang from her boarding school to plead for help when she was ill and lonely. Salinger cut her short and instead sent her a subscription to The Christian Science Journal.
Her book also details some of his weirder traits, including his belief in the therapeutic powers of his energy-capturing orgone box, his obsession with homeopathy and a fad he went through of drinking his own urine. Her brother, five years her junior, dismissed his "troubled" sister's propensity to tell "Gothic tales of our supposed childhood".
Margaret's book was published two years after a tell-all memoir by Salinger's former lover Joyce Maynard, who was 18 when she left college to live with the 53-year-old writer in 1972. After eight months, she was unceremoniously dumped. "He put two $50 bills in my hand and instructed me to clear my things out of his house and disappear," she recalled. Maynard, who is now 65, said in an interview in September 2018 that she had been vilified for her revelations. She said she hoped the #MeToo movement would allow her story to be seen in a different light. Among the odd revelations in Maynard's book At Home in the World is that Salinger had a rigid diet that involved eating frozen peas for breakfast.
Two people who could have shed real light on his character – his sister Doris, a fashion buyer at Bloomingdale's, and his long-term friend, the writer SJ Perelman – never talked publicly about Salinger. His second wife Claire also declined to write a book about her life with Salinger and his interest in strange philosophies, including one that suggested that women were impure. "We did not make love very often. The body was evil," his wife Claire said.
His obsessions took a toll on Claire, who divorced him in 1967. Lady Douglas of Kirtleside, a relative from the UK, later revealed she had been concerned about her niece's welfare with Salinger. "They were living in something like a hut at one stage with no running water, and Claire had to go about carrying buckets of water," Lady Douglas told The Scotsman in 2010, speaking after Salinger's death from natural causes. "She got fed up with it all and had several miscarriages. She ended up becoming a sort of women's libber, burning bras across America. After that, we lost touch."
Support free-thinking journalism and attend Independent events
A better image of Salinger comes through the 50 letters and four postcards he sent to Londoner Donald Hartog from 1986 to 2002. Salinger met Hartog in 1937, when they were both 18 and studying German in Vienna, and they remained lifelong friends. Salinger wrote to his friend describing his life in more everyday terms.
There were letters about cultivating his vegetable garden, about his appreciation of England's World Cup team and in praise of tennis player Tim Henman. Salinger also told Hartog he wanted to visit Whipsnade Zoo, that he enjoyed the TV series Upstairs, Downstairs and that he loved flame-grilled Burger King whoppers. He also liked to relax by watching Marx Brothers and Alfred Hitchcock films and doing crossword puzzles. Belying his image as a misanthrope, he also told his old friend about an "oddly pleasing" trip he had taken to Niagara Falls, and how his fellow tourists were "more often than not interesting and nice company".
Salinger never spoke publicly about politics, but in this correspondence, he offered his private opinions of legislators. He described US politicians in general as "an odious bunch" and talked approvingly of Mikhail Gorbachev's election as president of the Soviet Union. He referred to President Ronald Reagan and George Bush in 1988 as "the outgoing dummy and the incoming dummy".
The year Bush was elected, 65-year-old Salinger (who described his appearance at the time as "white-haired and creasy") married Colleen O'Neill, a 25-year-old nurse who was the director of the annual Cornish town fair. They remained together for the final 22 years of his life, as he grew older, more infirm and very deaf. Salinger refused to wear a hearing aid and at the Railway Station restaurant where he ate regularly. A waitress recalled that she used to have to write down instructions on a dry-wipe board he carried with him.
Salinger's widow still lives in Cornish and in 2016 bought the town's General Store for $288,000. "My interest is to get this store back up and running," she told the local Cornish Valley News. "This will be a place for people to run into each other, have a coffee and chat."
O'Neill was protective of her husband's privacy, particularly when he was pestered by admiring fans or pursued by reporters trying to trap him into interviews. He admitted that he wasn't even able to answer the telephone "without unconsciously gritting my teeth".
The paranoia about unwanted visitors can only have increased after the events of 1980. The Catcher in the Rye had become the bible of alienation for a generation of disaffected teenagers and in December 1980 its vast popular appeal was shown to bring its own problems. Mark David Chapman was carrying a copy of The Catcher in the Rye when he was arrested for killing John Lennon and he told police that "this extraordinary book" would help people to understand why he had shot the former Beatle. He cited the novel as "his statement".
The Catcher in the Rye was also found in John Hinckley's hotel room after he was arrested for attempting to assassinate President Reagan. None of the subsequent debate about the novel made Salinger feel any more disposed to deal with what he called the public's "intrusive" interest in his life.
The image of him as the lonely writer was cemented in 1988 by a snatched photograph in which Salinger looks haunted and alarmed. The picture inspired Don DeLillo to write Mao II, in which the protagonist Bill Gray is a famous author-recluse who has spent years endlessly rewriting the same book. "When a writer doesn't show his face, he becomes a local symptom of God's famous reluctance to appear," DeLillo wrote.
The Salinger "industry", something he abhorred, has cranked up in earnest since 2010. A 2013 headline in The Atlantic read "On the Trail of JD Salinger's Testicle", above an article reporting on the news that two women had "independently confirmed" Shields and Salerno's claim that Salinger only had one testicle. They conjectured that fears over talk of his sole ball was one of the reasons he became a recluse.
Salinger is still a cultural reference point. In the brilliant animated television show BoJack Horseman, Salinger's character is voiced by Alan Arkin. Perhaps Salinger, who adored the TV comedy series I Love Lucy, would appreciate the satire of his fictional cartoon-self devising a game show called "Hollywood Stars and Celebrities: What Do They Know? Do They Know Things? Let's Find Out".
A federal court once banned the late Ian Hamilton's biography of Salinger, which prompted him to write In Search of JD Salinger, a book about his thwarted attempt to write Salinger's life story. Canadian novelist Mordecai Richler, reviewing the book for The New York Times in 1988, brought a writer's perspective to the subject. "According to a neighbour, JD Salinger is said to rise at 5 or 6am in his home in Cornish, NH, and then walk 'down the hill to his studio, a tiny concrete shelter with a translucent plastic roof,' and spend 15 or 16 hours at his typewriter. Later he may watch one of his vast collection of 1940's movies. Hardly the stuff of drama."
His last published work, "Hapworth 16, 1924", came out in 1965. In his will, Salinger suggested that some of his unpublished works could be out by 2020. It has been reported that Salinger left five new Glass family stories and a novella based on his relationship with his first wife, Sylvia, in the form of a counter-intelligence officer's diary entries during the war. He also left a story-filled "manual" about the Vedanta religious philosophy; and fresh tales about Holden Caulfield. There has also been talk of long novels produced during those marathon stints in his bunker.
It is unlikely anything new will match the exuberance of The Catcher in the Rye, which still sells a quarter of a million copies a year. Perhaps we will never find out how good his writing from those lonely years was or whether Gore Vidal was right to suggest that Salinger's enigmatic exile lent his work a seriousness it didn't deserve.
Salinger's children and widow have not confirmed any new books. Instead, his son recently urged people to focus on work already in the public domain. "I would love for more people to read his last two books, Franny and Zooey and Raise High the Roof Beam, Carpenters and Seymour: An Introduction, for I hear his voice the clearest in these," his son Matt said recently. "He loved writing and he loved his readers, and I hope his readers will be glad for an excuse to remember him in this way."
In one of his rare interviews, which Salinger volunteered to The New York Times in 1974, he talked about the importance of his books, rather than his image as a loner. "I'm known as a strange, aloof kind of man," he said. "But all I'm doing is trying to protect myself and my work."
Join our commenting forum
Join thought-provoking conversations, follow other Independent readers and see their replies