Julian Assange: 'We just kept moving'
In further exclusive extracts from his unauthorised autobiography, Assange describes a childhood on the run, his memories of school and his experience in Wandsworth prison
Friday 23 September 2011 08:15 BST
Comments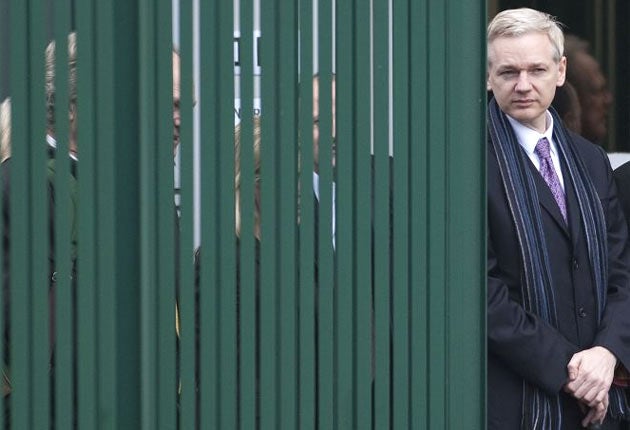 My own father was missing from my life, and only became part of it again when I was grown up. But it meant that Brett Assange was the male figure I related to, the good father. Brett was one of those cool 1970s people who were into guitars and everything that went with the music scene. I've got his name – Assange – an unusual one which comes from Mr Sang, or ah-sang in Cantonese: his great-great-great-grandfather was a Taiwanese pirate. Brett and my mother divorced when I was nine. He had been good to me, and was good in general, but not so good to himself, and the end of their relationship represents the end of a kind of innocence in my life.
My stepfather's place in our family was usurped by a man called Leif Meynell. I remember he had shoulder-length blond hair and was quite good-looking; a high forehead, and the characteristic dimpled white mark of a smallpox injection on his arm. From the darkness at his roots, it was obvious he bleached his hair. And one time I looked in his wallet and saw that all his cards were in different names. He was some sort of musician and played the guitar. But mainly he was a kind of ghost and a threatening mystery to us.
I was opposed to him from the start. Perhaps that's normal, for a boy to resist a man like that, or any man, in fact, who appears to be usurping his father or stepfather. Leif didn't live with us, though my mother must have been besotted with him at first. But whatever her feeling for him was, it didn't last. She would see him off, but he had this ability to turn up and pretend it was otherwise. Eventually, it was a matter of us escaping from him. We would cross the country and only then suffer this sinister realisation that he had found us. He'd suddenly be back in our lives and this grew to be very heavy. He had this brilliant ability to insinuate himself. He punched me in the face once and my nose bled. Another time, I pulled a knife on him, told him to keep back from me; but the relationship with him wasn't about physical abuse. It was about a certain psychological power he sought to have over us.
In 1980, my mother became pregnant by Leif and, seeing the possible impact of my opposition, he tried at first to be reasonable, pointing out that he was now the father of my brother and that my mother wanted him around. "But if you ever don't want me around," he said, "then I'll leave immediately." He wanted to stay with us, and did, for a time, but I was conscious of wanting to look after my mother and the baby.
My mother was in love with Leif. And I was too young to understand what sexual love was all about. I just knew that he wasn't my father and that he was a sinister presence. He tried, again and again, to make the case that I should not reject him and he had this thing with my mother and he was my brother's father and everything. But a time came when I told him I no longer accepted this deal. He had lied to us in a way that I hadn't known adults could lie. I remember he once said all ugly people should be killed. He beat my mother from time to time, and you felt he might be capable of just about anything. I wanted him to leave, as he had promised me he would, but he denied that the conversation had ever happened.
And so we started moving. Nomadism suits some people; it suits some people's situations. We just kept moving because that's what we did: my mother had work in a new town and we would find a house there. Simple as that. Except that the moving in these years, because of Leif, had a degree of hysteria attached, and that, in a sense, took all the simplicity away and replaced it with fear. It would take time for us to understand what the position was, and it was this: Leif Meynell was a member of an Australian cult called The Family. On reflection, I can now see that his obsessional nature derived from that, as well as his egocentricity and his dark sense of control.
The Family was founded by a woman called Anne Hamilton-Byrne in the mid-1960s. It started in the mountains north of Melbourne, where they meditated, had meetings and sessions where they used LSD. The basic notion was that Anne happened to be a reincarnation of Jesus Christ, but with elements of Eastern philosophy thrown in, such that her followers beheld a karmic deity obsessed with cleansing their souls. Anne prophesied the end of the world, arguing, quite comically, though not to her, that only the people in the Dandenong Ranges of mountains east of Melbourne would survive.
Leif Meynell was part of that cult. And everything he did relating to us was informed by his association with The Family. It was so tiring. Just moving all the time. Being on the run. The very last time, we got some intelligence that Leif was drawing close; they told us he was near us in the hills outside Melbourne. My brother and I showed a lot of resistance that final time: we just couldn't bear the idea of grabbing our things again and dashing for the door. As a bribe, my mother and I told my little brother he could take his prized rooster, a Rhode Island Red, a very tall, proud, strong-looking bird, and also an extremely loud one. To match that, I insisted on taking my two-storey beehive. Picture the scene: a by-now hysterical mother and her two children, along with the pride of their menagerie, stuffed into a regular station wagon and heading up the dirt track. On the run, we learnt a little bushcraft. We learnt how to get by on very little money and not enough normality. Being unsettled was our normality and we became good at it.
My mother changed her name. We worked out that Leif must have had contacts within the social security administration – that was how The Family is thought to have worked – so it seemed best to change the names that would be held inside the government computer system. But he was quite a gifted talker and would get friends to supply him with information about our whereabouts and he would always catch up. It was a private investigator who eventually came and told us about his close relationship with the Anne Hamilton-Byrne cult. We were living in Fern Tree Gully, and I was now 16 years old. We'd come to the end of the road. Also, I was feeling almost a man myself and was ready to front-up to him. Masculinity and its discontents could be addressed here, but let's just say I knew I could waste him and he appeared to know it, too. He was lurking round the bounds of the house and I walked over and told him to fuck off. It was the first and the last time, and something in the way I said it ensured that we would never see him again.
On being locked up:
'It was hard to go back to my cell'
My bail hearing took place at the City of Westminster Magistrates' Court on Horseferry Road on 14 December 2010. The court was packed and so was the street outside as I approached in a police van. Someone said the roads around Victoria were treacherous, and I smiled, thinking, "I've known treachery, so let the roads be at peace with themselves."
It was interesting – it was alarming – to see how much the prosecution followed the press and allowed a sense of justice to be confused by the many fantastical headlines surrounding me. They needed a villain with silver hair, some kind of cat-stroking nutcase bent on serial seduction and world domination. There was no point opposing it. An impression had been created, and I had neither the skill nor the will to outflank it. But I always knew my lawyers would have to struggle against those who thought they were watching a movie as opposed to trafficking in a person's life.
I was granted bail on the 14th only to be told that the Swedish authorities had appealed against the decision and that I would have to be sent back to Wandsworth. It was hard to take, having to leave my friends and supporters behind once again, having to leave the talking to my lawyers, having to sit inside the prison van once more as it crawled through the media scrum. It was hard to enter my cell once more and hear the door shut behind me. But as I had told my mother before the hearing, my convictions were unfaltering and my ideals were not shaken by my circumstances.
After two more nights in jail I was back in court, the High Court this time, on 16 December. I have nothing profound to say about the judge, except to suggest that he behaved throughout as if there was a correspondent from The Times perched on his shoulder. It was hard otherwise to see why he reckoned my bail should be so high and my tagging so severe. In his mind I was some kind of shadowy, movie-style kingpin, likely to disappear at any minute in a puff of smoke, a souped-up helicopter, or a hail of laserfire. In fact, my circumstances were more ordinary than he could have known.
I had no home and no car, I had hardly any possessions, and a bag of phones. He just didn't get it, and meted out punishment as though it might be preemptive. I had no charge against me and was wanted for questioning in a country whose motives I presently had no reason politically to trust. That was it. Finally, the money raised for bail by my supporters came through, and the Swedish appeal was rejected. I was about to be free. How long that freedom would last was questionable. But at the High Court the moment was for jubilation.
In trouble with authority:
'Two policemen quickly turned up at the door...'
I went to well over 30 schools in all. Early on, that peripatetic life was heavenly. It gave me a sense of meeting new challenges all the time. It felt like we were gulping down experience without fear.
I was probably the kind of child who was shopping for things to take a stand against. I remember one day my folks were making dinner and found they were short of tomatoes. The neighbours had loads of tomatoes, but they wouldn't give us any. So the next day I began digging a tunnel from our garden to theirs. I got some of my little gang involved, bringing shovels and candles to get the job done. We got under the fence in secret and came away with two baskets of tomatoes. I handed one of them to my mother and she had this grin. Two policemen quickly turned up at the door and they, too, were grinning. They just stood there rocking on their heels. It was my first run-in with the law. We handed back one basket of tomatoes, and the scandal reverberated. But I was happy that I still had the second basket of tomatoes hidden.
They sent me to some kind of Steiner-style school where it was all about expressing yourself. There was an obnoxious little girl who wouldn't share, and in accordance with the school's philosophy, I decided to express myself without hindrance, so I hit her over the head with a hammer. This caused a giant fuss, of course, and I had to leave, although the girl was fine. We just kept moving.
Book offer
These abridged extracts are from 'Julian Assange: The Unauthorised Autobiography', published by Canongate (hardback £20, e-book £14.99). To order a copy for the special price of £18 (free P&P) call Independent Books Direct on 08430 600 030, or visit www.independentbooksdirect.co.uk
Join our commenting forum
Join thought-provoking conversations, follow other Independent readers and see their replies