Life after resurrection
For many, Easter is just a feast of chocolate. But authors are still captivated by 'the greatest story ever told'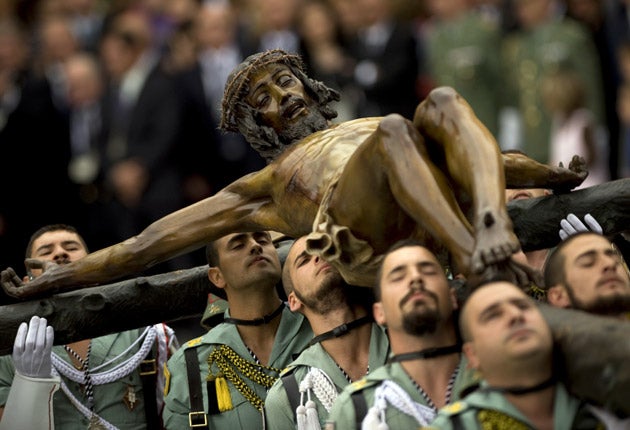 Easter's a strange one, isn't it?
Somehow, we've gone from a man nailed on a cross to a mountain of discounted chocolate eggs, and there's a vague feeling of loss. Most of us don't much miss having Jesus and the Bible in our lives, but there is still a resonance in those stories; they still tug at us, even now. That's why there are so many books published about – attacking, denying, lampooning or praising – God at this time of year.
The most popular in terms of sales are the pseudo-Jesus novels, an old genre resurrected last year by Philip Pullman with The Good Man Jesus and the Scoundrel Christ. John Niven leads the field this time with The Second Coming (Heinemann, £12.99), in which God returns from a 400-year fishing trip to find the world a mess.
Father and Son are both West Coast pothead potty mouths, effing and blinding in a way that is confrontational, tasteless and blasphemous. And works well, in a wince-making but entertaining novel, according to which we've lost sight of the original law God gave the world: Be Nice. "What kind of arrogant fuck-stick bins the one commandment they're given and rocks up with 10 of their own? Moses, that's who." So Jesus returns and history repeats itself, only with more swearing. Much more. In the midst of it all, there is compassion, and insight into the way the impulse for truth can lead to dark acts indeed. Plus, it's bloody funny.
There are no such laughs, and indeed no laughs at all, in James Frey's The Final Testament of the Holy Bible (John Murray, £16.99). This is a story that arcs from hope to tragedy, as a strange epileptic called Ben Zion is hailed in the US as a new Messiah.
There's a flaw in Frey's book, as there is in Niven's and Pullman's. All three clearly believe that Christianity is a fable created in the gaps between real events – but they seek to show this by creating their own fables, which are just not as powerful, enigmatic or interesting. And while they seem to think they're showing their arses to the whole of Christendom, only fundamentalists will really be bothered.
Other believers will actually agree with Ben Zion when he says: "The books of the Bible are the word of writers. Men telling stories .... There is no such thing as God's word on earth. Or if there is, it is not to be found in books [but] in love. In the laughter of children. It can be found in anything, anywhere."
The word that stands out in that passage is "men", because the person who best understands where we stand in relation to the divine these days, and how we got there, is Karen Armstrong, a woman whose books on God, Buddha and Islam are vital reading. Her latest is In the Beginning: A New Interpretation of Genesis (Vintage, £8.99).
We're not becoming a nation of atheists, but still believe, in our deepest places, in a wisdom and a truth beyond the many failings and crimes of religion. Why are we still in thrall to the divine? Professor Kevin Nelson attempts to find out in The God Impulse: Is Religion Hardwired into the Brain? (Simon & Schuster, £16.99). This is "the first comprehensive, empirically tested, peer-reviewed examination of the reasons we are capable of near-death experience, out of body experience and other mystical states".
Nelson believes it is the brain that is creating these experiences on its own, and maps out how. But this fellow of the American Academy of Neurology is no Richard Dawkins. "My work [upsets some believers but] also irks diehard atheists, because it inextricably links spirituality with what it means to be human and makes it an integral part of all of us, whether our reasoning brain likes it or not."
I would love to ask Professor Nelson what it is that gives a man the confidence, not to say arrogance, to believe he can single-handedly create a book to rival the Bible. A C Grayling's The Good Book (Bloomsbury, £25) is "an alternative, non-religious Bible and has been made in just the same way as the Judaeo-Christian Bible was made: by redaction, editing, paraphrasing, interpolation, arrangement and rewriting of texts from the last 3,000 years of the great secular traditions".
Grayling's sources extend from classical antiquity to the 19th century, and from Aeschylus to Zhu Xi. There is an immense depth of human wisdom on display here, and five minutes with any passage will have you contemplating all day. But that's probably all you'll be able to take, because The Good Book falls too often into a clumsy, almost unreadable atheist parody of a half-heard biblical style.
He never had a hope of matching the poetry and mystery of the Bible, to judge from Melvyn Bragg's history of the King James Version, The Book of Books (Hodder, £20). Bragg is unabashed in his love of "the most pivotal book ever written", and you read with a growing sense of wonder at the way this version wove itself into our minds, culture, laws, language and way of life. "It gave us myths and stories which are as familiar to us as the histories of our own families and communities. It stands still as a book of great language and beauty."
But Bragg is also clear that his story is about human beings struggling to interpret the world we live in, and he's an evangelist for them, not necessarily their God.
"The whole idea – God, Genesis, Christ, resurrection – is now to me a moving metaphor, a poetic way of attempting to understand what may be for ever incomprehensible." Which may be, in the end, why so many of us cannot quite let it go.
Cole Moreton is the author of 'Is God Still an Englishman?: How Britain Lost Its Faith (But Found New Soul)' published by Little, Brown (www.isgodstillanenglishman.com)
The Second Coming, By John Niven (William Heinemann £12.99)
"GOD'S COMING – LOOK BUSY!' So says the tattered sticker on the metal filing cabinet by the water cooler. But today it's not a joke: God really is coming and people really are trying to look busy. In God's outer office, Jeannie is putting together a review of the last four hundred or so years on earth.... 'Jeannie,' God says, standing up, stretching, surveying the miles of boxes, 'is this going to make me unhappy?'
'Ah, I think that's a fair assessment, sir.'
Join our commenting forum
Join thought-provoking conversations, follow other Independent readers and see their replies