Linn Ullmann: Whose life is it anyway?
The child of two spellbinding creators, Linn Ullmann looks behind our social masks to tell her own unique stories of crisis, hope and grace. Boyd Tonkin talks to her
Friday 27 January 2006 01:00 Comments
Linn Ullmann: Whose life is it anyway?

Show all 2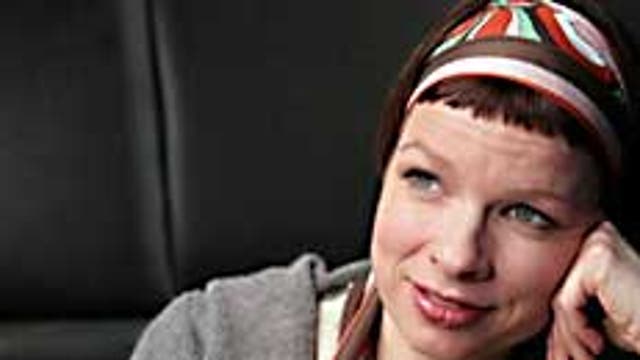 This week, of all weeks, there's no escaping Mozart. Linn Ullmann shifts around on the sofa in her early-Georgian hotel in Soho - forever agile and alert, a pin-sharp, headscarved, slightly elfin figure, with a dancing mind in a dancer's body. "My whole youth, I danced classical ballet," she says, "and that's part of how I write: movement and rhythm and music".
A few doors down this street, a blue plaque marks the house where the child prodigy Mozart stayed on a visit to London in 1764-65 with his inspiring, demanding father. Now the writer recalls a child's first exposure to the stardust and sorcery of the film studio: "When my father shouted 'Action!', this whole world came into being. I remember the first time I was at a movie set. He was directing The Magic Flute, and I was tiny. There was this huge set, because it's an opera. And then he shouted "Action!", and this whole little universe started singing and moving and dancing."
The daughter of Ingmar Bergman and Liv Ullmann - his muse, his star and the iconic heart of a series of extraordinary films from Persona through Cries and Whispers to Autumn Sonata - Linn Ullmann has made her world move and dance to its own, unique tunes. This is not the puppet of her parentage, but the director of her fate. A student in New York after her Atlantic-hopping childhood, she later made a name as a critic in Norway, her mother's homeland. In English, her witty, quicksilver talk sounds far more Manhattan than Oslo, even if the ideas it carries belong firmly to the world of Bergman rather than Bergdorf Goodman. A certain Woody Allen has been striving - with more misses than hits - for exactly this stylistic mix over 25 years. Maybe he should have hired her.
Starting with Before You Sleep in 1998, Ullmann has published four novels. Spare, terse and austerely beautiful studies of lives on the cusp of change or calamity, this is clear-sighted, large-hearted fiction without illusions but never without pity - or without humour, by the way. The critic morphed rapidly into the artist, to global applause. "My father did give me a very good piece of advice," she explains. "He said when I started writing my first book, 'You really have to lock the critic into a cellar, and let her stay there. Don't let her out." Now, she has just taken a six-month break from fiction to return to work as a general-purpose columnist for Aftenposten, the leading broadsheet in Oslo, where she lives with her husband and their children. Currently a busy op-ed pundit on any topic from the horrors of Guantánamo Bay to the debased language of politics to "that lovely film" Brokeback Mountain, she admits that "It was a relief to put the critic in the cellar."
However, another critic crept out as the protagonist of her third novel, Grace (Picador, £12.99). Just published in a bewitching translation by Barbara Haveland (with which the author was closely involved), it tells of the last act in the unheroic story of Johan Sletten. A pedestrian arts journalist with terminal cancer, Johan has drifted through a lacklustre life "graced" in its latter stages by the dogged love of his second wife, the strong-willed paediatrician, Mai. Now he wishes that Mai the soulmate should become, for one fatal moment, Mai the rule-bending physician, to ease him out of an intolerable existence: "I want to be the one to say when it's over". A novel about the near-unfathomable mysteries of love, Grace cannot help but be seen as an exploration of euthanasia as well.
Although this is not merely or mostly an "issue" book, Ullmann knows clearly, even fiercely, where she stands. "I'm against legalisation, precisely because there's so much doubt. If a society says that the time has come for a doctor to give you a shot and make you die, then it's making ethical choices about a life that it's not society's place to make." Ullmann sees the slippery slope descending fast and terribly: "What about children who are born strongly handicapped? What about people with Alzheimer's? Where do you draw the line once you legalise 'mercy killing' - as it's called?"
The timid Johan's rational choice to preserve his "dignity" - never robust - slides into a conclusion that will give no comfort to partisans. With passion, Ullmann points out that "How you die in society says a lot about that society. How you die in Iraq says a lot about what's going on in Iraq. How you die in old people's homes in Scandinavia, where old people are stuffed away and forgotten about, says a lot about Scandinavia."
Acceptance of euthanasia, she believes, belongs in a toxic bundle of contemporary attitudes which mean that "We are sanctioning the idea that certain phases of life, like the end of life, are not really worthy or dignified or liveable." In contrast, we will avidly worship "strength and beauty and health and lack of pain - and control. All of those things are idealised. And everything else that's essentially human - like tears and pain and shit and growing old and sickness - is shunned, and very shameful. We live in a society where becoming sick is associated in many ways with shame."
Ullmann traces Johan's journey into sickness with an elegant literary grammar of cuts, close-ups and flashbacks . Yet behind every tender or shocking episode nags the question of where the humanness of human life resides - with the implied answer that it rests on those "excruciating" thresholds of death, birth or despair as much as at the height of health. Her novel cites the case of the mad Schumann, dying unvisited because "Schumann wasn't Schumann any more". Ullmann mentions her beloved grandmother, dedicatee of Grace: "She got Alzheimer's. And she was a very strong, very strict, very lovely woman - and she got Alzheimer's. I like to try to make my brain think that she was all those things."
The novel makes every reader ask how they will cope - or fail to cope - when the time of trial comes. Here, its author lays claim to no special wisdom or serenity. "If and when catastrophe hits my life, I don't know whether my doubts about everything will be my strength or my weakness. I don't know. I'm always afraid of catastrophe, I'm just constantly afraid of it - as Johan is. And that's his vulnerability. I guess mine, too."
Grace flies in the face not only of modern shame, but also the delusion that one neat act of "closure" will wrap up a tangled life with a painless final bow. "It's great to seek for closure," Ullmann clarifies. "There can be pieces of redemption and fragments of closure. But there's always baggage, and there's always puzzles, and there's always splinters of glass."
Ullmann has certainly managed to convert baggage into blessings. Her fourth novel, A Blessed Child, tells of a frail, famous father who lives on a remote island where his daughters - by different mothers - return to settle accounts and to discover the truth of "an awful event". Ullmann calls it "my modern take on The Tempest", but any film lover will think instantly of Bergman's legendary establishment on the island of Faro. She explains about the hero that "I made him an ultrasound pioneer. So he's a specialist in looking inside women - by ear. 'This isle is full of noises': he's more of a Prospero than an Ingmar Bergman... But of course there are some aspects of my father in him too." Asked about Bergman's presence in her own writing, she replies that "I am very close to him. I feel also that there's some sort of dialogue when I write - that I understand him." Especially with the later films, "I feel related to him. I'm the kind of person who's grown up not really feeling related to anybody because I travelled around, and had different nannies and babysitters."
No cinephile will read, for instance, of the young Johan bargaining with Death in Grace without the image of a knight, a chessboard and the Grim Reaper (from The Seventh Seal) flashing into the mind. All the same, Ullmann adds, "There's a point where it stops. Because I'm a different generation, and I'm a woman... I'll take different turns... I would call it a dialogue, as all writers have a dialogue with other books and films. So it's not just my father's body of work: Dylan Thomas is very important to me. And Tolstoy, who's written the greatest little book on death ever, [The Death of] Ivan Ilyich. And James Joyce's The Dead. So of all the great fathers in the world, one of them happens to be my father."
Ullmann's art has also learnt to stand against - and even shatter - the world of glittering performance that she knew from her childhood. Although her father "had the magician's power to make the world according to his vision", so too did her mother. "She could be entirely different to what she was. And she was always that - in the pictures of she and myself together that I have from my childhood, she's always in costume. The whole idea of staging, costume, props, theatre, curtain up, curtain down, lighting on - that's all about what I'm trying to rip away when I write." As for The Tempest, she prefers Caliban - misshapen, despised, but gifted with poetry - to all-controlling Prospero: "That's sort of my guy".
Ullmann's recent trips to Faro sound more tranquil then tempestuous. She visits Bergman with his other children in the summer, but also goes there to write. Director and author stay in separate houses but "meet every day to see a film" in Bergman's private cinema. "And then we talk. And then we eat dinner separately. And then we meet the next day at 3pm." These days, the 87-year-old maestro is "getting more and more simply wanting to watch silent films." Ullmann thinks that "he's sort of wanting to see where it all began, before he got into the business".
This programme include some vintage Swedish gems that will not be arriving soon at any multiplex near you. "I remember that we watched a three-hour silent documentary on lumber once." And, er, how was that? "It was quite fascinating, you know. At first it I was dreading it, because you know it's three hours. And the first hour was dreadful. And the second hour - you understand that this is where you're going to be for a while. And the third hour, you're getting high on it." Somehow you doubt whether even Woody Allen - that ultimate Bergman buff - would have dared to script such a peculiarly perfect scene of last-act grace.
Biography: Linn Ullmann
Born in 1966, Linn Ullmann is the daughter of the Swedish stage and film director Ingmar Bergman and the Norwegian actor (and now director) Liv Ullmann. After a childhood divided between Europe and the US, she studied literature at New York University and then returned to Norway to work as a critic and journalist in Oslo. Her first novel, Before You Sleep, appeared in 1998, followed by Stella Descending (2001); Grace is published this week by Picador in Barbara Haveland's translation. Last autumn her fourth book, A Blessed Child, appeared to wide acclaim in Norway. Linn Ullmann lives in Oslo with her husband (the writer Niels Fredrik Dahl) and their children, and currently works as a columnist for Aftenposten.
Register for free to continue reading
Registration is a free and easy way to support our truly independent journalism
By registering, you will also enjoy limited access to Premium articles, exclusive newsletters, commenting, and virtual events with our leading journalists
Already have an account? sign in
Join our new commenting forum
Join thought-provoking conversations, follow other Independent readers and see their replies