Metric conversion: Why poet Michael Hofmann stopped 'wreaking destruction' on his family in verse
Michael Hofmann made his name with poems documenting his fraught relationship with his German father. But now, 'fed up with wreaking destruction' in his verse, he's forsaken the muse in favour of the day job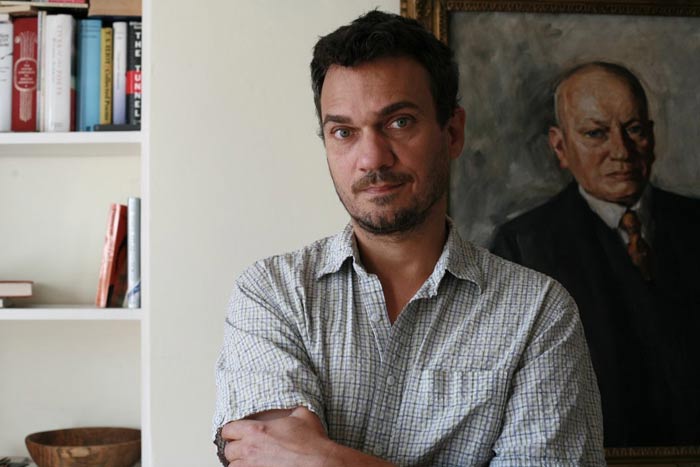 It was almost impossible, 25 years or so ago, to open a journal that published poetry without finding Michael Hofmann's name somewhere on the contents page. His unmistakable poems were everywhere, so it seemed obvious to begin by asking what had changed, now that new work is so rare. "I don't want to add to any EC poetry mountain," was his drollest answer. There are a number of poets who ought to take the same line, but Hofmann – one of the few outstanding talents to have emerged in the past 50 years of British poetry – would not be on my list.
As I sat in the sparsely furnished living-room of Hofmann's top-floor flat hearing the cries of someone else's children from a nearby garden, the opening poem of his recently published Selected Poems came back to me. A signature piece, "White Noise" captures a life of rented rooms and discomforting proximity: a neighbour's radio, her Hoover's "pre-war drone in the corridor". Reviewing the tape of our conversation, however, I found not white noise but silences between the questions and answers, tape-hiss punctuated by the clink of a teaspoon (mine), or the rattle of a matchbox (his). In those silences, Hofmann was choosing his words, pausing mid-sentence to redraft. This took some getting used to, but after all, shouldn't a poet and translator select his words with care?
Born in Freiburg in 1957, Michael Hofmann moved to Britain when he was four, remaining here – "jettisoned", as one poem has it – when his family returned to Germany. He boarded at Winchester, then studied at Magdalene College, Cambridge. His father, Gert, referred to Michael as his English son. A memorable adversary in his poems, Hofmann senior died in 1993. "A kind of heroic end," his son says, "because he wrote his last books after having a stroke and by dictating them to my mother. The third one had just been finished, and he died."
For a man who turned 50 last year, Michael Hofmann looks absurdly young, even with facial hair that recalls the final stanza of "My Father at Fifty": "Your beard – the friend of the writer who doesn't smoke – is shot with white." But Hofmann smokes roll-ups, and there is no white in his beard. The tentative manner amplifies his youthfulness. Behind the hesitations and silences, however, is the assuredness of someone who has passed through the English public-school system. He is, too, a softly spoken, courteous host. Not quite English, and not quite German.
By the time Hofmann abandoned his postgraduate research on Robert Lowell in 1983, he was already a name in British poetry. His first poems, blocks of verse written in a preternaturally flat tone, had begun to appear when he was in his early 20s. They have polarised readers ever since. "Something about them is really fighting the understanding," he says. "If you open any book at any page you'll see something wilfully perverse and devious. I think a big part of my writing poems at all is to make myself English; and that means not being straightforward." His first reviewers welcomed the work's originality ("a poetry receptive to the world as it is") or were affronted by a clipped prosiness which suggested that Hofmann was "afraid of something big: sometimes it seems as if it might be poetry itself".
A first collection, Nights in the Iron Hotel, whose title distils a trademark unease and foreshadows his peripatetic life, was published the year he left university for London; a second, Acrimony, appeared three years later. The latter, one of the finest books of poetry of the 1980s, won the Geoffrey Faber Memorial Prize. The poems about his difficult relationship with his father dominated reviews, but the ones about Thatcherite Britain are as good, if not better. Masterpieces of atmosphere and detail, they brilliantly capture London's mercantile squalor: a burger bar is "a bright hole walled with mirrors where our faces show pale and evacuated in the neon"; outside, "the controlled prostitutes move smoothly through the shoals of men laughing off their fear."
After that prolific start, the number of years between books grew. His fourth and latest volume, Approximately Nowhere, appeared in 1999, and the seven new poems at the end of his Selected are pretty much everything between then and now. "I did feel from the mid-90s on that poems had a harder time getting out of me. I think my self-censoring has got much stronger, and poems that might have appeared are often strangled."
Hofmann spends the first four months of the year teaching creative writing at the University of Florida in Gainesville, and has done since the mid-90s; then he is either back in London, or in Germany. Later this year, he is to take up a residency at an Australian university. "A settled life is not quite serious," he says. "How can you bounce off it?" We met the day after his return from the States, an almost-unpacked bag in the corner of the room. He admits to following the rhythm of his father's life. A lecturer as well as a writer, Gert Hofmann commuted weekly between Klagenfurt and Ljubljana in the former Yugoslavia. "I deplored it, but I do much the same, or worse, only in termly instalments."
While Hofmann has influenced a whole generation of British poets – a few sound so uncannily like him it's as if he has never been away – these days his name is likely to be more familiar to readers of German writing in translation than it is to readers of poetry. A highly regarded translator, he has produced more than 40 books since 1985, including works by Joseph Roth, Kafka, Wolfgang Koeppen and Patrick Süskind, for which he has received a number of awards, including the Independent Foreign Fiction Prize for one of his father's novels, and the Schlegel-Tieck and Weidenfeld Translation Prizes, both of which he has won twice.
Translating is something he fell into. "As a poet, you're always going to have to do something else, unless you have a really large-bore production like Ted Hughes or Les Murray." Translating, he says, "takes the words out of you. It also takes your autonomy away, and I think it takes away your sense of when something is finished. On the other hand, if you survive it then it'll turn out to have been good for you. And that's probably my hope. You know that you'll have acquired more writing muscle or a greater array of styles."
If translating and teaching have taken up much of his time, his own caution has contributed to the scarcity of his own writing. "It's the dictate of poetry that one ought not repeat oneself, once the joyful recognition of 'Aha, another Michael Hofmann poem' is replaced by 'No, no, not another Michael Hofmann poem.' From being curious, and being interested in what you might bring forth, you are incurious, and you quash it."
There is, too, the feeling that he has used up the material of his life, or that perhaps he is "fed up with wreaking destruction". The poems in his last book about the end of his relationship with the mother of his two children were met in some quarters with pursed lips. Dedications have been added to a number of the poems reprinted in the Selected, but the woman to whom Hofmann was married is still referred to as L. This reticence perhaps also accounts for the lone poem he has published about that marriage, which ended five years ago. "I would still write things that would propose themselves for me to write, but the most desired type of poem for me, for quite a long time, would be the poem that doesn't cost me anything."
Then there is Gert Hofmann, the explicit focus of two of his four books, the presiding spirit of the others, the subject of the first poem that Hofmann published in 1979, and on whose old typewriter he still works (a 20th-birthday gift from father to son). When he died, "I physically felt myself become him. I felt something within me which I felt was him, and I was very happy to have it there. So, he's no longer outside me or beside me or above me to be taken issue with. I don't have an antagonist. I am in the ring, as it were, but the ring is at peace."
The extract
Selected Poems, By Michael Hofmann (Faber £12.99)
'...All night, we talk about separating...
We are fascinated by our
own anaesthesia,
our inability to function.
Sex is a luxury,
an export of healthy
physical economies.
The TV stays switched on all the time.
Dizzying socialist realism
for the drunks.
A gymnast swings like a hooked fish'
Join our commenting forum
Join thought-provoking conversations, follow other Independent readers and see their replies