Murakami's The Strange Library shows the e-reading revolution is making books more beautiful
The Week in Books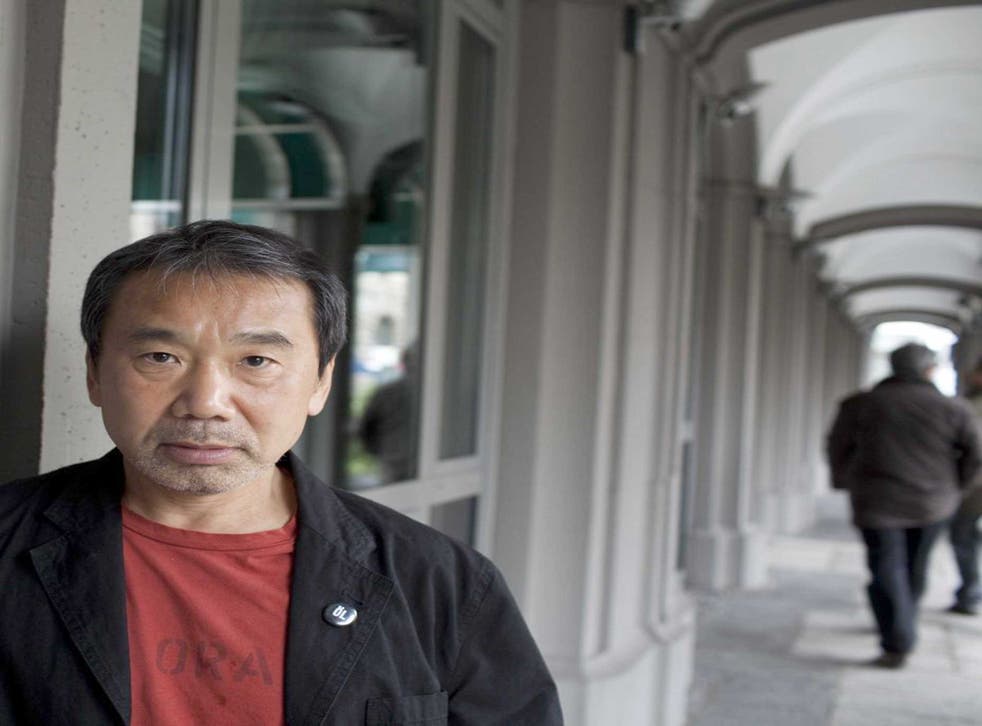 There's good news for Haruki Murakami fans, particularly those who don't mind standing in long, excitable queues that weave zealously round bookshops – and we saw earlier this summer that there are plenty of people up for doing this.
He's bringing out a book next week – first published in Japanese in 2008 – though its limited editions are already sold out. It's not just his ultra-loyal fan-base that should be salivating at this book's arrival. I came across The Strange Library some days ago and it made me stop and start with its mysterious magenta cover and its library ticket holder on the front. It is an odd and beautiful thing – a thing more than a book, whose design doesn't just adorn but penetrates the story, melting into it with its dainty, surreal and haunting images that almost, at times, seem to finish Murakami's sentences.
It had me enthralled, a pretty artefact that was a story of childhood, death and reading, drawn in both words and pictures, like a fairytale, yet there was nothing childish about it. As someone with an avowed aversion to re-reading – life is too short and there are too many good books in it – I will break my own rule with this one, and that is partly down to the alchemy of its illustration.
Book design is seeing a resurgence. This statement is not based on the result of a poll. Its science emanates from the hefty postbags I receive every week, filled with books that are more beautiful, more inventive in design, than they used to be. Not just high-end books either, but those exquisitely designed flapped paperbacks (Pushkin Press) or smart commercial covers (Gone Girl) , attractive "series" re-designs (Penguin English Library) and of course, the display-worthy hardbacks.
When did the design of a book become its own lure, a reason to buy it, display it, enjoy leafing its pages? Well, we could trace that back to illuminated manuscripts, but as far as modern times go, it might be pinpointed to autumn 2011, when Julian Barnes's Man Booker prize-winning speech for The Sense of An Ending gave thanks to his book designer and creative director of Vintage, Suzanne Dean. Barnes focused our attentions to a new tendency of the past decade, which has grown in tandem with the rise of the ebook, so that a dynamic tension between the easily digestible e-story and the permanent beauty of the book now runs in complement.
I shouldn't have been surprised to discover that The Strange Library is designed by Dean too (as well as this year's Man Booker winning book!). Dean does not regard recent attentions on illustration and design to be a defensive response to the ebook revolution, though she agreed digitisation had, ironically, led to more beautiful books being published.
"From an art director's point of view, this is our chance to seize the moment. There is more emphasis on what covers look like and on the text design – an area that hadn't been a focus before – and generally on the book as a package. I think this interest in book design has grown over the past 10 years – more people want to design books, more editors are open to ideas. It has developed under the same arc as ebooks."
Pushkin Press, for its part, has been commissioning illustrators to design covers for their collection paperbacks – further evidence of a trend that does not just belong to the high-end hardback. Its publisher, Adam Freudenheim, asked designers Clare Skeats and David Pearson to rebrand covers and typeface in 2012. The press also features the biography of the illustrator, next to the author's, at the back of the book, so elevating the status of the normally invisible designer. Improvements in illustration are happening across the board, said Freudenheim, from tiny publishing houses to the biggest and richest.
Skeats, who also designed the memoir, Vivienne Westwood, a stately hardback featuring a striking portrait of Westwood by Juergen Teller on its front, is positive about this recent focus too, though she offers her own mild warning. "Publishers are certainly trying harder with physical books these days and a lot of attention is paid to special finishes etc, but I think they need to be investing in good, original and confident design too. If book buyers are only ever offered the same old clichés in bookshops, it's going to take more than a special finish to make them buy the print version."
Speaking of invention and originality, those who queued round the block for Murakami's Colorless in August were given a ticket with #strangelibrary at the bottom, that probably made little sense then. If they still have those tickets, they can now pop them into the cover of The Strange Library. Those who don't can console themselves at a pre-publication reading (with a specially curated Murakami soundtrack!). Let the Murakami-mania begin (again).
*Vintage is hosting a special event on the eve of publication, Monday 1 December, with a reading of The Strange Library by Julian Rhind-Tutt as well as Japanese food and drink, and a vinyl DJ playing music that features in Murakami's books. Tickets available at: www.vintage-books.co.uk/roundmidnight
Tribute to a woman as funny as Wodehouse
If anyone needed reminding of that boring old fact – that women are just as funny as men (and it's surprising that some really do still debate it) –then an evening celebrating the novels of the late Sue Townsend, with readings by Michael Palin, Sue Perkins, Adrian Scarborough and other noteables, would have done the job. Few in the audience of family and friends were left dry-eyed, and not just from sadness over her loss but also the sheer joy of her comedy. Louise Moore, publishing director at Michael Joseph and friend, said Townsend had "found humour in everything"; Penguin's CEO added that "she will be seen as one of the great comic writers, sitting beside PG Wodehouse and Evelyn Waugh, in years to come."
Register for free to continue reading
Registration is a free and easy way to support our truly independent journalism
By registering, you will also enjoy limited access to Premium articles, exclusive newsletters, commenting, and virtual events with our leading journalists
Already have an account? sign in
Register for free to continue reading
Registration is a free and easy way to support our truly independent journalism
By registering, you will also enjoy limited access to Premium articles, exclusive newsletters, commenting, and virtual events with our leading journalists
Already have an account? sign in
Join our new commenting forum
Join thought-provoking conversations, follow other Independent readers and see their replies