My Secret Life: Judy Blume, author
Saturday 09 February 2008 01:00 GMT
Comments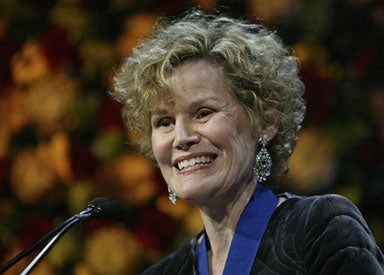 Born 12 February 1938 in Elizabeth, New Jersey, Judy Blume is an award-winning author best-known for her novels for teenage girls, including Are you There God? It's Me, Margaret. During the 1980s she became the focus of a book-banning campaign and since then she has worked with the National Coalition Against Censorship to protect the freedom to read. She has also written adult fiction and has had three books on the New York Times bestseller list. She has three grown-up children and lives with her husband in New York. Her new book, Soupy Saturdays with the Pain and the Great One, is published this month by Macmillan.
I drive/ride ... a Jeep Wrangler. In Key West I ride a Conch Cruiser bicycle, and in summertime you'll find me in a yellow kayak.
If I have time to myself ... I read.
You wouldn't know it but I'm very good at ... tap dancing.
Y ou may not know it but I'm no good at ... cooking.
A book that changed me ... was Erica Jong's Fear of Flying. I read it in the 1970s, and it gave me the courage to make changes in my life.
Movie heaven ... Ruby Gentry, with Jennifer Jones. It came out when I was 14 and my best friend and I went to see it every weekend, for as long as it played in our town. We dressed like the star, in jeans and dark turtlenecks.
Comfort eating ... is pasta.
When I was a child I wanted to be ... a cowgirl, a detective or a movie star.
I wish I'd never worn ... hot pants!
All my money goes on ... my nests. We live in three houses and have renovated each one. My husband has now imposed a moratorium on renovations.
At night I dream of ... Sometimes I'm back at school with a paper due the next day, but when I go to the library there are no books left on the subject.
My favourite building ... the New York public library.
My biggest regret ... is my education. I wish I'd gone to a small liberal-arts college where I'd have read the great books, instead of a large university where I majored in early-childhood education.
It's not fashionable but I like ... prairie skirts, cowboy boots and my jean jacket. Probably due to years spent in Santa Fe, New Mexico, in the 1970s.
If I wasn't me I'd like to be ... a well-loved dog. I sniff my food before eating and during thunderstorms I tremble and hide in small dark spaces. I have a "thunder closet" in each of my homes.
The shop I can't walk past ... Magnolia, a bakery in New York that makes incredible cup cakes.
My favourite works of art ... anything by Matisse.
The soundtrack to my life ... the Rodgers and Hart songbook, especially "I'll Take Manhattan".
The best invention ever ... the internet, particularly email, which lets me communicate with my readers.
Join our commenting forum
Join thought-provoking conversations, follow other Independent readers and see their replies