Novelist Andrea Canobbio: Private angst, public terror
As a novelist, Andrea Canobbio writes about the chaos that threatens ordered lives; as a publisher, he found himself in New York on 9/11.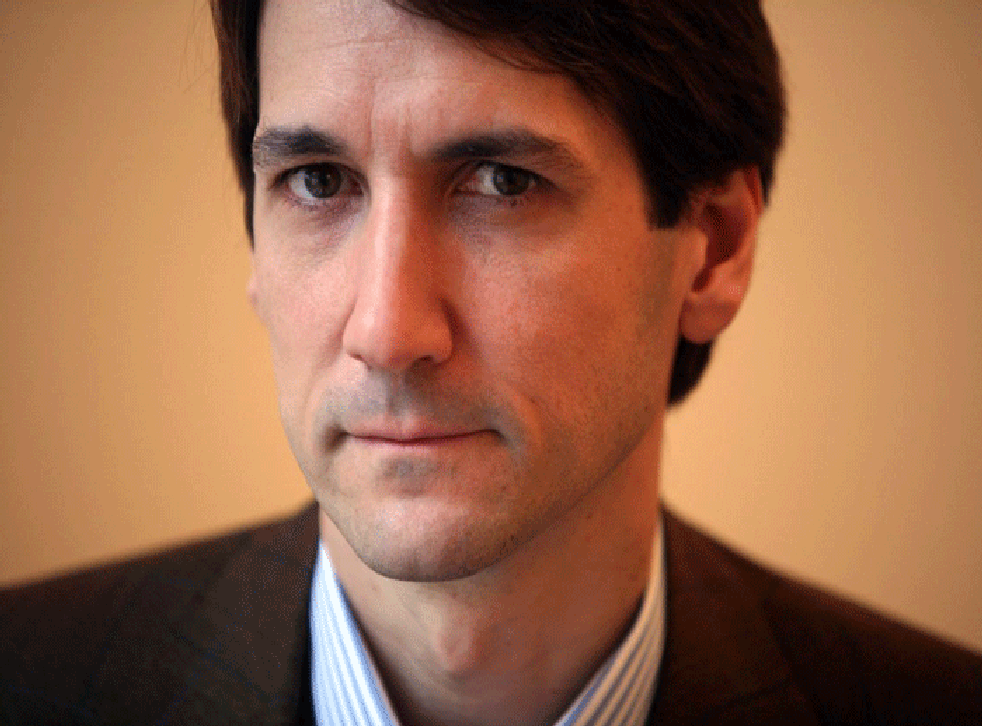 On 11 September 2001, Andrea Canobbio was in New York on business. The Italian novelist and publisher had slogged through a "terrible year". A friend had suffered a mysterious, terminal illness. Meanwhile, "I had very frightening panic attacks and I didn't know what was happening to me." This nameless terror had grown as the year went on, "and I ended up at the peak of all this in New York on 9/11". Suddenly, amid this private anguish, the epoch-making horror unfolded just down the road. Canobbio can see the "tragi-comic aspect" to his plight: "My problem was a stupid little problem, and then there was this planetary event."
Slim and elegant, choosing his English words with care, Canobbio looks and sounds like the coolest of customers: the very model of a multi-tasking, globe-trotting literary entrepreneur with every facet of a complex career firmly under control. The widely respected head of foreign literature at the great Turin house of Einaudi, he can boast a stable of authors that includes Cormac McCarthy, Philip Roth, Martin Amis and a score of other stars from the British, American and French firmaments. As a novelist in his own right since 1991, he has built up a reputation for beautifully written, scrupulously crafted stories that frame sometimes visceral content in cerebral forms.
Think Italo Calvino meets Paul Auster, perhaps. Yet behind the rigour of his writing, chaos lurks; a chaos that can smash to pieces all story-telling rules. British readers may find that this marriage of writerly precision and simmering panic brings another of Canobbio's own stars on the Einaudi list to mind: Ian McEwan.
In the end, Canobbio did manage to turn his Manhattan trauma into a short book: Presentimento, just published in Italy. He says, sounding suitably Calvino-esque or Auster-ish, that one major theme of this hybrid of memoir and fiction is "the impossibility of telling your own story, if you think that telling a story is just adding another veil to a hypothetical truth which lies deep underneath. I'm not sure that I really believe in autobiography, but of course it's a very interesting genre."
For the moment, British readers can enjoy the first of Canobbio's novels to land in Britain. The Natural Disorder of Things (translated by Abigail Asher; MacLehose Press, £12.99) is one of the earliest titles on the eponymous list of another publisher who has helped to transport an army of literary giants across the the borders of language: Christopher MacLehose, now working under the aegis of Quercus.
Its reflective and detached hero, Claudio Fratta, is a garden designer: a man who, on his own small professional patch, seeks to impose local order on general chaos. On a foggy winter's night in the parking lot of a mall in the bleak semi-urban sprawl of the northern Italian plains, Claudio thinks he witnesses a hit-and-run killing. Soon the apparent "murderer", the wealthy and seductive Elisabetta Renal, has become both client and lover. Cue a deftly patterned plot that amalgamates criminal intrigue, social satire and – above all – family drama as its winds its way through long-standing secrets, silences and lies across the spring and summer of 1999.
Brimming with fertile ideas, packed with curious twists, the novel counterposes Claudio's dream of escape into a landscape of symmetry and coherence against the "big hodgepodge" of modern Italy. This is a humdrum and ragged land of shopping centres, fast-food outlets, messily divorced families and the ever-present immigrants (whom Claudio likes to befriend) who keep the show on the road, from Poland, India, Africa or the former Yugoslavia. The prose and the people have lingering richness and depth, as Canobbio shows how the past can both nourish, and poison, the present. As Claudio remarks of his garden designs, "the roots are just as important as the branches".
For Canobbio, "The main story for me was the story of the family." That car-park killing turns out to have links with the downfall of Claudio's father, a hard-working furniture manufacturer bankrupted by loan sharks. One brother, Carlo, dumps his kids on solitary Uncle Claudio while he wrestles with ex-wife, girlfriends and an overpowering sense of both personal failure and political rage. Over both siblings hangs the shadow of a third brother, Fabio, dead of an overdose. And, throughout, private and public passions intertwine.
"I wanted to tell a story of vengeance," Canobbio says. "At the end of the 1990s, and maybe still today, Italy was really a country full of anger and desire for revenge." In spring 1999, "something very strange happened in Italy," he recalls. First, the Kosovo war broke out and Nato bombing raids began: "with this incredible political coincidence that the first prime minister to allow the bombers to fly from Italy to Serbia was an ex-Communist, Massimo D'Alema". Then the long-dormant terrorists of the Red Brigades killed again: "It was a nightmare that was coming back, first of all for the left." Finally came the first trial, and acquittal, of Giulio Andreotti, the former PM accused of career-long connections with organised crime.
"There was something like hope during the 1990s," Canobbio explains, "that eventually all those secrets, all those mysteries, in Italian history would become clear. If you ask, everyone is sure that a certain part of the Christian Democrat politicians were involved with the Mafia, but nobody can really prove anything. Suddenly, with that trial, there was evidence of that connection." The social background to the novel catches that fleeting moment when "everybody thought maybe something was changing, but then nothing changed". The natural disorder of things returned.
A habit of disorder has its uses, though. Claudio refuses to condemn the higgledy-piggledy mix of Italian "exurbia", and even finds a harsh poetry in its clutter of warehouses and mini-malls. For his own part, Canobbio – an aesthete of a different sort – has found a niche in the creative hodgepodge of Italian fiction. "The Italian tradition is a non-tradition," he argues. "The big writers we had in the 20th century were all eccentrics. Think of Calvino, who didn't look like an Italian writer at all. And Primo Levi seemed to come out of nothing. The writing of Levi is astonishing, not Italian at all: so dry, so strong, but precise."
In the 1980s, when he started writing, a new wave of narrators (such as Daniele del Giudice and Antonio Tabucchi) came along, with a manifesto of "'Let's go back to telling stories'. But actually, our problem is that we don't have a tradition of great story-telling... Many Italian authors will tell you that their most beloved writers are foreign: American, English or French. Now there's a new literature in Italy, with many good novelists. But it's different: you have always to explain why you're telling a story; why you decided to use characters... Nothing is taken for granted."
Many of those imported heroes of modern fiction have become colleagues and collaborators of Canobbio at Einaudi. He had originally studied economics in Turin, fearful that a literature degree would confine him to the classroom for life: "I thought that I could only find work in high-school teaching. I was not at all self-confident." After a stint teaching sales techniques (which he liked), he broke into publishing at Bompiani, working on foreign rights, and moved to the hallowed firm of Einaudi in 1991. At the time, it had no editor for English-language fiction: "Which was amazing, but it was so". So he started to build up a new international catalogue.
His foreign-language specialism allowed Canobbio the Einaudi editor and Canobbio the Einaudi author to avoid any direct conflict of interest: "I'm very good at mental barriers". Eventually, though, he felt the need to move his fiction: to the Roman house of Nottatempo. His twin-track career on either side of the editorial desk will continue, in spite of the clashes: "It's an exciting job. The only problem is that I would like to have more time to write."
As for his next novel, it will take him into a professional world seemingly far from Claudio's high-concept gardens: medicine. His wife is a doctor, and he says that "I always end up choosing something which is not me – because I don't want to write about writers – but something close to me." Yet it turns out that the theme will be problems with what Canobbio, for once digging for the right word, begins calling alimentazione. Nutrition? Yes. Eating disorders, in fact. In the body, as in the body politic, chaos may lurk just under the skin.
Biography: Andrea Canobbio
Born in 1962, Andrea Canobbio studied economics in Turin and then taught sales techniques. He joined the publisher Bompiani in 1989, moving in 1991 to Einaudi, where he has headed the foreign fiction department since 1995 and where his authors range from Cormac McCarthy to Ian McEwan. After a book of stories, his first novel was Vasi Cinesi in 1991, followed by Traslochi, Padri di Padri and Indivisibili. His 2004 novel Il naturale disordine delle cose has now been published as The Natural Disorder of Things by MacLehose Press. In late 2007, he published a semi-autobiographical book, Presentimento. He lives in Turin.
Join our new commenting forum
Join thought-provoking conversations, follow other Independent readers and see their replies