Oliver Jeffers on ebooks, picture books, and scientific creativity in his new fine-art exhibition
If you're not yet a fan of the spellbinding genius of Oliver Jeffers, you know a five-year-old who is. Here, the multi-million-selling author and artist reveals why he left Belfast for Brooklyn and how his own four-month-old plays havoc with his creative flow…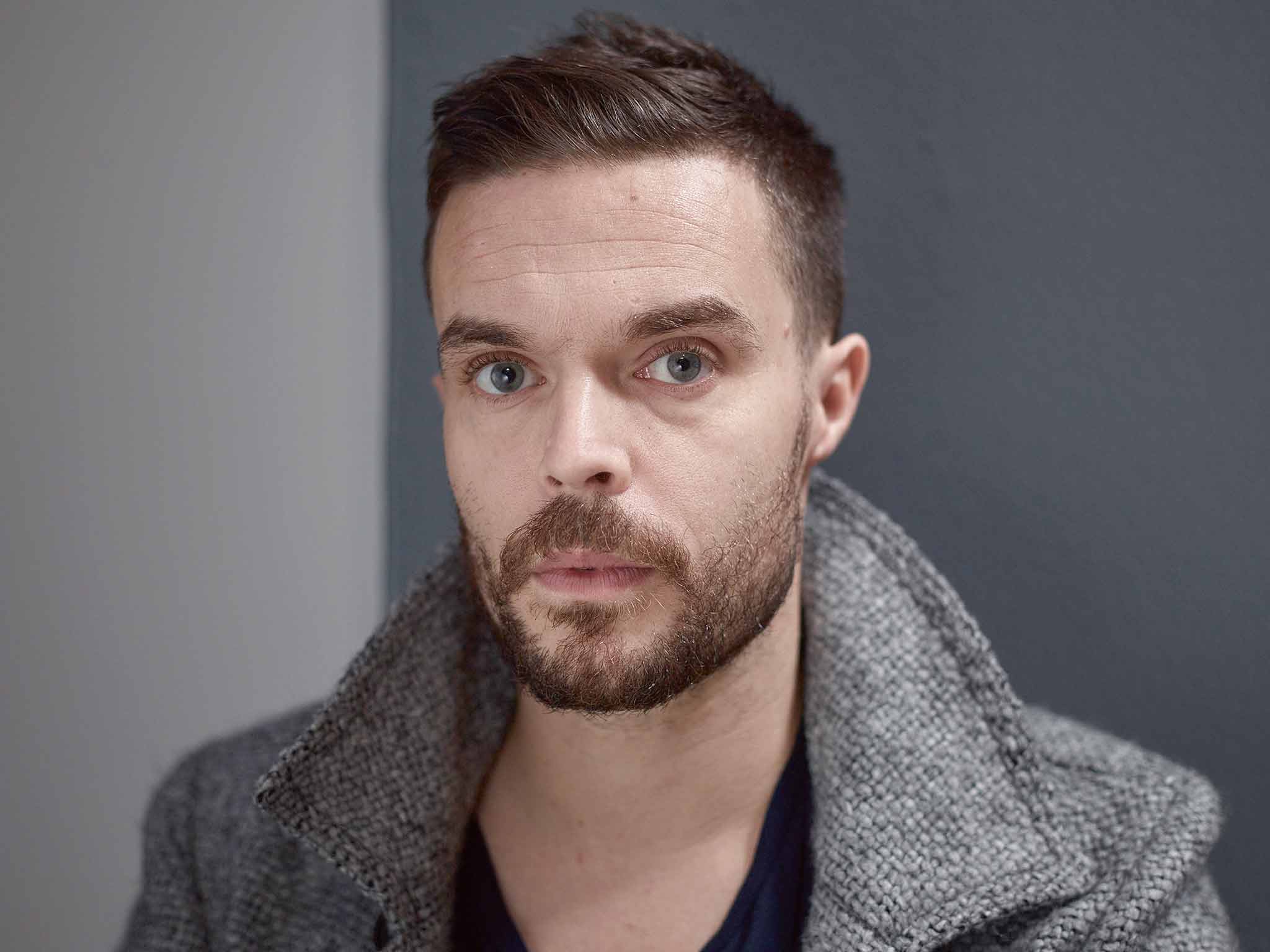 Oliver Jeffers is restless, though it isn't the constant drilling and hammering on the construction site opposite the London gallery where we meet that's unsettling him. He's waiting for his wife, Suzanne, to call. They have a four-month-old son, Harland, and have just returned from a trip to Jeffers' native Belfast. Only in the taxi from Heathrow did they realise their baby stroller was still circling on the luggage carousel, and she's gone back to get it, child in tow.
"I have to make sure she's OK," he says apologetically, before placing the phone in his jacket pocket and offering me his full attention. Restlessness is his modus operandi, the 38-year-old admits. "I have a very hard time relaxing." It's enabled him to carve out a hugely successful career as both a writer and illustrator of award-winning picture books that have sold more than seven million copies worldwide, including his 2004 debut How to Catch a Star and the wonderfully titled The Day the Crayons Quit, all annotated with his trademark, handwritten script.
There have been collaborations, too, most recently with the Irish children's laureate Eoin Colfer, and he's also a "conceptual" – his description – artist of considerable talent. He's recently turned his hand to music videos as well, co-directing a promo ("Ordinary Love") for U2's Films of Innocence project with his long-time collaborator Mac Premo.
"I thought I'd make picture books and fine art until someone told me otherwise – and nobody ever did," he says, as if he can't quite believe his luck. "The art draws out a certain sophistication and edge in the books, and there's humour and wonder in the art that might not be there if it weren't for the books. They keep each other in check. I get bored too easily doing one thing."
The work of Oliver Jeffers
Show all 5
Jeffers is in London – he lives and works in Brooklyn – to put the finishing touches to a new exhibition at the Lazarides Gallery. Measuring Land and Sea consists of land and seascape oils recreated from his own photographs, overlaid with technical measurements showing gradient and depth. The work continues to explore the juxtaposition of art and science, of subjectivity and objectivity, initiated in 2006 in his first solo show, Additional Information.
"These [paintings] show polar ends of human cognition: really complicating simple things and then not understanding the vastness of it all," he says animatedly. "A marine biologist told me something really fascinating – that planet Earth is only the fifth-best mapped object in the solar system. I was absolutely thrown by that. The depths [in the seascapes] are measured in fathoms, which is a play on words; a comment on how little we really know."
So is he much of a science nut? "I wouldn't be able to speak with any authority on it… I'm interested in it as I see how it can be applied to my understanding of everyday life. There's room in science for creativity and beauty, absolutely."
A "curious and mischievous" child, Jeffers grew up in north Belfast as the second of four brothers. It was a creative family and their father, a retired teacher, encouraged the boys from an early age; How to Catch a Star is dedicated to him. Jeffers' mother, a nurse, died in 2000 after a long battle with MS.
Despite nearly a decade in New York, Jeffers' accent remains strong, with only the odd Americanism slipping into conversation. "I was shipped to summer camp in upstate New York k when I was 11 – my dad had a connection and I was offered a scholarship. I kept in touch with a bunch of people and went to stay in New York City when I was 20 and had the time of my life," he says fondly. "A few years later I went again and exhibited there, and it felt like anything was possible. There's a mentality in Belfast certainly, and in the UK and Ireland, that is just… not pessimism as such, but people aren't as enthusiastic about how they spend their time. The energy in Brooklyn felt right to me. I don't mean in a holistic sense; I mean actual, palpable energy."
Jeffers returns to Belfast twice a year, but is planning to visit more now he has a son. He says he has a very Irish love of storytelling ("History has always been passed on through stories; there's an art to it") – and first realised that he had talent after "being pulled out of PE aged six to help design the set for the school play".
He is still, in some ways, that curious child: "I am my own target audience. I just want to satisfy my own sense of curiosity. It so happens that a bunch of four- and five-year-olds share my sense of humour."
I wonder, then, what he thinks of the various digital apparatus competing for children's attention? He has created an app for a book just once, for 2009's The Heart and the Bottle. "Apps and digital books will never replace the physical object," he says defiantly. "Anybody who has kids is not going to sit down and read them an app at night, or read from a screen. There's an intimacy in books that isn't afforded in technology."
He doesn't see himself as a children's author per se, mind. "Maurice Sendak said something along the lines of, 'I don't write children's books, I write books and someone else says they're for children.' Picture books are a powerful vehicle for telling stories and that's why I try not to call them children's books – you alienate people."
He continues to enjoy making them – "Pictures books are art. I don't see it as a commercial gig" – but concedes that there are restrictions given the size and make-up of his audience, and it's his fine art that allows him to really ask questions.
What particularly interests him is the subjectivity of stories and memories, and the way they mutate over time. His Dipped Paintings project plays with this idea: in front of a small audience, Jeffers takes a recently painted portrait and dips it into thick enamel paint, obscuring most of the image forever. The audience is then invited to describe the original painting on camera. His portrait subjects are all people who have experienced some kind of loss.
The project was partly born out of a conversation with his younger brother Brian about their late mother. "He started telling a story about our mother, a story that I tell, but he was telling it differently. Did he remember it differently or had it morphed in both or one of our minds?" ponders Jeffers. "Stories change in the telling. The one thing I've really realised is how malleable and unreliable people's memories are – and how unreliable eyewitness testimony is."
A couple of days prior to our interview I attend one of these shows in a former mechanic's/ gay brothel in Covent Garden. The audience's hushed reverence and Jeffers' rehearsed, solemn commentary – "Nothing is permanent… you are witnessing a death, but also a birth" – lend proceedings a religious air. Though raised Catholic, Jeffers jokes that he is now a devout k atheist. "My experience with the Catholic Church and my reading about the things done in the name of religion across the world, really made me quite ashamed," he says.
As the show comes to a close, small photographs are handed out as mementos. I show him mine when we meet properly: a black-and-white image of an expressionless girl in her late teens or early twenties with light ribbons in her hair. There's a handwritten note on the back that reads, "Ms Zimmerman, 1938". Half of it has been dipped in bright pink paint. The photographs, which he finds at antique shops and yard sales, serve as testers for colour and opaqueness.
Does he feel a twinge of regret at defacing them? "It's a very strange thing, yeah. I have no idea who they are and to me there's a poignancy about that which speaks to the project. It is now a piece of art. Some people are horrified, but [the photographs] were going to be destroyed anyway. They don't end up in the trash; they end up on somebody's wall."
Just then his phone rings: it's Suzanne. The stroller is safe, right where they left it. How has becoming a father affected his creativity, I ask? "It's amazing how anybody gets anything done if they have a kid. I don't know, it's too early to say." With that, this curious, restless soul is off to explore his new life and make new memories.
Oliver Jeffers: Measuring Land and Sea is at Lazarides Rathbone, London W1, until 23 December. Limited-edition prints are available from the gallery's website, lazinc.com
Join our commenting forum
Join thought-provoking conversations, follow other Independent readers and see their replies