World Book Day: Why is reading in the pub so enjoyable? In praise of a very British pastime
From literary pub crawls to famous fictitious water holes, the humble boozer has long had an important place in literature, insists Kieran Devlin
Wednesday 06 March 2019 16:32 GMT
Comments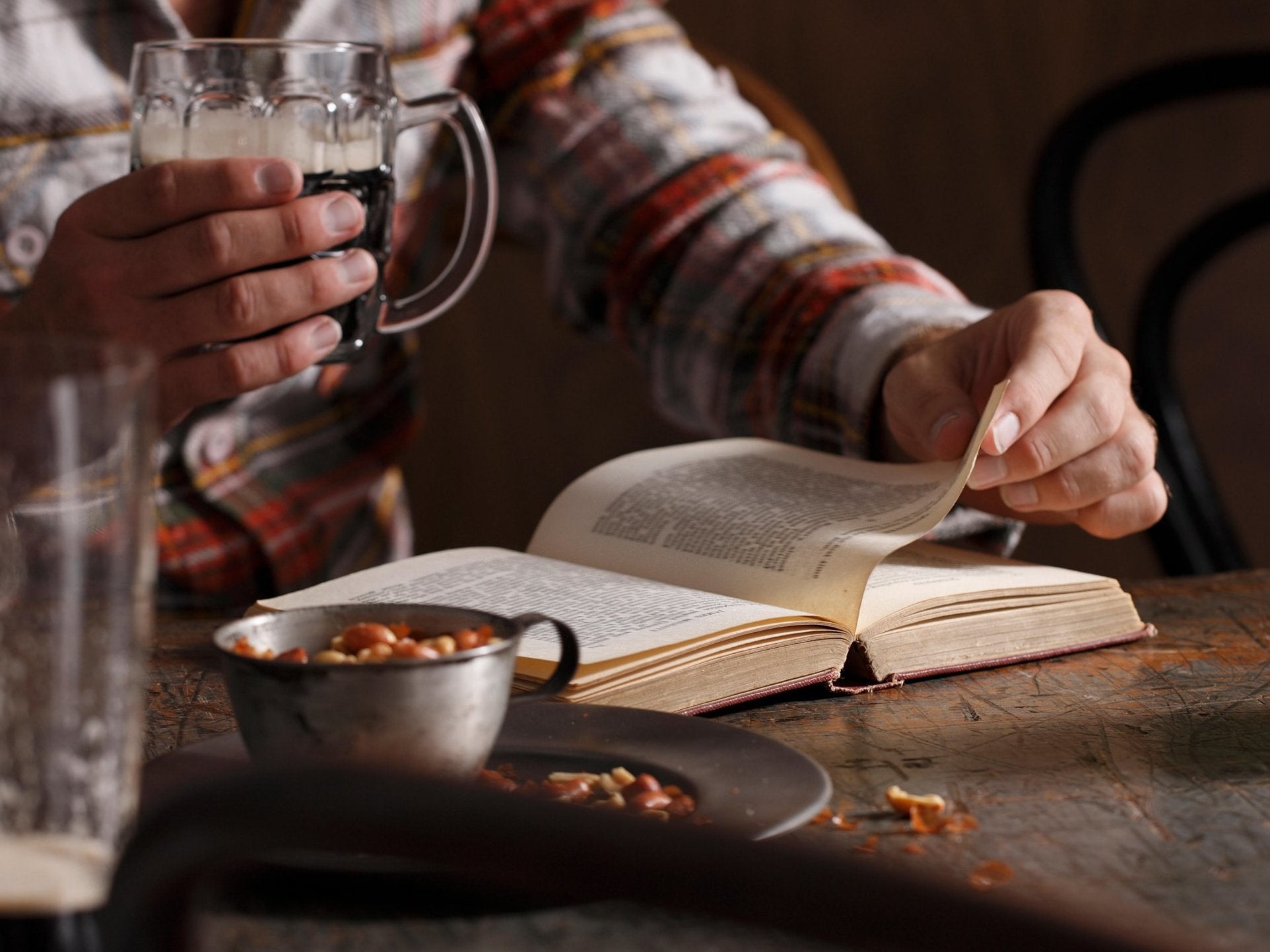 One of my favourite pastimes is reading in pubs. It's as pleasant on a lively Friday as it is in Sunday morning solitude. It even transcends the seasons: you can get as much pleasure from a summery thriller raced through in a beer garden as you can from a cosy Victorian whodunit read by the fireplace as icy winds batter the pub door.
Reading in pubs should be difficult. It's loud and kinetic, and there's the perpetual fear that someone six pints deep will stumble and stain your book with sticky stout. So why does reading in pubs feel so naturally comfortable?
The answer could be simple arithmetic. Reading is good. Social spaces are good. Drinking, in moderation of course, can be good. All three can offer respite and relief.
But there's also the compelling case that reading in pubs is a British institution. The bond between literature and pubs is time-honoured. Countless books and pubs across the UK celebrate their common history, from Compton Mackenzie's novel Whisky Galore gently parodying Hebridean islanders' fondness for a good dram, all the way down to Broadstairs highlighting Charles Dickens's affection for its Kentish coastline in two separate museums, a week-long Dickens festival, and, inevitably, a pub. London, Dublin and Edinburgh have plenty of literary-themed pub crawls, and you just need to cast your eye over a list of your local pubs to appreciate how many book or writer-inspired names they've enthusiastically adopted. If you aren't within 10 miles of a "Shakespeare's Something", you're in France.
Some of these pubs share not only names with writers but physical history. London's The George Inn, owned and leased by The National Trust now and the last surviving London galleried pub, is one of the most remarkable examples. Built beside The Tabard, in which Chaucer began The Canterbury Tales, The George Inn was famously frequented by Shakespeare and later Dickens, who not only refers to the inn in Little Dorrit but, allegedly, began patronising it because of its Shakespearean renown. Imagine how many aspiring writers have visited since in hope of bottling some of its magic. This is literary heritage, but with added pints.
The pub's place in literature is as illustrious as literature's place in the pub. There are the classics; Ernest Hemingway's real-life Parisian bar The Dingo, also haunted by Zelda and F Scott Fitzgerald; The Six Jolly Fellowship Porters of Dickens's Our Mutual Friend; Daphne du Maurier's eponymous Jamaica Inn; The Midnight Bell from Patrick Hamilton's Twenty Thousand Streets Under The Sky.
George Orwell's 1946 essay, "The Moon Under Water", blurs the distinction between literature and reality, describing the author's perfect local boozer and how such an establishment must have uncompromisingly Victorian architecture, a floral beer garden and no music – before revealing that this platonic ideal is, of course, fictional.
Graham Swift's Booker-winning Last Orders used its pub The Coach to signify the lifelong friendships of ageing drinking pals, while its title draws parallels between the British tradition of having "one for the road" and a friend's final wish for the scattering of ashes. JK Rowling, so resourceful in transfiguring British quirks into magical unreality for Harry Potter, excelled in her pub-naming with The Three Broomsticks and The Leaky Cauldron.
My favourite novel in years, Eimear McBride's vaguely autobiographical 2016 work The Lesser Bohemians, initiates its intense central romance in a crowded Camden pub, where our protagonist Eilis approaches wearied actor Stephen about his reading Dostoevsky's Demons. This facilitates their relationship, while the pub itself, as well as a reliable watering hole, acts as a sentimental motif they return to. Furthermore, the specificity of the setting and situation invokes the possibility of McBride drawing on her life experience. Reading this scene in your own crowded pub, you feel elusively connected to it. Life feeding fiction feeding life.
10 novels to help you beat the Brexit blues
Show all 10
Pleasingly, reading in pubs is proving to be a tradition that is still evolving. Hundreds of public libraries have closed down over the last decade, and while their stock is often sold off or donated to other community hubs, sometimes it ends up in pubs. The George & Dragon in Hudswell in Yorkshire even retains the library service – but many pubs adopt a magnanimous "take a book, leave a book" policy.
Additionally, over the past 15 years or so, the rise in the popularity of book clubs has meant that pubs are often now embraced as a neutral meeting spot. Such trends not only reinforce the abstract bonds between literature and pubs, but underline their fostering of community. "Pub" is, of course, short for public house – and they have always been a nucleus for social engagement.
The pleasure of reading in pubs could, therefore, be a just combination of enjoyable activities, a hereditarily British trait or an opportunity to engage and learn. But, ultimately, too much analysis undermines it. It is simply a quiet delight to drink and read among friends and strangers.
Join our commenting forum
Join thought-provoking conversations, follow other Independent readers and see their replies