Sarah Waters interview: 'I pay attention to women's secret history and lives'
Danuta Kean speaks to a nervous Waters following the release of her inter-war lesbian love story The Paying Guests
Danuta Kean
Friday 05 September 2014 17:39 Comments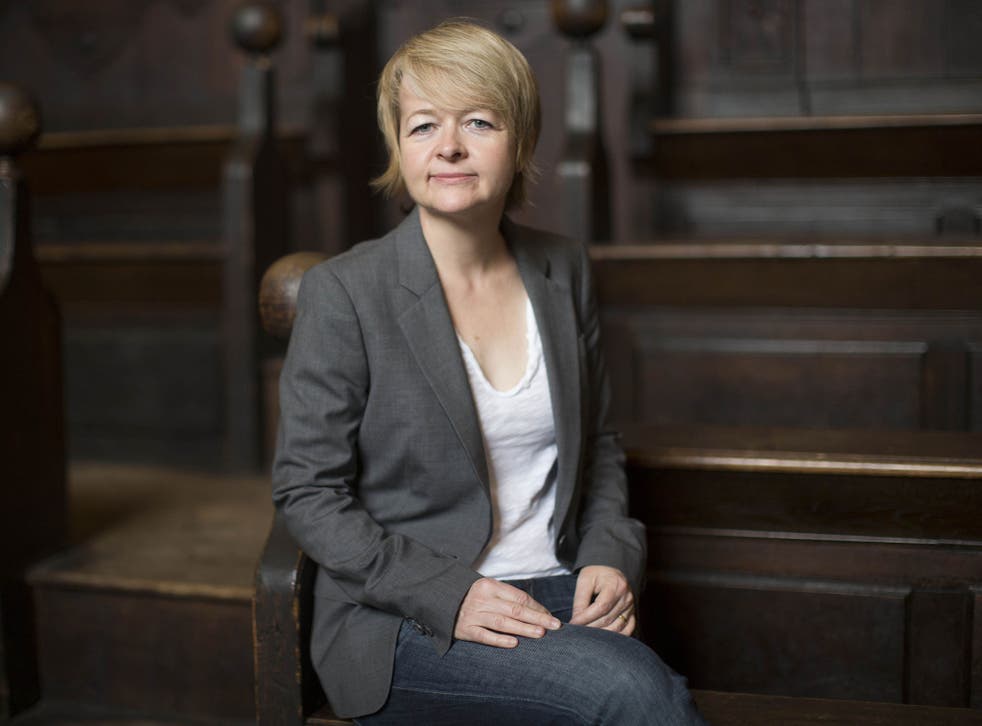 Sarah Waters looks uncomfortable. Perched on the edge of a sofa more showroom than sitting room,she has come to her publisher's office to publicise a new novel – her sixth. I am her first interviewer and there is a nervousness and vulnerability about her, as if she were applying for a job.
Her nerves surprise me: The Paying Guests is a very fine book. With a plot that twists from erotically charged love story to horrifying thriller, the buzz has already started: readers of freely circulated proof copies have fallen over each other to write breathless previews, most of which confess to reading it in one sitting – as did I.
The story centres on a villa in the genteel London suburb of Camberwell, home to Frances Wray and her mother. It is 1922, and the two middle-class women have fallen on hard times with no men to support them – two sons lost their lives at the Front, while the patriarch died leaving a mess of bad invest¬ments. To save them from penury, mother and daughter take in lodgers – "paying guests" in polite parlance. Enter the Barbers, Leonard and Lillian, an upwardly mobile couple of the clerk class. But the Barbers' marriage is not happy, and when Lillian turns to Frances for comfort the two fall in love and trouble follows.
Much of the drama takes place in the villa, a shared space tense with fear of discovery. "I wanted it to be a grand love story, but in this very mundane setting," Waters explains, her back ramrod straight and her hands crossed on her lap. How mundane is emphasised by the amount that takes place in the scullery and outside the outdoor toilet – "yes, a lot does go on by the loo," she laughs when I mention it.
With laughter she relaxes and grins. "It was about finding glamour [in the domestic]" she says. "I realised quite early on that there would have to be an awful lot of meeting on the stairs and landing. That became exciting. There is always that danger that they will be caught out." Even when the action moves outside the villa – notably to Lillian's mother's – fear of discovery pervades every meeting between the lovers.
Petite, her short hair muzzy at the fringe, Waters' air is guarded though not defensive; rather she has a quietness that acts like a protective boundary. She is what my mother would call nice. I wonder whether it is that niceness that makes her such a gifted observer of people. Her characters are precisely drawn. The ambition that drives Len and Lil never turns into parody – in fact she looks pained when I say I didn't like or trust Lillian at first. "Oh no, didn't you?" she exclaims, as if I had just slighted a child. "Oh, I grew to really like her," I reply quickly, and she looks relieved.
Frances' and Lillian's love affair is at the heart of The Paying Guests. Lesbians are central to all her novels, apart from the last, the Booker-shortlisted The Little Stranger. Was the decision to return to a lesbian relationship conscious? "It sort of was, because I missed it," answers the author noted for creating scenes electric with passion. "I missed writing about love. Once I realised that, at its heart, I was writing a love story, I was very excited, because I have never really written a love story before." Before I pick up on the comment, she explains that the book is grand love story rather than sexy romp (Tipping the Velvet) or doomed passion (The Night Watch).
"Love story" implies a lightness of tone, but though there are moments of humour and sheer joy, The Paying Guests is pervaded by loss, both of people and confidence. The post-war world portrayed is one in which the old alliance of class and deference has been undermined. It is a far cry from the stereotype of Roaring Twenties hedonism ¬peddled by the likes of Downton Abbey. This world feels very modern with its tabloid splashes, crime waves, social strife and unemployment, the latter powerfully portrayed by pitiful ex-soldiers loitering on street corners.
The inter-war period sits between the settings of Waters' previous work – her first three novels were set in the 19th century, the last two immediately after the Second World War. "I was drawn to the period because it is the bit in between the other books," she explains. "I realised when I thought about the period that I knew nothing about it." She became "kind of intrigued" by the 1920s and 1930s when writing the post-Second World War books. "I wanted to know where that world came from."
What surprised her was the complexity of the world immediately after the Great War. "I had to engage with the war far more than I expected, and had to think through what it was like for people like Frances and her mother, who had been born into privilege and certainty, but who were now in a world that feels unsafe." The period resonates with our own and by concentrating on a domestic setting, she shows how cataclysmic social change affects her characters.
When women I know – friends and acquaintances – discovered I was to interview Waters, I was greeted with a universal sense of ownership. Not the usual approval of a writer whose work they admire, but ownership, a sort of devotion and sense that – gay or straight – Waters is ours, the women's writer, chronicler of our lives, passions and struggles. When I tell her this, she blushes. Not blood crimson, but a soft rosy blush that creeps into her cheeks as the awkwardness returns. "It's lovely to hear that," she says self-consciously.
But why do you think that is? I ask. Quiet fills the office, I look out of the window at the sky and feel a bit awkward myself. I hear Waters' PR turning the door handle. "Maybe it's because I pay attention to women's history," she replies earnestly. As if that isn't quite enough, she adds: "To their secret history and lives, acknowledging meaning in their domestic lives." The PR enters the room to tell me my time is up. Waters beams, as if just granted a pardon.
Register for free to continue reading
Registration is a free and easy way to support our truly independent journalism
By registering, you will also enjoy limited access to Premium articles, exclusive newsletters, commenting, and virtual events with our leading journalists
Already have an account? sign in
Join our new commenting forum
Join thought-provoking conversations, follow other Independent readers and see their replies