Sharon Meers: The answer to a happy home? Make it 50/50
The American author extols the virtues of equal parenting in her new self-help book, but she's strictly brisk professional when she meets Susie Mesure
Susie Mesure
Sunday 23 March 2014 01:00 Comments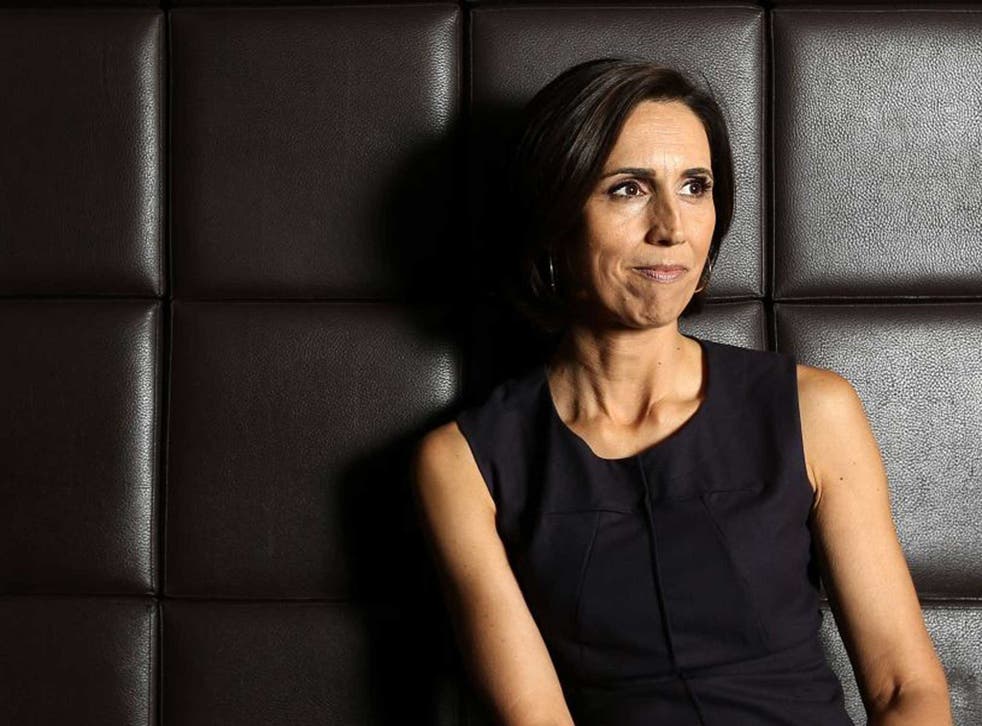 The irony! Here I am, meeting the American author of a book promising to divulge the secrets of how working parents can get to 50/50 and "have it all" and she's caught me at more of a 100/0 morning. No prizes for guessing which side of the equation I sit.
At best, our house is perhaps 70/30, given that I work part-time, which is news I feel I should break gently to "Miss Equal": Sharon Meers. Still, she is lucky I finished her book – which took a late-night session on a day off, something I dare not mention for fear of sounding as if I'm one of the "yes" women lambasted in her book for taking on too much.
She's digging the morning's "working mom" vibe; Meers is fresh off air from an interview with the Today programme's Sarah Montague, who I know without checking has four kids (although I haven't a clue how many fellow presenter Justin Webb has). Somehow it's just a bigger deal when a woman has children and a job. And, as the very much full-time head of Magento, an e-commerce offshoot from eBay – and, yes, a mother of two: Samantha, nine, and Max, 12 – Meers is all about combining the two. More than that, she's all about men combining the two, hence Getting to 50/50: How Working Parents Can Have It All, the book she co-wrote with Joanna Strober.
In the flesh, she is every inch the scary American professional, down to the glossy power hair and immaculate, tiny suit. "Oh wow. Look at all this. Thank you!" she says, admiring the plate of Danish pastries that accompanies our tea, but I'm on my own when it comes to tackling the calorie fest. It takes serious discipline to make the 50/50 thing work, of the self and family variety.
Meers, who grew up in Washington DC, "the capital of dual-career couples", got the ground rules established early on with her husband with "lots and lots of debate when we were first dating. We wrote down what we both believed and we both wanted. So when we had kids we were pretty clear how it was going to go". She took four months' maternity leave from Goldman Sachs (an eternity in the US) with her first child, 13 years ago, and then, "being Miss Equal, said [to my husband], 'Surely you're going to take paternity leave?'" He couldn't, because he had just started his own company, but he still promised she would have a minimum of four months " 'when it will feel like I'm on paternity leave. If our son gets sick, I got it. So I got your back.' " She almost mists up. "For me, that was the kindest, most wonderful, most romantic thing he could have done and I am eternally surprised and grateful."
Today, house rules state that everyone is expected back for family dinner at 6.30pm and afterwards the children's video games stay off and emails go unchecked – the two being "morally equivalent" – until bedtime. This week, she risks busting her "budget" for how many nights a month she is allowed to be away, but will play catch-up. "When we are home we tell everybody, even the grandparents, 'You're not calling, because we're turning everything off so we can be together.'"
All this, and more, is laid out in her book, which is part of the wave of parental self-help literature flooding out of the US these days. Meers' contribution, which came out in 2009, predates most of it, including the instantly seminal Lean In, by Facebook's Sheryl Sandberg. The two women go a long way back and Sandberg enthuses about Meers' vision in a gushing foreword to the newly published British edition of her friend's book. It's an enlightening read, stuffed with statistics and anecdotes to hammer home the main point – that children can thrive with two working parents.
But it is a sad indictment of how much women have been prepared to give up that books such as this need writing in the first place. I'm left feeling depressed that more men don't support their partner. Meers cites US research that says 84 per cent of mothers who leave their jobs don't want to. "The reason they're leaving is because they think their husbands' jobs are inflexible or because they have a line manager who is inflexible. And that's a loss. Our goal is to say to all women: 'The world has lots of problems and we need all hands on deck, so please come back!'"
There is, however, cause for hope. Different stats show that 72 per cent of Americans under 30 want a 50/50 marriage. And Meers adds: "Women overestimate how much men care about their careers versus family, and men underestimate how much women care about their careers. And the only way to fix that is to talk about it. A lot. Stats show that 50/50 is good for men, too."
Ah, men: turns out they're not all bad guys, after all. "The fun part for us is that we are relentlessly pro-men because we really think that engaging men as equals will inspire men to engage women as equals at work. And that they have a lot to contribute at home; and, when they contribute more at home, they become better bosses."
She implores mums to trust dads more about parenting and for men to say "my way is just as good", and suggests that mothers implement "baby boot camp", leaving dads to fend for themselves early on.
Looking back, now that her son is nearly 13 and her daughter "turning 10", isn't she just a little bit sad about all that time lost which she'll never get back? "No!" she insists. "I love my children. I totally love my children." There is no "but"; she has no qualms about her choices.
Not so her daughter, perhaps. There is a story that Sandberg retells in Lean In when Meers' daughter introduced her parents to her kindergarten class. "She said, 'This is my dad, his name is Steve. He makes buildings. This is my mom, her name is Sharon, she works full time, and she never picks me up from school'," said Meers, "It was me and the two surgeons! And she felt weird about it!"
Child care was left to the two nannies – sisters – who still look after her children, proving that 50/50 is easier when you have executive pay packets to burn on buying in help. That said, Meers reckons opinion on the merits of nurseries has swung full circle, insisting that she would use one if she had her time again.
Meers will be back in the UK in June, to address MPs on behalf of the Henry Jackson Society. "The more the English-speaking world can acknowledge the reality that women need to work as much as men do, and that families are better off when they do, they'll have dramatically more sensible policies about working families."
Before then, she'll be doing time at home, in Palo Alto, California, to recoup those nights in the red from this trip. Because that is the good thing about 50/50: it's a "loose concept", says Meers: "equality over a lifetime. The baton is always passed back. No one should be permanently knocked out of the world of being either a parent or worker outside the home."
Suddenly, my 100/0 morning isn't feeling like such a rough deal after all; provided it's 0/100 next time.
Curriculum vitae
1965 Born and raised in Washington DC. Her parents had a "traditional marriage", meaning that her mother didn't work, before divorcing. Her father was a child psychoanalyst, and her stepmother was a partner in a big DC law firm.
1983 Does a BA in history at Harvard University before an MA in economics at New York University.
1988 Finishes her NYU degree at night after joining Goldman Sachs. She stays for 16 years, eventually becoming managing director of the bank's investment management division, which she runs for five years, including two breaks for maternity leave.
2001 Has her first child, Max, and Samantha three years later.
2005 Quits Goldman Sachs to work on her book, Getting to 50/50, with her co-author, Joanna Strober.
2011 Joins eBay as head of sales and business development for X.commerce.
2013 Is made head of enterprise strategy at Magento, an e‑commerce offshoot from eBay.
Register for free to continue reading
Registration is a free and easy way to support our truly independent journalism
By registering, you will also enjoy limited access to Premium articles, exclusive newsletters, commenting, and virtual events with our leading journalists
Already have an account? sign in
Join our new commenting forum
Join thought-provoking conversations, follow other Independent readers and see their replies