From public school to the barricades
Between the wars, two privately-educated brothers became the models for today's well-to-do young leftists by launching an anti-imperialist periodical. We conclude last week's study of reforming children's literature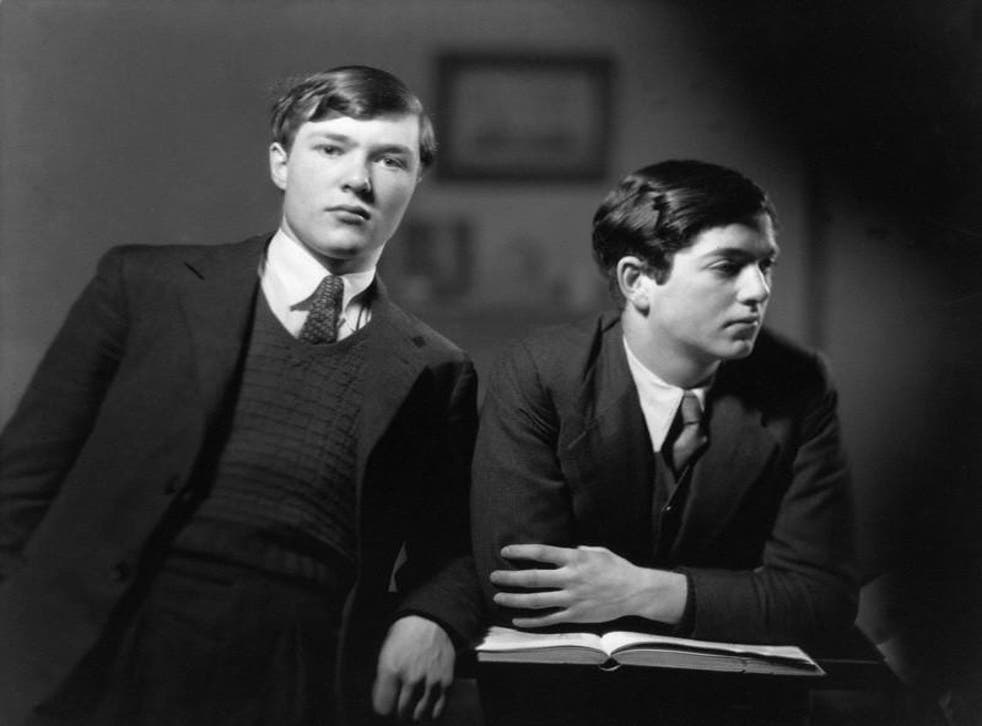 One morning in the early summer of 1934, a hand-picked group of public school pupils received an anonymously produced circular announcing the birth of an anti-establishment magazine written by pupils for pupils. The circular invited its readers to become involved with a new publication called Out of Bounds: Public Schools' Journal Against Fascism, Militarism and Reaction. The magazine planned to introduce pupils in Britain's elite public schools to left-wing political ideas and to make these ideas relevant by linking them to what its editors identified as forces of militarism and oppression in the public school system: the officers' training corps, fagging and corporal punishment. An editorial proclaims: "We attack…the vast machinery of propaganda which forms the basis of public schools and makes them so useful to the preservation of a vicious and obsolete form of society".
Out of Bounds was masterminded by two brothers, Giles and Esmond Romilly, nephews of Winston Churchill and pupils at Wellington College. The Romilly brothers headed an editorial board made up of pupils from across the public school sector. A photograph of the board, published in the Sunday Graphic for 15 April 1934 identifies pupils from St Paul's, University College School, London, and the North London Collegiate School for Girls. Other "conspirators", as a Daily Mail article about the "Red Menace" in Britain's public schools labelled the pupils who contributed to Out of Bounds, were drawn from a range of public and progressive schools.
Although aided by friends and peers, it was the Romilly brothers who brought the magazine into being. Esmond's involvement with Out of Bounds eventually led him to run away from school and install himself in the back rooms of the Parton Bookshop in Parton Street, London, which was well known as both a centre for modernist writers and left-wing activists. Its owner David Archer published writers including Dylan Thomas and George Barker through the Parton Press. While self-consciously living "down and out" in Parton Street (George Orwell's Down and Out in Paris and London had been published the year before), Esmond met and learned from some of the leading literary figures of the day. In addition to George Barker and Dylan Thomas, these included James Joyce, Virginia Woolf and TS Eliot.
Inspired by the circular announcing Out of Bounds, 16-year-old Philip Toynbee, then a pupil at Rugby School, ran away to join the Romillys and their team. When he tracked Esmond down to Parton Street he found "a short, square, dirty figure with a square white face and sweaty hair" who was "dramatically on his guard, conspiratorial, prepared for violent aggression or ingenious deceit".
This is the Esmond Romilly who on 7 June 1934, with Toynbee, joined the anti-fascist protest against Oswald Mosely's mass rally at Olympia where they were battered by Mosely's Black Shirts. Esmond cuts a very different figure in the photograph of the brothers taken to mark the publication of their joint memoir, Out of Bounds: The Education of Giles and Esmond Romilly (1935). The photograph, which now hangs in the National Portrait Gallery in London, shows two clean-cut teenagers, immaculately dressed and looking for all the world like upstanding members of the Tory family into which they were born.
In his half of the brothers' memoir, written while he was spending time in a remand home, Esmond describes how he and Giles used reading to educate themselves away from the teachings of home and school. Giles's opposition to war and the militarism of school was fuelled by Norman Angell's argument in The Unseen Assassins (1932) that military power was obsolete in an age of free-market capitalism and that economic separatism would inevitably lead to another war. Esmond's reading encompassed studies of communism and Marxism and a wide range of socialist and communist newspapers and magazines. He augmented his reading by joining a peace correspondence group, attending meetings and rallies, seeking out "real live Communists", and spending time in left-wing haunts such as David Archer's bookshop.
All of the activities and books associated with them find their way into the pages of Out of Bounds. Three pages are given over to encouraging readers to attend the national Youth Congress Against War and Fascism that was being held in Sheffield. There is a lengthy critique of imperialism headed "Gangsters or Patriots: How Britain Rules her Empire"; and a three-page letter from a boy at Eton who attended Mosley's infamous meeting of Blackshirts in Olympia: "About ten Blackshirts seized me and hit me again and again on the shoulders. I ran as hard as I could for the exit, but was soon surrounded and pushed on the ground where I was kicked and hit in the face."
The writer concludes by asking, "do you wonder then, that I sign myself, 'Yours faithfully, Anti-Fascist'?"
Although Out of Bounds was for and about public schools, not all the contributors were public school pupils. Esmond involved two of his new London acquaintances, a pair of teenage working class communists, in writing for and distributing the magazine. Unfortunately, the Stanley brothers were something of a disappointment, as both turned out to be involved in criminal activities. The third issue of Out of Bounds carries the emphatic disclaimer: "We wish it to be known that neither S Stanley, our Distributing Manager, nor R Stanley, are any longer in any way connected with us".
Priced at a shilling an issue, Out of Bounds was expensive even for well-to-do pupils. Nevertheless, by the second issue it had an impressive print-run of 3,000 copies, and even carried some advertisements. Reflecting the centrality of reviews and reading to the magazine, most of the advertisements are for left-wing books and periodicals and radical bookshops, and the editors offer to supply "political books or pamphlets of any kind" that readers found it difficult to obtain.
At a time when print was the principal medium through which young people could engage with topical issues and prepare themselves for the responsibilities of adulthood, it is not surprising that the reviews cover a wide range of politically orientated topics and include books written for older readers. A young reviewer from Westminster School describes Memoirs of the Unemployed (1934) as "one of the most terrible indictments of the present form of society that it is possible to make", concluding, "members of the public schools can only make certain that they will not suffer the conditions depicted in this book if they join with the working classes to achieve a better society".
Other reviews endorse John Strachey's The Menace of Fascism, and two works specifically for young readers: the Young Communist League pamphlet Ten Points Against Fascism ("everyone interested in the fight against fascism should not only buy this pamphlet, but learn the contents by heart") and Geoffrey Trease's Bows Against the Barons (1934). Trease's book – which I touched on last week – found favour with the soon-to-be discredited R Stanley, who "wholeheartedly" recommended it as an enthralling study of England in the Middle Ages, that shows "that every uprising has an economic cause". But not all publications were so enthusiastically received. Predictably, The Greater Britain by Sir Oswald Mosley (1932) is derided for its "fallacious jargon", "untruthful economics" and "idiocy".
Reviews and advertisements sit alongside reports on such events as the 1933 Youth Congress in Paris – which was designed to help the current generation of young people avoid being drawn into a war that would not be of their making and that would benefit institutions, interest groups and individuals of whom they disapproved. Shortly after the fourth and last issue of Out of Bounds appeared in 1935, however, views about whether war could be legitimate took a marked turn in response to the spread of fascism in Europe. The Romilly brothers were just two of many young left-leaning activists who determined it was necessary to take up arms.
Although Out of Bounds was a brief episode in the lives of a generation of public school pupils, the process of producing the magazine was a defining moment for both its contributors and its readers. In the course of writing articles, reviewing books, advertising and reporting on peace rallies – as well as inventing ways to circulate their magazine – they helped call into being an idea of youth as resistant to authority. Many went on to become active members of left-wing political parties, overthrowing the conservative forces that had previously shaped their lives. Out of Bounds is a rare source in which we can hear the voices of young people growing up between the two world wars. Its agenda and impact, however, are of a piece with the tradition of radical publishing for children in the first half of the 20th century. And sadly, just as forgotten.
Kimberley Reynolds is professor of children's literature in the School of English Literature, Language and Linguistics at Newcastle University and author of 'Left Out: The Forgotten Tradition of Radical Publishing for Children in Britain, 1910-1949' (OUP, £35), to be published on Thursday
Join our new commenting forum
Join thought-provoking conversations, follow other Independent readers and see their replies