Summer reading: The debut novelists to know this year
From sprawling family sagas to witty workplace dramas, this clutch of first novels will grip, disturb and delight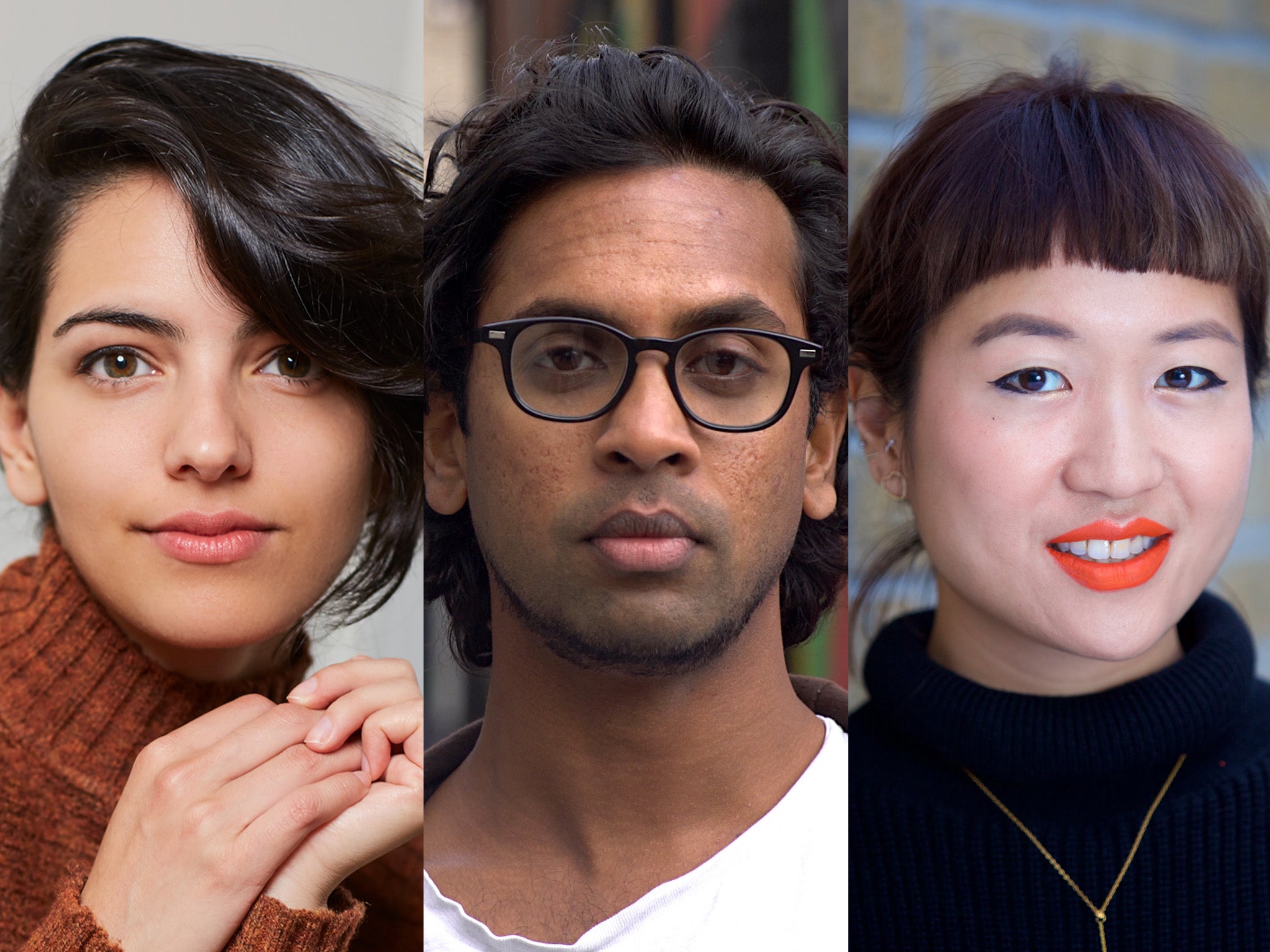 Summer is upon us and with it comes an abundance of exceptional novels and exciting new talent. From a seaside dystopia and a romance with a merman to gritty realism on a London estate and B-movie monsters in Singapore, we've picked out the best debut novels by writers to know coming out over the next few months. Good luck trying to cram all these into your suitcase.
Things Bright and Beautiful by Anbara Salam
Following her preacher husband to a remote island in the Pacific, Bea Harrison soon realises she's out of her depth. Advent Island is a place beyond her wildest imagination: filled with mosquitos, sweltering heat, and rumours of devil chasers who roam the island chasing evil spirits.
As the island becomes increasingly hostile and her husband becomes increasingly lost in a fever dream, Bea is left alone, trapped in the middle of the Pacific Ocean and fighting for her sanity. Things Bright and Beautiful is a claustrophobic compelling read that'll suck you into its heart of darkness.
Out now; £14.99, Fig Tree
Ponti by Sharlene Teo
Ponti is a startlingly poetic and impressive debut from Teo, who has already won Ian McEwan's stamp of approval.
It's 2003 in hot and humid Singapore and 16-year-old Szu is trapped. Her father is gone and her mother, Amisa, once the beautiful star of B-movie Ponti!, is lost in the past. Isolated at home and in school, things begin to turn around when Szu meets new girl Circe.
Spanning three women's lives and three generations, Ponti is a portrayal of how loneliness makes monsters of us all, as well as a love letter to Teo's home island.
Out now; £14.99, Picador
In Our Mad and Furious City by Guy Gunaratne
In Our Mad and Furious City is a 48-hour peek into life on a London estate. These are two unforgettable days for three friends: Selvon, an athlete who sees sport as his way out of the estate; Ardan, who uses music as escapism, and Yusuf, whose life is spiralling out of control after his father's death and the worryingly escalating radicalism of his mosque.
Dealing with questions about Britain's divided society and capturing the nuances of urban life, Gunaratne's novel is urgent, timely, and blistering. Think Zadie Smith meets This is England.
Out now; £12.99, Tinder Press
The Pisces by Melissa Broder
Now in the ninth year of writing her dissertation, and following a breakup, PhD student Lucy has hit rock-bottom. She heads to Venice Beach, California, to dog-sit in her sister's home. After meeting a handsome swimmer by the sea, Lucy falls into a deep, obsessive infatuation – but her object of desire might not be exactly what he first seems…
The Pisces is a frank, provocative, and brilliant debut that blends fantasy with realism as Broder examines just how unusual a shape love can take.
Published 3 May; £16.99, Bloomsbury
Darling by Rachel Edwards
Lola's dad is re-marrying and she's not happy about it. She doesn't want a stepmother and, not like Lola is racist or anything, but since when has her dad fancied black women anyway?
Darling isn't any happier about her new stepdaughter, but unfortunately she comes as part of the package along with her new husband. Looks like they'll have to get used to each other – unless somehow they can get rid of each other.
Darling is a darkly funny and modern take on literature's wicked stepmothers. Inspired by the racist abuse she was subjected to after the Brexit referendum, Rachel Edwards isn't pulling any punches.
Published 17 May; £12.99, 4th Estate
The Water Cure by Sophie Mackintosh
Set in a world very much like our own but one in which women are no longer safe in their bodies, The Water Cure is an eerie dystopian fiction about gender, power, and destruction.
Three sisters have been raised away from men and live alone by the sea with only their mother for company. However, when three men wash up on the shore, they bring the outside world with them.
Creepy and sexy in equal measure, The Water Cure is a hypnotic portrait of three young women wakening up to the world, desire, and the power of their bodies.
Published 24 May; £12.99, Hamish Hamilton
Promising Young Women by Caroline O'Donoghue
From The Pool's contributing editor comes Promising Young Women, a novel about what it means to be a young woman living and working in a man's world. Twentysomething Jane works in an office by day and is a world-weary agony aunt by night. After a drunken mistake at an office party, Jane finds herself playing the part of the Other Woman and discovers that sex and power can go hand in hand.
Dedicated to "women in offices, everywhere," Promising Young Women is a darkly funny novel with a gothic twist about surviving the workplace, modern feminism, and the power dynamics that come with relationships.
Published 7 June; £16.99, Virago
A Place For Us by Fatima Farheen Mirza
A Place for Us centres on an Indian Muslim family as they prepare for their eldest daughter's wedding. As Hadia's marriage brings the family back together, questions of how they fell apart in the first place are raised as the family walk a path between two worlds – one based on tradition, one embracing a more modern world.
Told with tender delicacy, A Place for Us is moving and joyful portrait of a modern family and growing up between two cultures, reconciling with the past, and identity as a lived experience.
Published 14 June; £12.99, Hogarth
Crudo by Olivia Laing
Olivia Laing has become a well established name in literary circles as a journalist and with her non-fiction books that have covered rivers, alcoholic authors and loneliness. She makes her fictional debut with Crudo.
Set in the summer of 2017, Crudo is about Kathy: a writer in her forties who's getting married and watching the world fall apart via Trump's Twitter. In Crudo, the personal is the political and the political is the personal, as Kathy's life changes alongside the world over the course of one summer. A witty and hopeful mediation on our turbulent times.
Published 28 June; £12.99, Picador
There There by Tommy Orange
With rapturous praise from Margaret Atwood and Man Booker winner Marlon James, Thommy Orange has been tipped as the next big thing to set the literary world alight.
Jacquie Red Feather and her sister Opal relied on each other during their childhood but as adults they grew apart. Newly sober, Jacquie decides to reconcile with the family and Native American culture she left behind. A bold and brash debut, There There weaves a portrait of a multigenerational community with different indigenous voices who are struggling to survive in contemporary America.
Published 5 July; £12.99, Harvill Secker
Suicide Club by Rachel Heng
In the future, innovations in medical technology have made the average life expectancy 300 years. But the quest for immortality comes at a price, and "lifers" have to work at it, with yoga, juicing and early nights.
Lea is one of the "lifers," genetically perfect and one hundred years old. But when a brush with near-death makes her question her immortality, Lea discovers the Suicide Club, a group of similarly disillusioned "lifers" who seek out unhealthy activities.
Suicide Club is an original and subversive exploration of health obsessions, consumptions, and what makes life worth living.
Published 10 July; £12.99, Sceptre
How Are You Going to Save Yourself by JM Holmes
A blistering debut, How Are You Going to Save Yourself is about modern American life for four friends who live in the city of Pawtucket. As Rye, Dub, Rolls and G grow up, societal expectations and family pressures take their toll and the once indestructible bonds between the friends begin to loosen.
Hilarious and compelling, Holmes offers up a mirror to contemporary society. How Are You Going to Save Yourself is a compassionate and powerful exploration of how race, friendship, and sex intersect and the real-world consequences of stereotypes.
Published 9 August; £14.99, Sceptre
Join our commenting forum
Join thought-provoking conversations, follow other Independent readers and see their replies