Terry Pratchett: 'What keeps me going is the fight'
Terry Pratchett, beloved creator of the Discworld fantasy series, hasn't let the diagnosis of a rare form of Alzheimer's slow him down. He talks to Arifa Akbar about his newest novel and his plans for the future.
Arifa Akbar
Friday 12 October 2012 00:20 Comments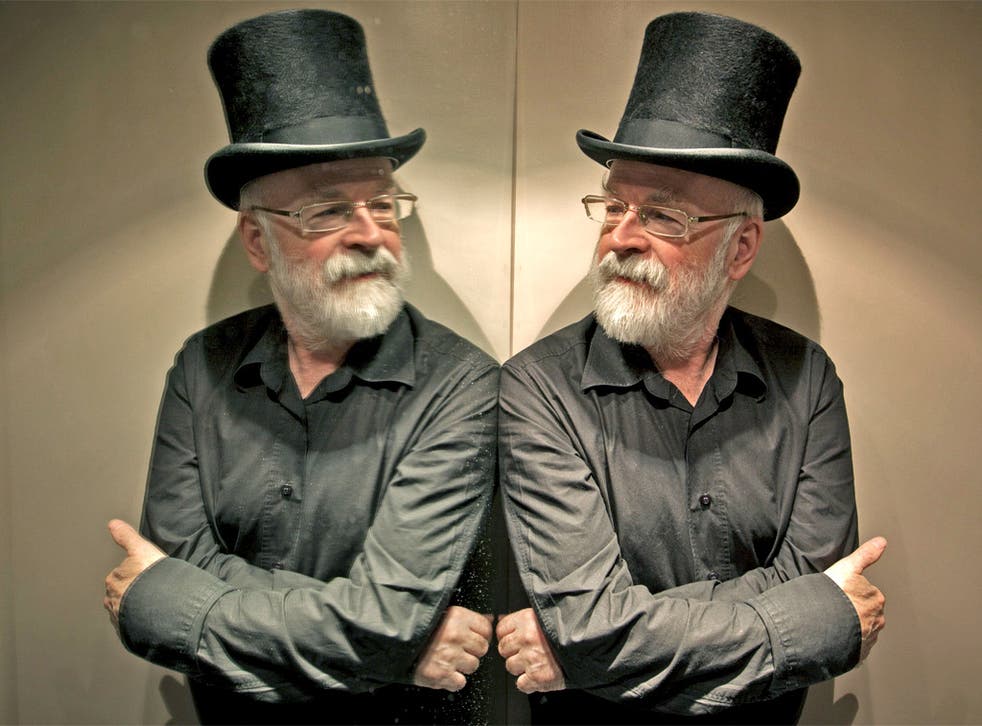 Terry Pratchett is sitting in a central London hotel-room, looking like a petite, pointy-bearded wizard.
He begins haltingly, with a gentle frost around his words. Then, as he warms up with stories about the seamier side of Victorian life (the subject of his latest novel for young adults, Dodger) and the constantly delayed endeavour to write his memoir (working title: A Life in Footnotes), he undergoes an almost physical transformation. By the time he's recalling his entry into SF as a boy (via a porn shop run by an old dear), and reflecting on his prolific output in spite of being diagnosed with a rare form of Alzheimer's (a career spanning set of short stories, A Blink of the Screen, was released weeks after Dodger), he appears positively youthful: sharp, wry, glinty-eyed, mischievously tricksy.
Fantasy clearly makes him tick. Reading, writing, and talking about it. He has been imagining richly comic, SF universes for the past four decades, namely in the Discworld series of novels, for which he has created his own lexicon, but also a host of children's books and collaborations with Neil Gaiman and Stephen Baxter. To date, 50 of them have been bestsellers, some adapted to stage and screen, others winning him awards including the Carnegie medal and a readership in excess of 80m.
Fantasy was a very early calling. It's what took him to the porn shop, aged 12, in Beaconsfield, Buckinghamshire, even if, at that time, fantasy and SF was obscure sub-genres. "Any shop that sold it was in the big cities, but even then, they were found in the same area as porn," he says.
"In High Wickham, there was a little shed which was a library run by a very nice old lady in a black dress who served you cups of teas, and who had a collection of eye-watering porn. She would have it all behind a pair of beaded curtains. I would go in there for the fantasy and I'd see that the gentlemen in the raincoats in the upper levels of the shop were somewhat pink. She had masses of wonderful, second-hand British and American SF and fantasy. I was in secondary school, and I remember thinking around all this porn, 'This is a Harry Harrison [SF author] that I've never seen before'. It's the nerdist gene.
"The old lady quite liked me as her 'kosher' customer so she'd keep stuff on the side for me. One day I was in there by myself, going through the box of books she'd kept for me, when a plain-clothes policeman walked in. He pointed to me with hostility and said 'What is he doing here?' I will never forget her face. She picked up a copy of Robert A Heinlein's 'Stranger in a Strange Land' and said 'Evil be to him who evil thinks'. The man grumbled and went."
This anecdote, with all its Benny Hill-cum-SF comedy, is a teaser from the half-written memoir. Latterly, he has turned history – Victorian England – into an alternate SF universe. Dodger, an adventure fantasy inspired by the Charles Dickens' character, Artful Dodger, sees its central character travelling through London's sewers and squalid side streets, encountering not just an underclass struggling to survive, but also Henry Mayhew, Disraeli and "Charlie" (Dickens) along the way.
"Dodger is a fantasy based on a reality. This is a historical fantasy, and certainly not a historical novel," he writes in his author's acknowledgement. His extensive research into the weird and wacky side of this historical period has even fed into Discworld. "I had been researching old London for a long time because it's also really useful for Discworld. There you also have a very grotty but also very powerful city."
It is timely, I note, for Dodger to be published during Dickens' bicentenary celebrations. Well, the idea came long before the powers-that-be decided to celebrate Dickens, he says. Anyway, adulteration, rather than adaptation, seems to be what he was after. What does he think of the many adaptations of Dickens' novels –Great Expectations is the latest in a long line. "I would not go into battle with this one but I don't see why you need to do it… Dickens wrote some very good books. I don't see why they should be re-written [for adaptations]."
Five years ago, Pratchett, who has been married to his wife Lyn for 44 years, announced that he was suffering from posterior cortical atrophy, an atypical variant of Alzheimer's disease. Since then, he has become an eloquent campaigner, making a hugely moving BAFTA-winning film on assisted dying, and donating substantial sums to Alzheimer's research. "What keeps me going is the fight. My mum was always up for a fight. The fight keeps you alive, fills you up with fire…It hasn't dropped, the writing. I can't conceive of a time of not having a work in progress," he says.
Are there any signs of it? There is a tiny tremor to his handshake, and he searches for the odd word but there is little sinister in this, coming from a 64-year-old. He concurs. "If you didn't know, you wouldn't know." For now, he is largely battling old age. "You start to get creeky. Bits fall off."
He has always had many books on the go, but his diary is bursting right now. Perhaps it is the 'fight' that has led him to take on the workload, in defiance of the diagnosis and its ensuring physical decline. This year, he has been remarkably prolific, even by his standards, co-writing The Long Earth with Baxter earlier this year alongside the recent work. The last, hugely successful Discworld novel, Snuff, came out last year and he is mid-way to finishing the next one now. After that, he wants to write a possible sequel to Dodger (in which George Cayley, the pre-eminent Victorian engineer, and Charles Darwin, will appear)and get round to finishing the autobiography.
Despite the large body of work, the OBE and all the other accolades, Pratchett's fans have often expressed outrage at the 'outcaster status' that his genre-writing is designated by the literary establishment. Does he feel stung that he hasn't ever been nominated for the Man Booker prize?
"No, it doesn't annoy me. People put it on me that I should want it [the Booker]. When I started out, the chances of making a living by writing was nigh on impossible. Most writers still have other jobs. I thought, 'OK, go in for journalism. See what happens'. So to be able to make a living out of writing is a benison".
It was years of journalism, for the Bucks Free Press, that instilled in him the discipline that is still coming in handy now – perhaps more so since his inability to type out his manuscripts. Nowadays, he uses the computer program, Talking Point, which requires speaking his stories out loud. He is not a precious writer who needs, as he puts it drolly, "his special pencil" to be able to tell a good story, and so the change in work practise has failed to throw him.
It is quicker, and perhaps more fluent, than screwing pages up and starting again, he reflects. He has even taught Talking Point the necessary Discworld vocabulary. "As a journalist, sometimes you're writing your copy against a wall. What is it you are ultimately doing? You're telling a story. How do you tell it? You use your mouth. The way I'm doing it now, I almost conduct it - I sort of wave my hand. It is actually faster and more sensible than typing."
An hour and a half has shot by and I haven't even got half way through asking him what I ought to, for all of Pratchett's nimble conversational zig-zagging. "I played you like a harp," he says with a mischievous glint. He's right. His has been a stealthy act of sabotage - and immensely good fun.
Terry Pratchett's 'Dodger', and the short story collection, 'A Blink of the Screen', are published by Doubleday
Register for free to continue reading
Registration is a free and easy way to support our truly independent journalism
By registering, you will also enjoy limited access to Premium articles, exclusive newsletters, commenting, and virtual events with our leading journalists
Already have an account? sign in
Join our new commenting forum
Join thought-provoking conversations, follow other Independent readers and see their replies