Christmas 2015: The best 7 graphic novels
Here are some of 2015's finest books to fire the imagination, engage the grey matter and invigorate the spirit over the festive period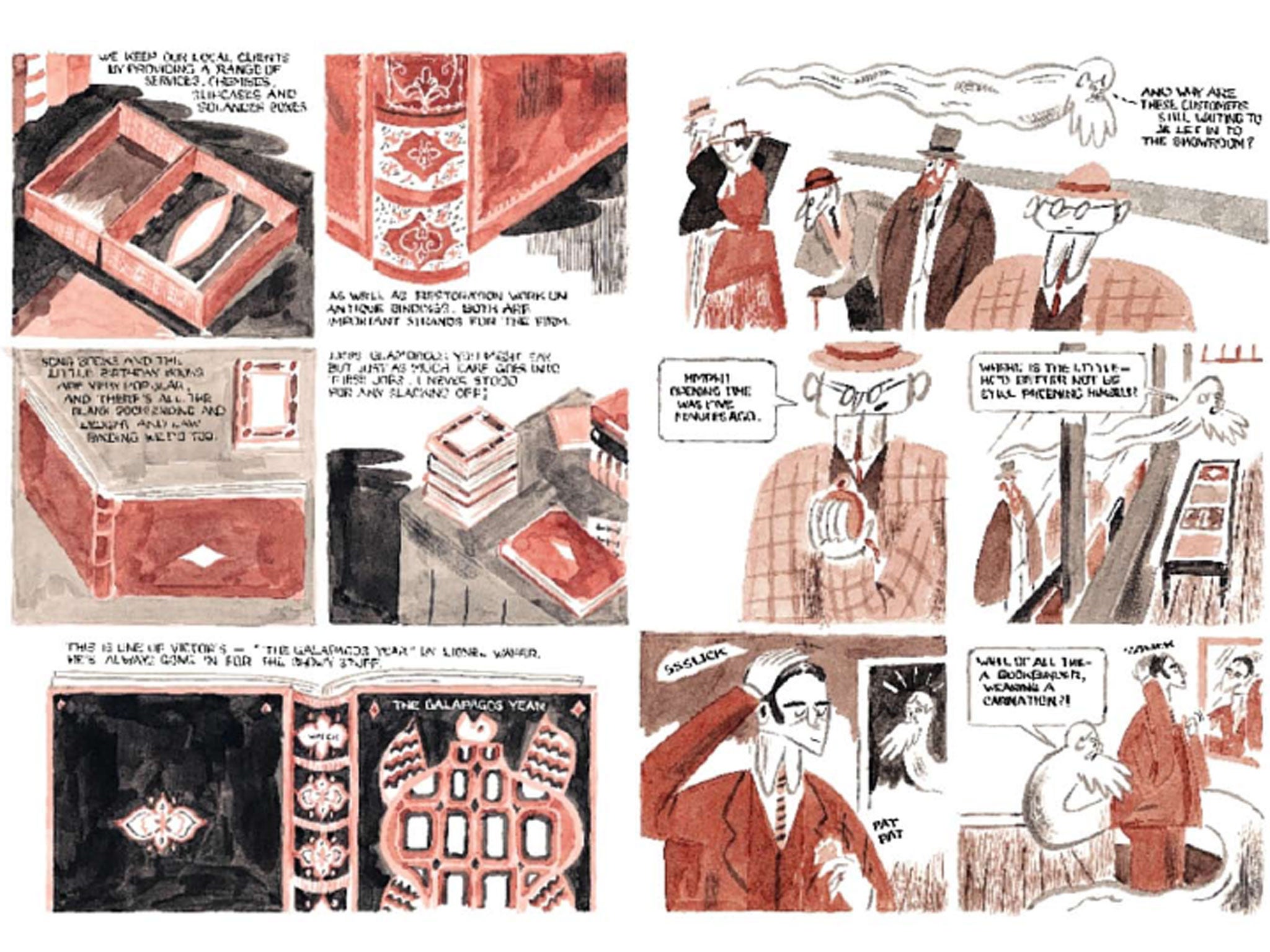 Nick Sousanis's Unflattening (Harvard, £16.95) started life as the author's Columbia University PhD thesis. Entirely non-narrative, the book takes on the dichotomy between words and images in Western thought and argues that both are simultaneously involved in the production of meaning. Executed in sharp black-and-white diagrams, and abstract and geometric images, this scintillatingly intelligent book succeeds in the great feat of holding the reader's attention not through a story but through ideas. Sousanis's own book is the perfect illustration of the inextricability of the verbal and the visual. Unlike Unflattening, William Goldsmith's second graphic novel, The Bind (Cape, £20), tells a story, and one that keeps wrongfooting the reader through its corkscrew turns. Set in a Victorian bookbindery called Egret, it's the story of two brothers, Guy and Victor, whose rivalry ruins the company their hardworking father had founded. The disastrous events are overseen by the ghost of the father, who is powerless to intervene, while the low-contrast colour palette, heavy in browns and oranges and greys, gives it the visual feel of a book of early photographs.
Culture news in pictures
Show all 33
At a time when vilification of the Left is pervasive, and corporate-led capitalism seems to have triumphed resoundingly, squeezing out any space to think about better alternatives, it is good, and necessary, to have Kate Evans's Red Rosa (Verso, £9.99), a graphic biography of Rosa Luxemburg, Polish-German socialist and Marxist ideologue and founder of the 'Spartacus League', which was to become the Communist Party of Germany. She was shot to death by the Freikorps in 1919. It's a beautifully drawn and lettered work, and so impassioned and heartfelt that it often brings to mind Margarethe von Trotta's great biopic, from 1986, of this revolutionary woman.
The six stories that comprise Adrian Tomine's latest, Killing & Dying (Faber, £14.99), should leave no one in any doubt that this witty, eagle-eyed, merciless yet deeply compassionate Californian graphic novelist has matured into the Alice Munro of the form. The desolation at the end of a love-story featuring a recovering alcoholic and an abusive older man, or the intense pathos that suffuses a story of a father's uneasy attempt to show support for his stammering daughter who wants to be a stand-up comic - Tomine invests each of these stories with infinite understanding and depth. He can break your heart and make you laugh within a single panel.
Another literary graphic novel this year is Everything Is Teeth (Cape, £16.99), a childhood memoir written by the much-lauded young novelist, Evie Wyld, and beguilingly illustrated by Joe Sumner. What begins as a story of an early obsession with sharks, developed during annual Christmas visits to her uncle's home in New South Wales, becomes a deeply affecting book on a tender father-daughter relationship and, of course, that great underpinning of all memoirs, time. It is lyrically written and Sumner's imaginative, restrained artwork complements Wyld's restrained style beautifully. Literary and painterly, too, is David Hughes's The Pillbox (Cape, £18.99), which takes that British cultural cornerstone, the seaside holiday, and hews of it something shocking and painful. Revisiting the generic conventions of the ghost story, Hughes' stunningly drawn book makes the past and present nestle in original and uncomfortable ways. Eleven-year-old Jack stumbles upon a WW2-era pillbox buried under the sand and a boy called Bill. From this point the story moves in unexpected directions which should be left to the reader to discover.
He is unquestionably the Gillray of our times, wielding his savage axe on the political establishment with wild glee and irreverence. The publication of Steve Bell's If … The Graphic Novel (Cape, £18.99), the Guardian cartoonist's book-length compilation of the strips he produced to target the five years of the coalition government, is something to sing and shout about. David Cameron, the giant condom, riding bondage master George Osborne, exulting at yet another of the Chancellor's 'eyewatering economic initiatives', 'private roads for the horseless' - truthful or truthful?
Join our commenting forum
Join thought-provoking conversations, follow other Independent readers and see their replies