The Book List: US Light House Establishment Library Box 141
Every Wednesday, Alex Johnson delves into a unique collection of titles
Alex Johnson
Tuesday 10 July 2018 13:33 Comments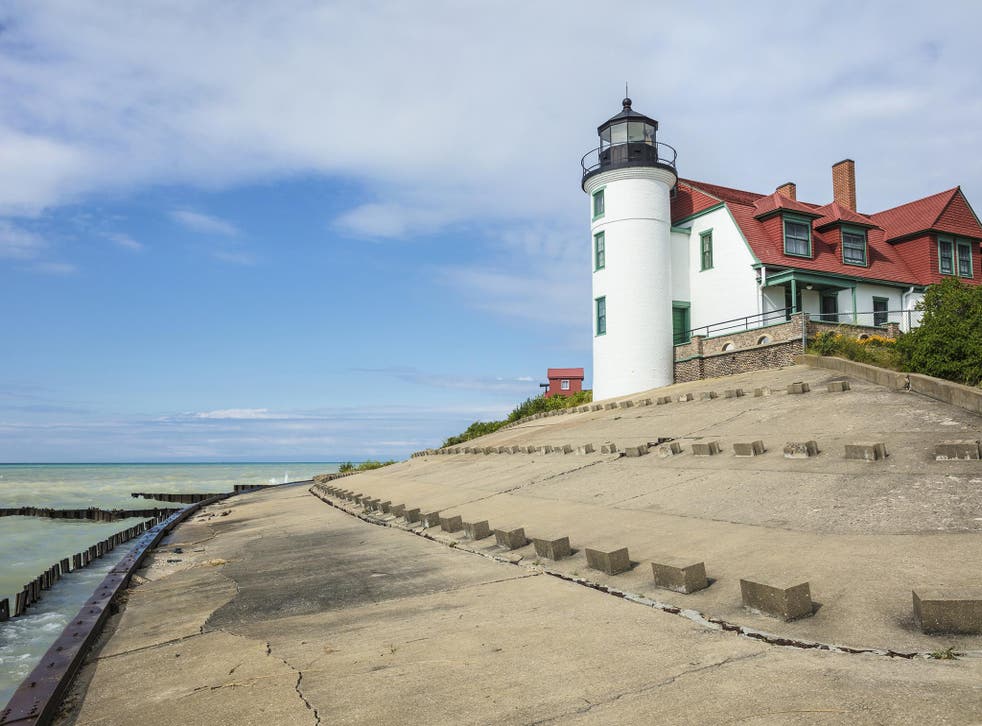 The Reflections of a Lonely Man by ACM
Pictures Every Child Should Know: A Selection of the World's Art Masterpieces for Young People by Dolores Bacon
Farm Festivals by Will Carleton
Farm Ballads by Will Carleton
Farm Legends by Will Carleton
City Festivals by Will Carleton
My Apingi Kingdom: With Life in the Great Sahara, and Sketches of the Chase by Paul Belloni du Chaillu
The Pilot: A Tale of the Sea by James Fenimore Cooper
Sailors' Knots by Cyrus Lawrence Day
Tuscan Republics by Bella Duffy
Madame Therese by Emile Erckmann and Alexandre Chatrian
Hoosier Lyrics by Eugene Field
British India by Robert Watson Frazer
Mosses from an Old Manse by Nathaniel Hawthorne
The Professor at the Breakfast-Table by Oliver Wendell Holmes Sr
A Moral Antipathy by Oliver Wendell Holmes
Toilers of the Sea by Victor Hugo
The Little Colonel's Holidays by Annie Fellows Johnston
The Phantom Rickshaw and Other Tales by Rudyard Kipling
The Navy in the Civil War Volume XVI (The Gulf and Inland Waters) by AT Mahan
Reveries of a Bachelor or A Book of the Heart by Donald Grant Mitchell
Voyage with Columbus: A Story of Two Boys Who Sailed with the Great Admiral in 1492 by Frederick Ober
An Adventure of the North by Gilbert Parker
Cromwell's Own by Arthur Patterson
Quincy Adams Sawyer by Charles Felton Pidgin
Driven from Sea to Sea: Or, Just a Campin' by Charles Cyrel Post
Century Readings for a Course in English Literature edited by JF Pyre, Karl Young and JW Cunliffe
Works of James Whitcomb Riley
​The Magnetic North by Elizabeth Robins
Wonders of Nature; Described By Great Writers (including Victor Hugo, Charles Dickens, John Keats, William Makepeace Thackeray, Hans Christian Andersen) edited by Esther Singleton
Lighthouse keepers and their families in the 19th century needed something to combat the boredom of their isolated working and living conditions.
From the late 1870s, a network of portable libraries grew up. These were sturdy wooden cases that contained up to 60 books and magazines on several shelves and were passed between lighthouses around the United States.
Each case had a list of contents and details about which lighthouses it had visited, and for how long, stuck to the inside of the doors.
Number 739, for example, made its maiden voyage in 1898 to Eagle Bluff lighthouse in Door County, Wisconsin, then took in numerous other locations including Wind Point, Waugoshance, and Cana Island, and finally came to rest at Point Betsie, Michigan in 1912.
The libraries were stocked thanks to donations from private individuals and groups such as the religious organisation the American Seamen's Friend Society.
At its peak, the highly popular service provided hundreds of these portable libraries. The list above is a typical selection, now on permanent display in the Piedras Blancas lighthouse in San Simeon.
It features quite an eclectic range of titles, from tear-jerking Victorian melodrama (Quincy Adams Sawyer, The Little Colonel's Holidays), to more heavyweight fare (Madame Therese is set during the French Revolution and focuses on the concepts of justice and equality).
Poetry is represented by regional dialect specialists Whitcomb Riley (Little Orphant Annie) and Eugene Field (Wynken, Blynken, and Nod) as well as the work of Will Carleton, whose subject choice and approach resembles that of Robert Burns.
Unsurprisingly, there are various titles that will strike a chord with workers in remote locations. Reveries of a Bachelor – one of Emily Dickinson's favourite books – is a series of musings about life, marriage, dreams and travel.
This library is also heavy on adventure (The Magnetic North charts the search for a missing brother in Alaska), especially with a seafaring theme – Fenimore Cooper's The Pilot was responsible for unleashing a stream of maritime fiction.
In terms of non-fiction, there is also plenty to digest, such as My Apingi Kingdom, a classic study of African wildlife, culture and tribes in the mid-1800s.
'A Book of Book Lists' by Alex Johnson, £7.99, British Library Publishing
Register for free to continue reading
Registration is a free and easy way to support our truly independent journalism
By registering, you will also enjoy limited access to Premium articles, exclusive newsletters, commenting, and virtual events with our leading journalists
Already have an account? sign in
Join our new commenting forum
Join thought-provoking conversations, follow other Independent readers and see their replies