The Guest List 2014: Forget the Man Booker longlist, Literary Editor Katy Guest offers her alternative picks
'The Independent on Sunday's' best books of the year, from the snazziest title to the Irish novel most guaranteed to make you cry
Katy Guest
Saturday 26 July 2014 21:26 Comments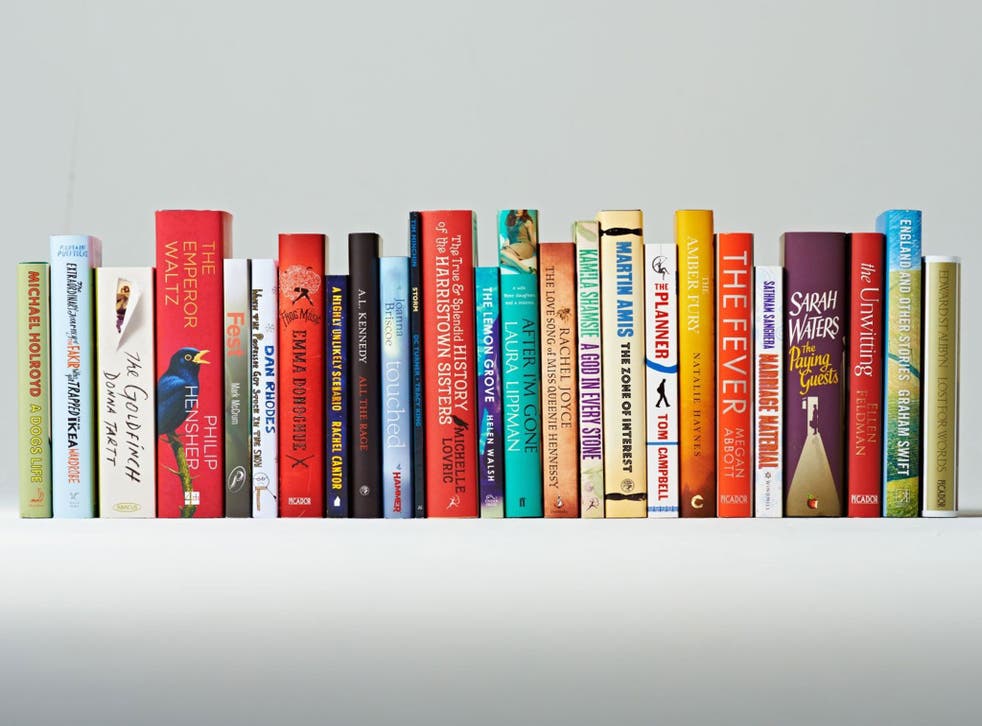 The award for the most American writer we can find, to show that we're, like, totally embracing the new rule allowing Americans into the Man Booker Prize
There are more Americans on the Man Booker longlist this year than women – including the always memorable Joshua Ferris, with To Rise Again at a Decent Hour (Viking).
If only Chimamanda Ngozi Adichie's brilliant exploration of race in America, Americanah, had been published this year, she'd have been a sure thing. Ellen Feldman is a strangely overlooked author who never holds back in showing the country's uglier side. The Unwitting (Picador), set in McCarthy-era America, fleshes out E M Forster's theory: "If I had to choose between betraying my country and betraying my friend, I hope I should have the guts to betray my country."
The award for a snazzy title that book clubs will love if only they can remember it
I am thrilled that Karen Joy Fowler's We Are All Completely Beside Ourselves (Serpent's Tail) has been spotted by the Man Booker judges, because I've been banging on about it all year. The more people who read it the better, because then we can all discuss it without spoiling the early "twist".
Other elaborately titled novels include A Highly Unlikely Scenario: Or, a Neetsa Pizza Employee's Guide to Saving the World, by Rachel Cantor (Melville House) – "A dazzling debut in the spirit of A Hitchhiker's Guide to the Galaxy and Super Sad True Love Story which fuses futuristic sci-fi with ancient mysticism"; and The Extraordinary Journey of the Fakir Who Got Stuck in an Ikea Wardrobe by Romain Puertolas (Harvill Secker).
The "You Saw Them Here First" award for Independent columnists and other writers you've read in The Independent on Sunday books pages
We're glad to see that the new rule about Americans doesn't replace the old rule that there must be an Independent writer on the longlist. This year, it is Howard Jacobson, for J (Jonathan Cape).
They're all at it, though. Philip Hensher's The Emperor Waltz (Fourth Estate) is a surprising omission from the longlist. 2013 Booker judge and Indy columnist Natalie Haynes has written a corker about Greek myth and murder in Edinburgh, The Amber Fury (Corvus). Other authors you'll have seen writing in these pages include Joanna Briscoe (the creepy Touched, Hammer) and Helen Walsh (the steamy The Lemon Grove, Headline).
The up yours award for ignoring big publishers and doing it yourself
Paul Kingsnorth's The Wake (Unbound) is the first Booker contender to be crowd-funded. Dan Rhodes didn't even wait for that. His completely fictional novel about a made-up character called Professor Dawkins, When the Professor Got Stuck in the Snow (formerly available, and maybe one day available again, through danrhodes.wordpress.com), was self-published, printed and distributed from his kitchen. Possibly the funniest book of 2014.
The Margaret Atwood award for sneaking genre fiction on to the shelves of the Booker-buying public
David Mitchell has been playing around the edges of genre fiction for years, but his latest longlisted title, The Bone Clocks (Sceptre), dives right in. He even has one character – a literary author – chastised by his agent for submitting a (shudder) fantasy novel!
Far be it from me to lead you to fantasy. But this year, at least two genre novels are among the literary novels of the year: crime fiction After I'm Gone, by Laura Lippman (Faber) and the sci-fi-esque The Fever by Megan Abbott (Picador).
The Relate award for making people think twice about marriage
Famous for the love story One Day, David Nicholls has been longlisted for Us (Hodder & Stoughton), about a middle-aged man trying to save his marriage.
As a caution about getting married thoughtlessly, I also loved Sathnam Sanghera's Marriage Material (Heinemann), a sort of 21st-century updating of Arnold Bennett's The Old Wives' Tale starring a Sikh family in the Midlands, and Mr Loverman by Bernadine Evaristo (Hamish Hamilton), which has one of the best characters of the year: 74-year-old Barrington Jedediah Walker, 50 years married to Carmel and in love with his best friend Morris.
The oh my God they're brilliant at every sort of writing award (but not everybody has abandoned short stories for Booker glory)
Hurray for the short-storyist, non-fiction writer and playwright Ali Smith being longlisted for her novel How to be Both (Hamish Hamilton)!
Graham Swift won the Booker in 1996 with Last Orders but recently returned to his first love, short stories, with huge success in the gorgeous England and Other Stories (Simon & Schuster).
One of 1996's judges was A L Kennedy, who recently published a heart-breaking and delicious collection, All the Rage (Jonathan Cape). Also look out for the book version of the beat poem "Storm" by the multi-talented Tim Minchin in October (Titan).
The Salman Rushdie award for the best novel about everyday people affected by political events in the Indian subcontinent
The Independent's review of Neel Mukherjee's The Lives of Others (Chatto & Windus) admired it for challenging middle-class reading tastes, "in particular the enduring love of post-Colonial English readers for Indian novels which charm rather than confront".
Though undoubtedly charming, Kamila Shamsie's A God in Every Stone (Bloomsbury) is similarly shocking, beginning in 1914 with a young Pathan man in the British army, and a young English woman in Turkey, and taking in love, war and archaeology.
The Anne Enright award for the Irish novel most guaranteed to make you cry
Niall Williams wins this year's award on the strength of his title alone. History of the Rain (Bloomsbury) is described as a "rain-sodden history of 14 acres of the worst farming land in Ireland" but inevitably, given its author, it is suffused with warmth and humour.
As is The True and Splendid History of the Harristown Sisters, by Michelle Lovric (Bloomsbury), about seven Irish sisters in the mid-1800s, all of whom have extravagant, Pre-Raphaelite hair …
The best novel featuring a dog now that Kate Atkinson's book jackets have all been redesigned so they don't have off-putting big ugly dogs on the covers any more
His last book, Netherland, was strangely described as "too good for the Booker", so maybe Joseph O'Neill's The Dog (Fourth Estate) will prove just good enough.
Meanwhile, anything by Michael Holroyd is always a treat. A Dog's Life (MacLehose Press), about an eccentric family patriarch, was written in the 1950s but pulled from UK publication when Holroyd's father threatened to sue …
The best book about a world war in a year full of really predictable world war anniversary books
In The Independent in April, Alex Wheatle chose Richard Flanagan's The Narrow Road to the Deep North, set in a Japanese PoW camp on the Burma "Death Railway" (Chatto & Windus), as the book he most wishes he could send a prisoner, "because it's life changing".
Martin Amis has also dared to go there with the first person account of Nazi concentration camp guards, The Zone of Interest (Cape), published in August – his best novel for ages. He and Sarah Waters would have come as no surprise had they appeared on the long list. Waters's The Paying Guests (Virago) is set in a post-First World War household, denuded of men and forced to take in lodgers.
The 'middle-aged man on a road trip' novel of the year
With a 70-year-old avant-garde composer and amateur microbiologist as its unlikely hero, Richard Powers's Orfeo (Atlantic) is a worthy contender.
There hasn't been an Unlikely Pilgrimage of Harold Fry this year (though Rachel Joyce's sort-of follow-up, The Love Song of Miss Queenie Hennessy, is published in October by Doubleday), so how about a Thelma & Louise for a new generation, Frog Music by Emma Donoghue (Picador): two women, the wild west and a weird baby – it's hard to put down. For another unlikely hero, try The Planner by Tom Campbell (Bloomsbury).
The "look how self-aware we are" award for a novel that best pokes fun at the art or literary world
It's a relief that Siri Hustvedt's The Blazing World (Sceptre), a clever story about an unsuccessful female artist who disguises herself as three men, has made the longlist under the author's real identity …
This has been quite the year for thinly disguised literary romans-à-clef, with Mark McCrum's Fest (Prospero Press) causing gossip in literary festival circles, while Edward St Aubyn's Lost for Words (Picador) rather boldly satirised the Man Booker judging process. For more from the art world, however, do read Donna Tartt's The Goldfinch (Abacus), which many assumed would be a shoo-in for this year's Man Booker. Perhaps the Americans won't necessarily walk it, after all.
Register for free to continue reading
Registration is a free and easy way to support our truly independent journalism
By registering, you will also enjoy limited access to Premium articles, exclusive newsletters, commenting, and virtual events with our leading journalists
Already have an account? sign in
Join our new commenting forum
Join thought-provoking conversations, follow other Independent readers and see their replies