The Guest List: An alternative to the Booker longlist
Not quite satisfied with the Booker longlist announced last week? The Independent on Sunday's Literary Editor comes up with her alternative selection of must-read novels for the summer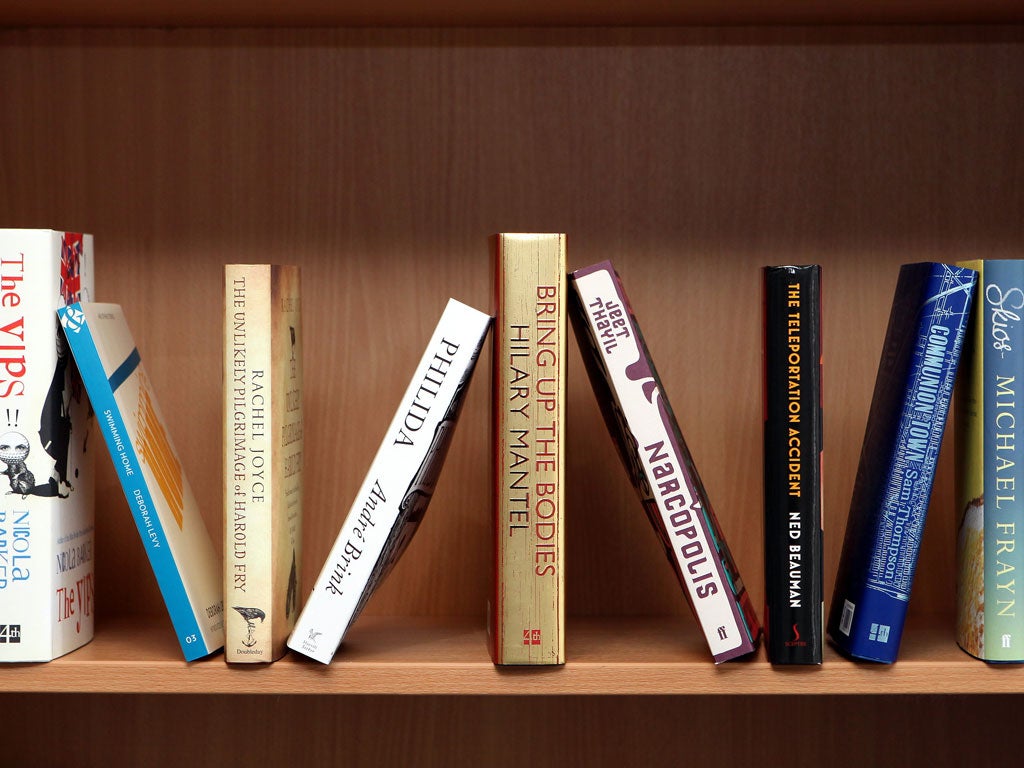 'The Yips', by Nicola Barker (Fourth Estate)
The third Booker-longlisted novel by Barker refers to an ageing golfer, reduced to eking out his fame in a late night bar. A similar tale of the angst of the fading sportsman is told in Rodge Glass's Bring Me the Head of Ryan Giggs: the bitter and hilarious story of a Manchester United drop-out. Given the timing, however, Chris Cleave's Gold is a more appropriate story of Olympic cycling success. Sporting refuseniks, try Philip Hensher's Scenes from Early Life – the fictionalised story of a real life boy, growing up during the creation of Bangladesh. With no running.
'The Teleportation Accident', by Ned Beauman (Sceptre)
Described by The IoS's reviewer as an "ingenious work of fiction joining the dots between Nazism, sci-fi, espionage, sex, politics, art and quantum physics", it was compared to Jake Arnott's brilliant The House of Rumour, which, by an amazing literary coincidence, could be described in much the same terms. Beauman acknowledges the influence of Jennifer Egan's 2011 novel A Visit from the Goon Squad, so fans should look out for her ebook-only Black Box, published on 6 September. Beauman has also been compared to Stuart Evers, whose If This Is Home was published this month.
'Philida', by André Brink (Harvill Secker)
Set in 1832 South Africa, Philida describes what happens when its heroine takes a stand against her master. Ripples of the story have run through several novels this year: Kate Grenville's Sarah Thornhill traces an innocent love affair across a backdrop of racial tension and murder in 19th-century Australia; Toni Morrison follows a soldier, back home in racist America just after the Korean war, in Home; and Attica Locke's The Cutting Season, published on 6 September, finds a 21st-century woman living in an old plantation house in Louisiana.
'The Garden of Evening Mists', by Tan Twan Eng (Myrmidon Books)
The second novel by the already Booker-longlisted Tan is set in 1950s Malaya. For more novels named after times of the day and starring strong-willed women at turning points in history, try Susannah Jones's When Nights Were Cold – for Edwardian derring-do, female friendship gone wrong, and mountaineering – and The Daylight Gate by Jeanette Winterson, published on 16 August, which takes the 1612 Pendle Witch Trials as the starting point for a sinister story about religion and obsession.
'Skios', by Michael Frayn (Faber & Faber)
Michael Frayn's comedy about Brits abroad "has all the bottom-slapping subtlety of 'Allo 'Allo, and yet Frayn's keen ear for dialogue and acute understanding of twisted internal reasoning pulls it back from the end of the pier", wrote The IoS's reviewer. Equally disastrous as a template for a peaceful family holiday is Mark Haddon's The Red House – a subtle and gripping novel about what happens when two dysfunctional families get together for a wet week in Wales. David Parks's The Light of Amsterdam is more optimistic about how time away from home can heal relationships, while Joanne Harris's Peaches for Monsieur le Curé will again make readers yearn for the fictional village of Lansquenet-sous-Tannes as it continues the adventures of Chocolat's Vianne Rocher.
'The Unlikely Pilgrimage of Harold Fry', by Rachel Joyce (Doubleday)
A man leaves home to post a letter and finds himself on a spontaneous pilgrimage. It sounds somewhat like the plot of The Hundred Year-Old Man Who Climbed out of the Window and Disappeared – a novel by Jonas Jonasson that does exactly what it does on the cover. The story of Allan Karlsson, who escapes his old people's home and takes us on a glorious tour of the 20th century, was already a bestseller in Europe before it was published here this month. Fans of the format are probably already familiar with Peter Benson and his crazy adventure Two Cows and Vanful of Smoke, so look out for his new novel Isabel's Skin on 30 August.
'Swimming Home', by Deborah Levy (And Other Stories)
Another novel that's probably not best read before a holiday, the latest by Levy is a taut story about depression's effect on a group of tourists in the French Riviera. For light relief before a trip to France you might prefer Dan Rhodes's This Is Life – a deliciously quirky story which unfolds after a young art student in Paris throws a stone and hits a baby. For total French immersion, try Thérèse and Isabelle by Violette Leduc, about an affair between two teenage girls at a French boarding school. A cheat this one, as it was first published in 1954, but the first uncensored, unabridged version in English was published in February.
'Bring Up the Bodies', by Hilary Mantel (Fourth Estate)
The even more wonderful sequel to the 2009 Man Booker-winning Wolf Hall, the second in Mantel's trilogy traces the Anne Boleyn period of Henry VIII's reign. This has been a good year for historical fiction, with Stella Duffy's The Purple Shroud, the sequel to her popular Theodora: Actress, Empress, Whore, picking up the story of the empress of Rome, and Madeline Miller's Orange Prize-winning The Song of Achilles making explicit the love affair between the Greek hero and his companion Patroclus – with some of the sexiest fictional sex of the year. Philippa Gregory's The Kingmaker's Daughters and Alison Weir's A Dangerous Inheritance are as compelling as fans will expect.
'The Lighthouse', by Alison Moore (Salt)
Another Damascene holiday experience, as a man on a week-long trip along the Rhine looks back on his abandonment by his mother. A haunting and accomplished novel, but also a good excuse to mention that Virginia Woolf's novels (including To the Lighthouse) have recently been brought out in neat ebook form, and that Ancient Light would have been another worthy Man Booker contender for once-shortlisted and once-winner John Banville. Among this year's best newcomers was Charlotte Rogan's The Lifeboat, about a group of survivors of a shipping disaster.
'Umbrella', by Will Self (Bloomsbury)
Amazingly, Self has been shortlisted three times for the Bad Sex in Fiction Award but, at least until now, not once for the Man Booker Prize. His Awakenings-style tale of a maverick psychiatrist may at last put that right. Strange healing powers were also a part of Benjamin Wood's The Bellwether Revivals, a disturbing tale in which a young man aims to cure the sick with music. Craig Raine's The Divine Comedy may take Self's place on the Bad Sex shortlist, with its breathtakingly poetic and explicit images of body parts.
'Narcopolis', by Jeet Thayil (Faber & Faber)
"A city in collision with itself" is portrayed in the first novel by the Indian poet, novelist, librettist and musician Thayil. Modern India is also the subject of Kishwar Desai's heartrending Origins of Love, about the surrogacy industry there. One story from the immense historical background to these stories is told in Alison McQueen's The Secret Children, set in Assam in 1925.
'Communion Town', by Sam Thompson (Fourth Estate)
Like Beauman's novel, this has been compared to David Mitchell's Ghostwritten. The other top 2012 novels about human settlements of various sizes, then, are The Fall of the Stone City (published on 30 August) by the Man Booker International Prize-winning author Ismael Kadare, and The Village, by Nikita Lalwani, which is set in an open prison in India. Finally, for an old-fashioned English novel by a writer at the top of her game, and just because, read How It All Began, by Penelope Lively – one of the most satisfying novels in a very good year.
Join our commenting forum
Join thought-provoking conversations, follow other Independent readers and see their replies