The lives of others: Heather Brooke's new book opens up further fronts in the war to set information free
Brooke's long fight to reveal parliamentary expenses led to a revolution in British political life.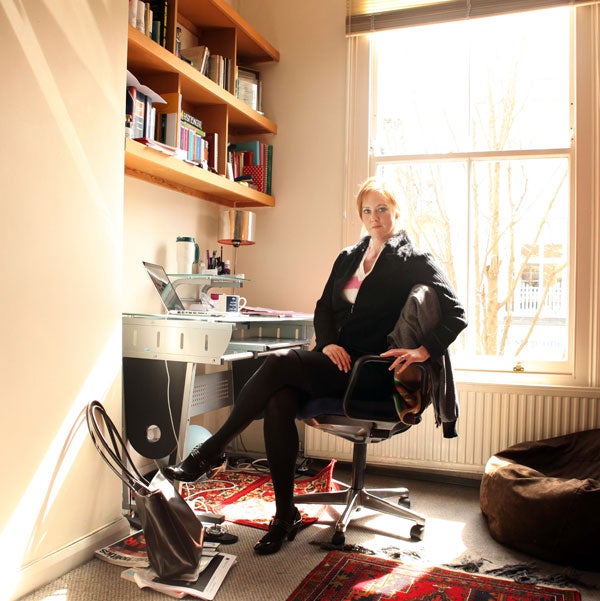 With her pink-striped rugby top, ice-blue eye shadow and cutely hard-to-place mid-Atlantic twang, Heather Brooke seems snugly at home in a Portobello Road cinema café on a sunny April morning. Yet the Pennsylvania-born Notting Hillbilly with an office round the corner is not running a costume-jewellery barrow for the spring tourist trade. Rather, she has upset the entire reeking apple-cart of British institutional secrecy. If the parliamentary-expenses revelations that could sway the general election contest in scores of constituencies has one undisputed hero, here she is. As freedom-of-information campaigner and old-school investigative journalist, Brooke over five years dug and chivvied and annoyed until the walls that protected an almighty scam from public scrutiny had no option but to fall. And she achieved it all as a rank outsider.
Forgive that predictably patronising introduction, but here's the rub: marked down or written off as a young woman, as a foreigner (in fact she has dual nationality; her parents had moved to the US from England), as an alien to the cosy stitched-up scene of Westminster and Whitehall reportage, she learned to walk through walls that stopped many others in their tracks. Now she, and her millions of allies, hold the whip.
The expenses earthquake and its sapping of voters' trust "is going to have an effect" on the 6 May results, as she says. "Not just because of the trivia about expenses, but because of what that story really says about the power relationship between the state and the citizen... Do we, the common plebs, have a right to know what our 'betters' swanning around the Palace of Westminster get up to?" The ground, first prepared by Brooke almost on her own and then trodden by a belated battalion of media supporters, has moved under the honourable members' feet. "To their horror, they've discovered that public opinion has now totally shifted." Whatever the state of the parties next month, business as usual will never return.
Not many freelance reporters get to see themselves portrayed as the protagonist in a television drama, let alone within their first four decades (Brooke was born in 1970). On Expenses, starring Anna Maxwell Martin, aired on BBC4 six weeks ago. The subject herself snuck onto the plastic-and-plywood House of Commons set as a backbench extra, as she recounts in her new book The Silent State (Heinemann, £12.99). Although its final chapter does narrate the blow-by-blow story of her protracted struggle from 2004 until 2008 to employ Labour's Freedom of Information Act in order to extract itemised details of MPs' expense claims (blood out of stones would be a comparative cakewalk), most of the book chronicles the hoarding and misuse of other sorts of data by officialdom.
In every case, from councils to constabularies, Brooke's remedy is simple. Let the daylight in. Devolve knowledge and so disperse power. Make all raw data available to every citizen online. If you can't safely share it, then don't keep it at all. "It is scrutiny by the general public that keeps the powerful honest."
Reading the book, and talking to her, you have the strong impression that Heather Brooke treats every hallowed site of authority in this secrecy-addicted land as a plywood sham. Behind the illusion of democratic accountability - across every arm of state - insiders cut deals, build walls, grab data, true or false, on "the lives of others" while keeping their own strictly off limits. As The Silent State puts it about press access to court evidence, "it comes down to that great British tradition of knowing the right people and keeping them sweet".
We touch on the dismal career of Stephen "cab for hire" Byers, the ex-minister who sought to trade his inside knowledge for hard cash. "What all those people are selling is effectively their staff directory," Brooke explains: "their contacts book, because Britain is largely a patronage system. And the way decisions get made is not through merit but through knowing the right people".
Where did this corrosively dystopian vision of politics come from - not just the anger and scepticism (common enough), but the implacable determination to strip away the masks and change the face (vanishingly rare). Brooke grew up in Washington state. At the University of Washington she cut her teeth as a sleuthing journalist. She hankered after the front line: war, crime, conflict. No touchy-feely features: "I wasn't interested in covering school boards, or health, or women's issues, or any of those things."
As a local-paper intern, she combed through boxes of legislators' receipts at the state capital. Thanks to a culture of transparency, the sole wrongdoing she found lay in the application of frequent-flyer miles to personal accounts: "It said a lot for the probity of those politicians". Compared to the Westminster lawmakers whose claims for towers and lawns, moats and mortgages, would later engross and appal a nation, "the only difference was that those people knew they were going to be under public scrutiny for how they spent public money."
She moved to South Carolina, and what she calls "a real backwater – a Deliverance part of the US", to work on the newspaper's crime beat: "I wanted to do crime in a really violent place."
Even in Spartanburg, however, police and court logs stood wide open and ready for the public gaze. She mined incident reports, talked to detectives, tracked rosters at the station, drew on comprehensive courthouse records. "In Britain, of all those things I've just mentioned to you, we can still not see any of them". The Silent State shows how, even after Labour's reforms created a new Supreme Court, UK justice now tends to shrink into the shadows rather than stand in plain sight.
One major theme is the drift, within both the police and local government as a whole, towards hiding crucial data behind a screen of PR propaganda and "reputation management". On a hot topic such as knife crime, which she examines in some detail, Brooke typically voices her faith that access to unfiltered and unmediated statistics will raise the level of understanding and debate. "Why is that fear there? I would say it's there because people no longer trust the official figures. The only way to regain trust... is to let people see the raw data – which is criminal incident reports."
"Burned out" by hard-core Deep South mayhem, in the mid-1990s she settled in east London with her husband, and worked as an editor on BBC publications. The borough of Tower Hamlets, a soiled playground of party patronage, introduced her to the British disease: the overweening haughtinesss of bureaucratic jobsworths, and the deference of citizens. "As soon as I landed in Britain, I was outraged by how people accepted that, because things had always been this way, that was how it always going to be." She maintains that deprivation, and the large percentage of local people on benefits in her neighbourhood of Bethnal Green, stifled the spirit of resistance that would lead to awkward questions being asked. No, she really does not approve of dependence on state. Almost in Ayn Rand style, her book concludes that "We are not naughty children and the state is not our parent."
Some horror stories in The Silent State, of tyrannous councils and figure-fiddling departments, do fit with a familiar tabloid and talk-show agenda (she even has a bad word for speed cameras). Others certainly do not: on police corruption and malpractice, say, or the mind-boggling arrogance of official arms salesmen. Invaluably, the book lifts the veil from the public-private swindle that lets privileged firms profit from data - on everything from maps to postcodes - gathered at our expense and so "treats civic information as a money-making widget".
On immigration, she re-iterates her belief that false or partial statistics will help to stoke prejudice, whereas full disclosure brings enlightenment: "People only have those scare stories when there's a lack of data. That's the whole point." Behind that ferocious scepticism lies an idealistic - even innocent - conviction that the plain truth alone will set us free from bigotry.
Labour sources have maligned her as an opposition stooge: "That's what a government generally does with anybody who criticises them. The first line of attack is to say they're partisan, and that's come my way a few times. But I have an advantage being an American, in that I don't fit into these party systems". She genuinely tries to cross the ancient tribal lines. "People constantly want to put me in one box or another box... and I feel like I'm none of those things – and all of those things."
In the long hiatus between the passage of the Freedom of Information Act (2000) and its implementation (2005), she worked on her citizen's guide to data access: Your Right to Know, published in 2004. Then came the first skirmish in her epic campaign to reveal how MPs financed their lifestyles with taxpayers' cash. As she writes, official stonewalling only whetted her appetite for the fight: "It was that unfathomable stubbornness that riled me". The rest truly is history, with her role in it recently honoured in the shape of a special judges' prize at the British Press Awards.
Setback by setback, breakthrough by breakthrough, the book tells how the pace of exposure speeded up as stalwart allies joined the cause: the QC Hugh Tomlinson; fellow-journalists Ben Leapman and Jonathan Ungoed-Thomas. A final showdown loomed after the then Speaker, the hapless Michael Martin, appealed against the Information Tribunal's decision to license the release of expenses data for a mere handful of MPs. Then a May 2008 High Court ruling in the campaigners' favour led to a scarcely credible year of evasion and obfuscation at Westminster. But when total victory came, it was snatched not by Brooke but in May 2009 by the Telegraph. The paper had bought (for a reported £110,00) a data disk of the complete, unedited expenses record via a nameless leaker and a couple of shadowy intermediaries, John Wick and Henry Gewanter.
Charitably, Brooke doesn't "begrudge" the paper its own scoop, by untraceable chequebook journalism, after she had striven so long to win under the clear light of the law. Although the leaked disk proved another grubby triumph for the covert British way, "That wasn't really the Telegraph's fault. That was Parliament's fault for creating this black market."
Brooke scorns the craven "serfdom" of this "feudal" country, but her examples of corruption and obstruction often refer not to patricians but machine politicians of fairly humble stock. Take Speaker Martin, unseated (the first in 300 years) by the tide of outrage. "This is what Britain seems to do to people," she notes, lamenting the allure of "ridiculous, elitist traditions" for upwardly-mobile members. "You finally claw your way into the top echelon... and you start to act just like the people you were fighting against in the first place". Her book pays tribute to the inspiration of Orwell's Nineteen Eighty-Four, but this is the plot of his Animal Farm.
Any rays of hope in the darkened barnyard of The Silent State come from hi-tech democrats who seek (via websites such as theyworkforyou.com) to empower citizens through the collation of scattered data in a voter-friendly form. Her next book will explore the advent of this digital democracy on an international scale. However, she has also completed a crime novel (shoved "onto the back burner" for the expenses war), and wants to write more. In the long term, "I'd really like to make the switch to fiction." Plenty of MPs - as, thanks to her, we finally know – did that long ago.
Join our commenting forum
Join thought-provoking conversations, follow other Independent readers and see their replies