The Independent's journalism is supported by our readers. When you purchase through links on our site, we may earn commission.
The Saturday Miscellany: How to read someone; Dean Whatmuff; Geoff Dyer's bookshelf; death to cream tea!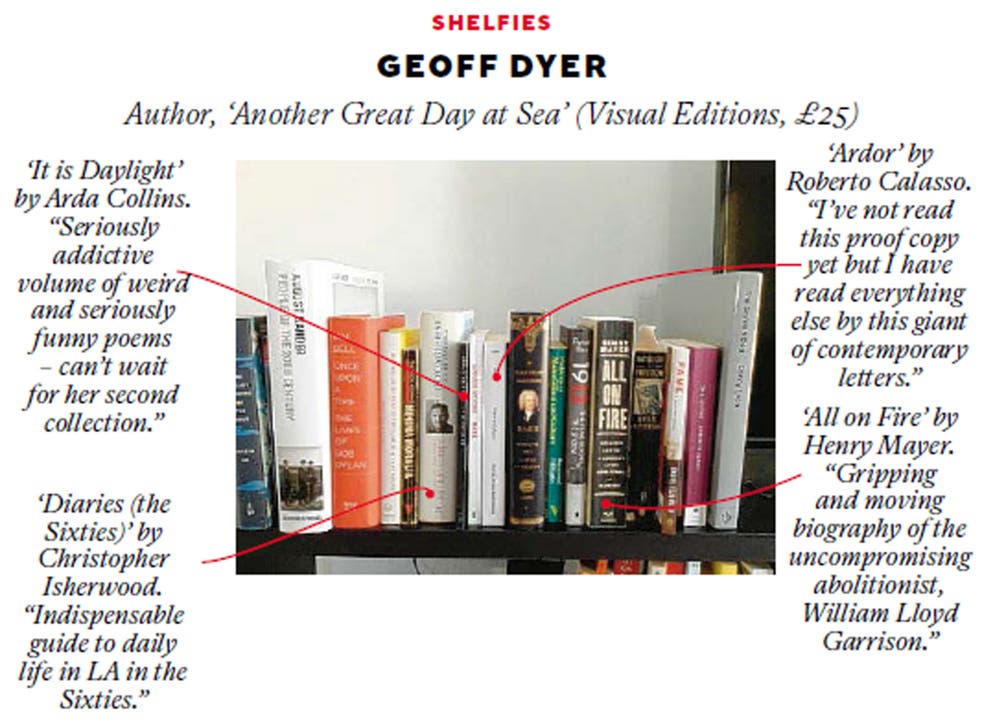 How to: Read someone
By Oscar Quine
Most communication is non-verbal. Tune in to how you are received to get the most from conversations, says body language expert Robert Phipps.
"When you talk do you get more or less eye contact from the concerned party? Do they actually look at your eyes? Most people give more eye contact when they are listening than when they are talking."
"Nodding and head-shaking is a good way to tell if you are getting through. Nodding for 'yes' and shaking for 'no', in the right places, is generally positive. If they are completely disagreeing, their 'yes and no' body language will be reversed: they may say 'no' but head nodding will reveal their true thoughts."
Robert Phipps, 'Body Language: It's What You Don't Say That Matters' (capstone, £9.09)
Rotating column: Death to cream tea!
By Will Dean
Despite having lived in England for my entire life, I've still not quite come to terms with the concept of cream tea as a thing that deserves to exist. It's tea and scones – it's an afterthought, not an experience. At least cream tea's close cousin, afternoon tea (yours for £50-a-head at Claridge's) has the decency to offer butties and cakes.
One ought to admit at this juncture that this aversion might well be due to a very un-English aversion to drinking tea itself.
While on holiday in Cornwall recently – a cream tea ground zero – I found a kindred spirit in Margot's Bistro, one of the few non-Rick Stein joints in Padstow. In its window, Margot's had a note which listed – a little passive-aggressively, if you ask me –what they do (local ingredients, fresh bread, etc) and what they don't do: pasties and cream tea.
I'll sip to that.
Suggest for cream tea re-brand: scone time
Instant Ethics
By Ellen E Jones
Dear Ellen
Q. My neighbours, who I normally get on with, have a tendency to throw late-night, middle-of-the-week parties. Can I kill them?
A. Murder is a crime and not condoned in these pages. If, however, it does come to that, at least make sure you dispose of the evidence in the general waste bin and not the shared recycling facility. Fly-tipping is just not neighbourly.
@MsEllenEJones
Micro extract: The Deep Blue
"Today almost all ocean research is done topside via robots dropped from the decks of boats. Humans know more about the ocean's chemical composition and topography, but they have grown more physically and spiritually distanced from it."
From 'Deep: Freediving, Renegade Science and What the Ocean Tells Us...' by James Nestor (Profile, £12)
Four play: Mutinies
1. Discovery (1610)*
2. Mutiny on the bounty (1789)
3. Manila mutiny (1896)
4. RAF mutiny (1946)
*Henry Hudson sailed into Hudson bay, today in 1610
All good things
By Charlotte Philby
Capital gains
A series of limited-edition prints by Dean Whatmuff accompanies Never Saw That Coming, an exhibition of the artist's 'photo-sculptural constructions' which reimagine London's skyline. £100; offsite-gallery.com
Bronze medal
With organic ingredients and a subtle finish, Nourish Golden Glow Toning Body Shimmer is the perfect potion for bronzing cheats. And it's now available in a handy 100ml pump bottle. £25, debenhams.com
Love struck
This bow-and-arrow pendant is part of the adorable 'Love' series from British-based jewellery designer Phoebe Coleman. We're head over heels for the matching wing-theme bracelets, too. From £120, phoebecoleman.com
Register for free to continue reading
Registration is a free and easy way to support our truly independent journalism
By registering, you will also enjoy limited access to Premium articles, exclusive newsletters, commenting, and virtual events with our leading journalists
Already have an account? sign in
Register for free to continue reading
Registration is a free and easy way to support our truly independent journalism
By registering, you will also enjoy limited access to Premium articles, exclusive newsletters, commenting, and virtual events with our leading journalists
Already have an account? sign in
Join our new commenting forum
Join thought-provoking conversations, follow other Independent readers and see their replies