The Independent's journalism is supported by our readers. When you purchase through links on our site, we may earn commission.
The Saturday Miscellany: How to sew; bestsellers' typography; Space missions; Instant ethics; Shelfies with Joanne Harris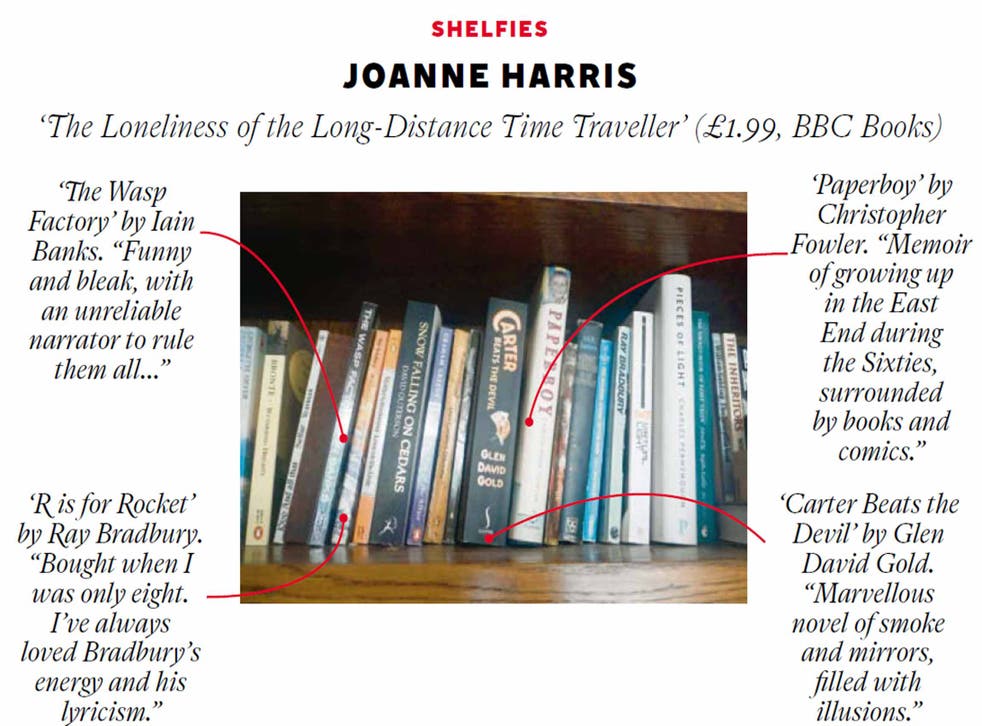 How to sew
by Oscar Quine
"You do not need to have spent your formative years at your mother's knee watching as she sewed," says Stuart Hillard, semi-finalist on the first series of 'The Great British Sewing Bee', in 2013.
"Preparation and accuracy are key. Make sure fabrics and paper patterns are wrinkle-free. Use sharp dressmakers' scissors, cut and sew accurate seams, mark them with a pencil if you need to; use pins, sew slowly, and unpick your stitches if things go wrong."
"Use good-quality fabrics and thread. Great sewing is like great cooking: use good-quality ingredients, treat them simply and let that quality shine. Expensive buttons make everything look better."
"Start simply and build your skills. Don't offer to make a friend's wedding dress as your first project. Start with something straightforward, do it well and bask in the praise of your non-sewing peers."
Rotating column: type positive
by Will Dean
Two of this year's biggest books – Eimear McBride's slow-burn bestseller A Girl is a Half-Formed Thing and Lena Dunham's fast-burn Not That Kind of Girl – share more than just a word in their title.
Both feature a similar curlicue font and a typography which dominates their covers and have echoes of Seventies-style paperback design – and in Dunham's case, at least, a hint of similar essay collections by the likes of Gloria Steinhem and Helen Gurley Brown.
Both follow Danielle Pender's Riposte magazine, an acclaimed biannual about women, created in response to the state of mainstream women's glossies which also employs text-only covers inspired by a 1950 copy of National Geographic. Here, the power of type – rather than pictures– fuels the ideas within. They also look pretty cool.
Dear Ellen: Instant ethics
Q I borrowed a friend's tatty and old – but designer – jumper and accidentally put it in the dryer and wrecked it. He wants £120 to replace it. Fair?
A You're getting off cheaply. I'd have charged you twice that for a jumper from Primark (that's £3.99 to replace it, plus £236.99 for emotional distress caused). Next time, buy your own jumper. @MsEllenEJones
Micro extract: You do the math
"The diverse spectrum of links between mathematics and all art is not unexpected. Mathematics is the catalogue of all possible patterns – this explains its utility and its ubiquity."
From '100 essential things you didn't know you didn't know about maths and the arts' by John D Barrow (£10, Bodley Head)
Four play: Space missions given Greek names
Apollo*
Gemini
Mercury
Tess
*Nasa launched Apollo 7, today in 1968
All good things
by Charlotte Philby
Soul survivor
Mahabis is a luxury unisex slipper brand "combining Scandinavian design principles and European craftsmanship". With a detachable sole available in various bright shades, they can be worn indoors and out. £49.99; mahabis.com
Perfect pins
Fully customisable leggings from Chicago-based label Bombsheller are made using 3D-printed technology to fit your exact shape, in your chosen (bold) design – and posted the same day. From $69; bombsheller.com
Flower power
A stunning new book, 'Floral Contemporary' by Olivier Dupon, celebrates the colourful – and often mind-blowing – world of modern flower design. £45, published by Thames & Hudson on Tuesday
Register for free to continue reading
Registration is a free and easy way to support our truly independent journalism
By registering, you will also enjoy limited access to Premium articles, exclusive newsletters, commenting, and virtual events with our leading journalists
Already have an account? sign in
Register for free to continue reading
Registration is a free and easy way to support our truly independent journalism
By registering, you will also enjoy limited access to Premium articles, exclusive newsletters, commenting, and virtual events with our leading journalists
Already have an account? sign in
Join our new commenting forum
Join thought-provoking conversations, follow other Independent readers and see their replies