Victoria Wood: The warm, zany, outgoing stage persona was very far from the offstage reality
Jasper Rees on writing the biography of the late, beloved entertainer, with the help of her family, friends and co-stars, such as Julie Walters and Celia Imrie
Wednesday 21 October 2020 10:48 Comments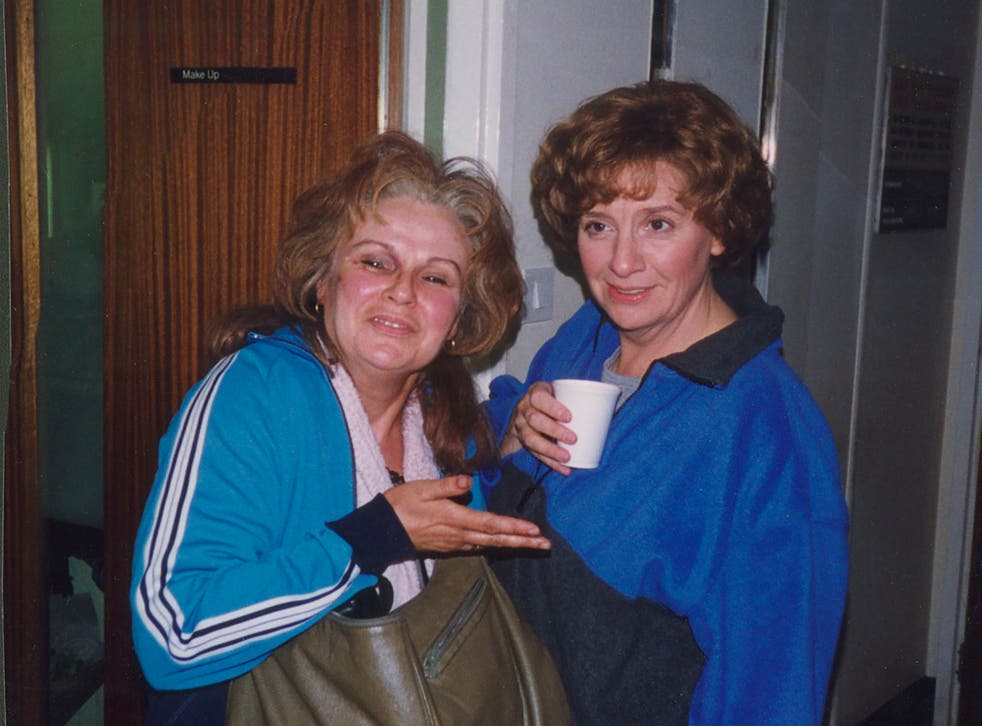 One evening in March 1986, at her end-of-terrace home in a village in Morecambe Bay, Victoria Wood prepared to compose a new song. Her need was pressing. Days earlier, Victoria Wood As Seen on TV had earned Victoria her first two Bafta awards. She was about to go out on tour and her promoter had booked her into far larger venues than she had hitherto played. So she urgently sought a finale that could be guaranteed to bring 2,000 people to their feet.
Victoria stuck to her regular method of jotting the alphabet down the margin of a notebook and using it to hunt for killer rhymes. As was her habit when writing, she put off all thought of sleep. Evening turned to night as she commuted between desk and piano, which she played quietly in order not to wake her husband Geoffrey Durham. When he came downstairs the following morning, he found her still at work.
"She was always a little tentative when she started to sing something she'd just written," he says. "This was no exception, but I got the sense she was more hopeful than usual about this one. She sang it through and I told her I was sure she'd got a winner. It was then that she started to have fun with it, continuing to tinker with it all that morning."
A few days later, Victoria inscribed the lyrics in an exercise book, cut it into strips and sellotaped them to the grand piano at Harrogate Conference Centre where at the end of the evening she, for the first time in public, sang:
Freda and Barry sat one night,
The sky was clear, the stars were bright.
The wind was soft, the moon was up,
Freda drained her cocoa cup.
It had been a fraught night. The atmosphere backstage was tense. Victoria had a new young tour manager who wasn't on top of the job and greatly added to her levels of anxiety. The song went on and on for eight interminable minutes. In the middle she looked out to the audience, lost her place and ground briefly to a halt. But that didn't seem to matter.
Over the years, she'd written many songs and jokes about women dreading sex. Now, in a brilliant comic coup, she turned the tables and imagined that it was the hot-to-trot wife who is gagging to "do it till our hearts go boom" while the inadequate husband produces ever more feeble excuses not to.
It was Geoffrey's idea to double up the last verse and give Freda the triumphant final word – "Beat me on the bottom with a Woman's Weekly!" – which helped the song to go off like a rocket. The audience exploded, as they would throughout that tour and at every performance of "The Ballad of Barry and Freda", in theatres and television studios, for the next 25 years.
When I was invited to tell the story of Victoria's remarkable life, I didn't have to look far for a title. Let's Do It: The Authorised Biography of Victoria Wood was researched and written with the guidance of Victoria's children, sisters, friends and professional colleagues. In all, I consulted the memories of 200 people and was given access to many hundreds of private letters, faxes and emails composed in Victoria's inimitable style. I was also able to draw on the transcripts of my own interviews with her. All assisted me in the task of building up a portrait of a woman who was loved by many but truly known by few.
The person whose cooperation I was most eager to secure was Geoffrey Durham. He and Victoria were together for 26 years, and I knew that he knew things no one else would. When they met in 1976, Victoria's career had stalled despite plenty of primetime television exposure on New Faces and That's Life! She was drawing the dole and was so skint that one day she debated how to spend her last 10p: "I can either go somewhere on the bus and walk back," she wrote to a friend, "or have a bath."
Meeting Geoffrey, she would say, was "a fantastic stroke of luck. I couldn't have met a better person for me." Their deep connection was based partly on the unfulfilled ambitions they shared. She pictured them as the Start-Rite kids, the little cartoon children from the shoe ad who, hand in hand, head optimistically for the horizon. He was giving up acting to become a spoof Spanish magician called the Great Soprendo. Performing songs at the piano, she had yet to find a stage persona that cloaked her crippling shyness.
That shyness was a product of her childhood. The youngest of four children, Victoria grew up in a lonely bungalow on a hill above Bury in Lancashire, where she was left to her own devices. Her father Stanley was an affable insurance salesman who spent evenings in his office working at his second career as a writer. Her mother Helen, inclined to depression, shut herself in her sewing room where she made outfits for her three daughters. Having left school at 14, she resumed her education just as her youngest child went to secondary school. As the older siblings dispersed, Victoria had to fend for herself and spent much of her teens alone in her den with a TV, a piano, books and biscuits.
"Mum wasn't very nice to Vicky really," Victoria's oldest sister Penelope told me. "I think she found it hard that she was so scruffy and lazy and sleeping and reading all the time. I think Vicky might have been hard going for Mum somehow."
Victoria's mother did nothing to ease her anxieties about her weight, putting her on pills to suppress her appetite at the age of 12. While her sisters were taller thinner mods with busy social lives, Victoria grew to loathe parties and dressing up.
Memories of abandonment would resurface over and over again as a theme in her comedy. The sketch "Swim the Channel" tells of feckless parents who would rather catch a West End show than witness their daughter Chrissie front-crawl to France. Pat and Margaret was the story of two long-lost sisters deserted by a cold mother who claims she "didn't know what love was till I bred my first Afghan". In Dinnerladies, Victoria played the daughter of Petula Gordeno, an unloving ogre who boasts of having "post-natal disinterest for 40 years".
Days after Helen Wood died in 2001, as a tribute, Victoria dropped a section about her mother into her live show for her final tour. But she confided to Geoffrey that "she felt slightly guilty and embarrassed about how little she felt emotionally about her mother's death".
So the onstage persona Victoria presented in performance – warm, zany and outgoing – was very far from the offstage reality. The "Victoria Wood" that her fans came to know and love had to be meticulously crafted with the help of her husband.
The transformation happened after Victoria's career finally took off in 1978. As the commissions to write for theatre and TV flooded in, she felt confident enough to try her hand at stand-up. In long and intensive sessions in their cramped Morecambe flat, she and Geoffrey created a female comedian. They thought of what she'd wear, when and how she'd enter, exit, get up, sit down. Above all for hours and days he listened as she went over and over her act, correcting her if she got a word wrong, telling her which jokes worked and which didn't. It was in these early years that they wrote their one and only joke together, about Victoria's attempts to have sex with her first boyfriend: "He was dyslexic and had lots of these sex manuals. He spent ages lying in bed looking for my vinegar."
As Victoria emerged from her chrysalis to become the UK's most popular and pioneering stand-up comedian, who from 1993 would sell out the Albert Hall 40 times, she ran everything by her husband first. But by the time she embarked on her last tour in 2001, straight after having an emergency hysterectomy, fissures had appeared in the marriage that could not be patched up. "It was never a perfect marriage," Victoria confided to a friend as separation became inevitable. "But there was always a huge bond, however dysfunctional."
The first time I went to Geoffrey's home, he talked for six hours while I typed. Eventually, on my fourth visit, we had a conversation about the end of the marriage. I listened to his side of the story, which I balanced out with the accounts Victoria put into letters to close friends. I also asked their children Grace and Henry for their memories, and hope that the version I have presented is a fair and accurate reconstruction.
What became apparent was by the late 1990s, Victoria was in the grip of a relentless perfectionism. She had learnt to trust no one but herself to bring her comic vision to life. This came to the fore most of all during the period she created Dinnerladies. When making the first series, Victoria kept an audio diary that was intended to help her with a future memoir. It is peppered with deep shuddering yawns. Grace told me that, aged nine or 10, she upbraided her mother for working all night and prepared snacks for her to eat at intervals in the small hours.
Apart from her exhaustion, what comes across in the audio diary is the deep respect and affection Victoria felt for her long-time co-stars Julie Walters, Celia Imrie and Duncan Preston. Not that she ever told them to their faces. She was always frugal with compliments – she attributed it to her Lancastrian roots. When I spoke to them for the biography, all three retained a strong memory of the strain and nervous tension of working on Dinnerladies, when she often rewrote the script at short notice and insisted everyone be word-perfect. "If you saw behind the flat of Dinnerladies," Celia told me, "you'd see Julie and me taking Rescue remedies. It was like being on a skating rink."
Victoria's relationship with Julie Walters, I was to discover, was complex and layered. They met in 1978 in a revue at the Bush Theatre in west London. "I remember thinking the heavens had sent her to me," Julie told me, "that she knew me." Victoria had found someone she could be funny with. For the next three years she wrote plays and dramas for Julie and insisted she share billing in her Granada sketch show Wood and Walters. Victoria used the partnership to explore her own demons. In dramas and sketches, Julie was often cast as a thin, hard-hearted woman berating a fat or ugly woman, played by Victoria. It was as if she was using Julie as an instrument of self-harm.
Then Julie was offered a short run in a new play called Educating Rita. It was to propel her to an Oscar nomination while Victoria learnt the craft of stand-up. They wouldn't work together again for nearly three years, reuniting for As Seen on TV. From now on, the shooting schedule of all Victoria's comedies was built around Julie's availability. When Acorn Antiques was reborn as a West End musical in 2005, to avoid exhaustion, Julie committed to six performances a week as Mrs Overall, and Victoria went so far as to step in for the other two. She was dismayed when she saw the theatre wasn't full for her performances.
After both became devoted mothers, and Julie moved out of London, they stayed frequently in touch but outside work didn't see each other often. Throughout, Victoria's reverence for Julie's talent never wavered. At the start of 2015 she wrote the first draft of a film script about a humourless Home Counties cook who accidentally becomes a TV star. Julie paid a rare visit to her home in Highgate to talk about being in it.
Then Victoria fell ill. Being deeply private, as far as she could manage she shielded her personal life from the public gaze. As she succumbed to cancer, so intense was her desire to avoid scrutiny that even many of her friends were left out of the loop.
As her biographer, I had the uncomfortable obligation to press for details. Her children did not flinch from recalling their mother's final months and weeks, while some friends shared emails from this period. Even as she underwent treatment for cancer, Victoria was able to put on a performance in her private correspondence. Her principal carer was Henry, who was living at home. "Hen is a tower of strength," she wrote to a friend, "and may even tackle his first Horlicks later for me."
I found that the act of talking about Victoria could make anyone burst into tears – from her oldest school friend to one of the most famous comedians in the land. I am not embarrassed to say that when the moment came to describe Victoria's last breath, the words on my screen started to swim. It was as if the thunderclap that shocked so many millions of her devotees was happening all over again.
But before that, there is her life, in all its magnitude. I started off believing that Victoria Wood was a genius. The longer I looked, the more deeply I felt it. By any reasonable measure of her talents, she was the greatest entertainer of the television age.
Let's Do It: The Authorised Biography of Victoria Wood by Jasper Rees is published by Trapeze in hardback and eBook and audio download (narrated by an all-star cast) and is available now
Register for free to continue reading
Registration is a free and easy way to support our truly independent journalism
By registering, you will also enjoy limited access to Premium articles, exclusive newsletters, commenting, and virtual events with our leading journalists
Already have an account? sign in
Join our new commenting forum
Join thought-provoking conversations, follow other Independent readers and see their replies