Warhol and Mapplethorpe capture each other
New book features portraits and self-portraits by the two artists that challenge gender roles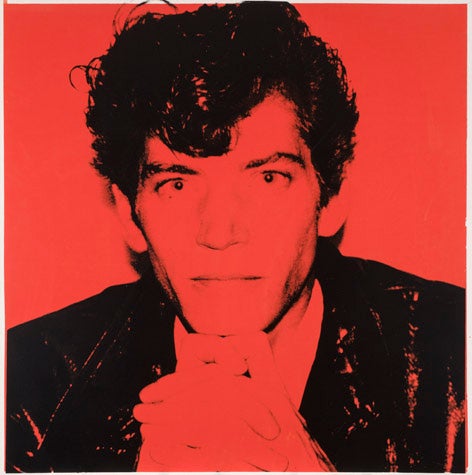 A new book, Warhol & Mapplethorpe: Guise & Dolls, published in September, features portraits and self- portraits by the two artists, both of whom challenged gender roles. It coincides with the first major exhibition to pair their work, currently at the Wadsworth Atheneum Museum of Art in Connecticut.
Included are Warhol's Ladies and Gentlemen series of portraits of drag queens, and Mapplethorpe's images of Patti Smith and of the female body builder Lisa Lyon. In other photographs, including Lady Warhol, 1981, by Christopher Makos (above left) Warhol is dressed in drag.
The two artists also made portraits of one another, such as Mapplethorpe's 1987 print of Warhol on linen with four silk panels (top right); and Warhol's 1983 black-and-red, ink-on-board image of Mapplethorpe (bottom right).
"As contemporary artists and gay individuals, Warhol and Mapplethorpe lived, worked, and played within New York's creative arts scene at a time when, post the Stonewall riots, newly won sexual freedoms and gender fluidity was gaining acceptance and even being celebrated," explains the book's editor, Patricia Hickson.
Mapplethorpe first created a portrait of Warhol in 1972, a mixed-media work from an appropriated photograph of Warhol as a young boy (c. 1936). Then in 1983 Warhol's portrait of Mapplethorpe was commissioned; he took a Polaroid of Mapplethorpe and created a number of paintings of him in single, double and triple images. Mapplethorpe also photographed Warhol that year and again in 1986.
"A generation younger than Warhol, Mapplethorpe was fascinated by Warhol... he looked to Warhol as a model or mentor of sorts, before even knowing him," says Hickson.
"He strove to achieve the same level of celebrity and fame as Warhol. Interestingly, by the 1980s, he saw himself as more of an equal and rival of Warhol, so there was a shift once Mapplethorpe made a name for himself in the art world."
'Warhol & Mapplethorpe Guise & Dolls' is published by Yale University in association with the Wadsworth Atheneum Museum of Art on 29 September
Join our commenting forum
Join thought-provoking conversations, follow other Independent readers and see their replies